[Preliminary] Apple M1 vs Intel Core i7-1165G7 – The M1 proves to be superior in both Single-core and Multi-core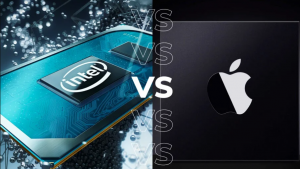 Apple made itself known with the reveal of its new M1 SoC. When its Geekbench scores got revealed, we were all shocked by how good it seemed to perform. Today we will be comparing the Apple M1 vs one of Intel's hottest CPUs right now: the Core i7-1165G7.
You should know though, that we haven't had the privilege to test the Apple M1 ourselves, so you should take this comparison with a pinch of salt.
More info about Apple M1:
https://laptopmedia.com/processor/apple-m1/
More info about Intel Core i7-1165G7: https://laptopmedia.com/processor/intel-core-i7-1165g7/
This comparison is preliminary and it will be updated when we have more tests available.

Specifications
From the available info that we have, we know that the Apple M1 is an 8-core processor, which uses the popular among smartphone CPUs, big.LITTLE architecture. This means that the CPU cores are divided into two with 4 cores for power-efficiency and 4 cores for maximum performance. The Intel Core i7-1165G7 has 4 cores and 8 threads, and a boost clock of 4.40GHz.

CPU Benchmark
In both the Single-core test and the Multi-core test, the Apple M1 managed to perform better than the Intel Core i7-1165G7. The recorded results show a 19% increase in Single-core performance and 56% in Multi-core.
Geekbench 5
Single-core
Multi-core
Apple M1
1687 (

+19%

)
7433 (

+56%

)
Intel Core i7-1165G7
1421
4768
 Conclusion
The Apple M1 hasn't lost yet and it seems like this will continue. Apple is well-known for its software optimization around their devices' internals. Also, the fact that the M1 has its RAM, CPU, GPU, etc. all in one chip lowers the time in which they communicate with each other, making the SoC even faster.

All laptops with the Apple M1:
All laptops with the Intel Core i7-1165G7: