[Preliminary] Apple M2 Max vs Apple M2 Pro – The M2 Max is here if you need the extra GPU power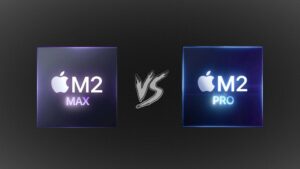 With the reveal and eventual release of the new Apple Silicon SoCs, the M2 Pro, and M2 Max, people will once again ponder which of the two is a better fit for them and their budget. There are some differences between the two chips, as the Max is souped up and armed with a lot more memory, as well as faster bandwidth for it. Since the M2 Pro comes with both a 10-core and 12-core CPU, we'll compare both to the M2 Max, as well as against each other. The large gain of the M2 Max is with its GPU, doubling the number of graphics cores.
Keep in mind that these results aren't our own so you shouldn't trust them completely. As soon as we can get the new MacBooks for review, we'll update them with our own tests and benchmarks. 
You can learn more about both SoCs here: Apple M2 Max / Apple M2 Pro (10-core) / Apple M2 Pro (12-core)

Specs sheet
| | Apple M2 Max | Apple M2 Pro |
| --- | --- | --- |
| Process Node | 5nm | 5nm |
| Transistors | 67 billion | 40 billion |
| CPU Cores | 12 | 10 or 12 |
| GPU Cores | 38 | 19 |
| Memory Bandwidth | 400 GBps | 200 GBps |
| Maximum Memory | 96GB | 32GB |
Performance
CPU benchmarks
As you can see, the two versions of the M2 Pro and the M2 Max perform basically identically in terms of single-core performance. As we move to the multi-core part of the test, we see that the 10-core M2 Pro is lacking behind the M2 Pro and M2 Max with 12 cores by a decent amount, which is to be expected.
| Geekbench 5 | Single-core | Multi-core |
| --- | --- | --- |
| Apple M2 Max | 1970 | 15338 |
| Apple M2 Pro (10-core) | 1961 | 12131 |
| Apple M2 Pro (12-core) | 1957 | 15010 |
GPU benchmarks
As the M2 Max has double the GPU cores, it's absolutely the winner in both the Metal and OpenCL benchmarks, scoring 61% and 65%, respectively.
Geekbench 5
Metal
OpenCL
Apple M2 Max
84416 (

+61%

)
73167 (

+65%

)
Apple M2 Pro
52554
44452
Conclusion
In terms of raw CPU performance, the M2 Pro and M2 Max are evenly matched. Of course, the M2 Pro with 10-cores is considerably less powerful, but only in Multi-core scenarios. The real advantage of the M2 Max kicks in once we're in the GPU tests, where the higher amount of cores gives a substantial increase in horsepower. If you don't necessarily need the extra GPU power, you'd be fine with the M2 Pro, which still offers plenty of punch. The M2 Max is for those who want to go balls to the wall with 3D Rendering and graphical work.

All laptops with the Apple M2 Max:
All laptops with the Apple M2 Pro (10-core):
All laptops with the Apple M2 Pro (12-core):