List of all GeForce GTX 1080 laptops – specs, prices, release dates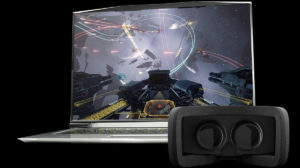 Recently we made a list of the best budget gaming notebooks under $1000. Despite the fact that the majority of users are just casual gamers and don't have the need or budget to spend on a portable gaming beast, there are still some enthusiastic gamers that need the best performance.
With this article, we want to gather some information about every GeForce GTX 1080 notebook currently available on the market in one place so that you can choose the best device for you with ease. Let's face it if you are about to give around $3000 for a laptop you don't want to make any compromises and we are trying to aid you in your quest.
You can check the specs, price and other details of the following notebooks as well as of many more in our Specs System here: http://laptopmedia.com/specs/
Contents
Currently available laptops with GTX 1080
MSI GT73VR TITAN PRO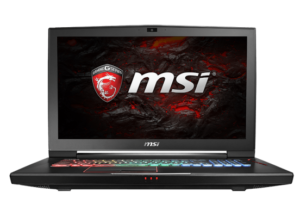 First on our list is the MSI GT73VR TITAN PRO. You can imagine that this is a powerful notebook but that's little of a surprise as everyone on the list is. The device has several configurations. First, you can choose the screen resolution. You can opt for a TN panel with Full HD (1920 x1080p) resolution and fast 120Hz refresh rate or an IPS panel with 4K UHD (3840 x 2160p) resolution and just 60Hz.
The GPU is clear – the GTX 1080 with 8GB of GDDR5X memory but you can choose between two CPUs – the Core i7-7700HQ or the unlocked for overclocking Core i7-7820HK. The configurations are sold with either 16 or 32GB of DDR4 RAM but you can upgrade up to 64GB.
The MSI GT73VR TITAN PRO features a huge 75Wh battery so battery life should be about average even with this powerful hardware, however, there is a compromise to portability. The notebook weighs 3.90 kg (8.6 lbs) and it is 45 mm (1.77″) thick. Of course, as every MSI notebook, the GT73VR TITAN PRO packs a SteelSeries keyboard, Nahimim audio, Cooler Boost technology and a Killer Doubleshot Pro controller for fast and reliable network connection.
The MSI GT73VR TITAN PRO can be found for as low as $2599.00.
ASUS ROG G701VI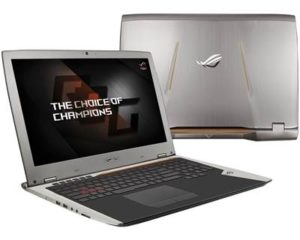 The ASUS ROG G701VI a little older model that can be equipped with a 6th gen Core i7-6820HK CPU to lower the price but you can opt for a 7th gen Core i7-7820HK as well. The 17.3-inch display is limited to a Full HD (1920 x 1080p) resolution with fast 120Hz refresh rate but unlike the MSI GT73VR TITAN PRO this panel is IPS. It is also G-Sync enabled for a smooth visual experience.
The ROG G701VI weighs quite a bit – 3.80 kg (8.4 lbs) but it has a slimmer profile than the GT73VR TITAN PRO – 35 mm (1.30″). Despite the thinner chassis, the ROG G701VI features a large 93Wh battery that we haven't tested for ourselves but we assume that it would deliver an above average battery life.
The ROG G701VI comes with a lifetime XSplit license which is an easy way to record and stream your gameplay without compromising performance. The ROG G701VI starts from $2799.99.
Acer Predator 17 X (GX-792)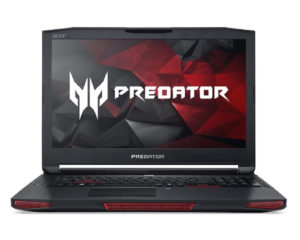 Next up, we have a model from Acer- the Predator 17 X (GX-792). Just like the other, it 17.3-inch IPS panel is G-Sync enabled and can be configured with Full HD (1920 x 1080p) or 4K UHD (3840 x 2160p) resolution. However, the Full HD version does not have a 120Hz refresh rate like the aforementioned models.
The Predator 17 X (GX-792) is equipped with the unlocked Core i7-7820HK and up to 64GB of RAM (sold with 32GB). The notebook is equipped with an 88Wh battery unit but unlike the previous models on the list, we have tested the Predator 17 X ourselves. The 4K screen model managed around four hours of web browsing and video playback and almost two hours of gameplay which is just as expected.
Our tests also showed that the notebook has a reliable cooling system. You can check out our detailed review of the Predator 17 X over HERE. You can also check out our custom-tailored profiles that enhance the viewing experience and reduce negative effects HERE.
Aorus X7 DT V7-KL3K3D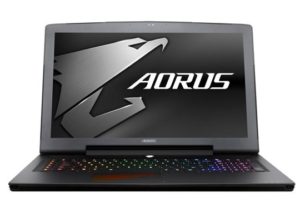 The list goes on with a model by a brand that is not as popular as Acer, ASUS or MSI but this does not mean not as good as any of them. We are talking about the Aorus X7 DT V7-KL3K3D.
The Aorus X7 DT is the lightest by far weighing just 3.2 kg (7.1 lbs) and having a profile of just 25 mm (0.91″) which is comparable to a non-gaming notebook. But the dimensions aren't it's biggest surprise. The notebook features a rather uncommon 17.3-inch TN panel with a QHD (2560 x 1440p) resolution and 120Hz refresh rate. G-Sync technology is also available. The colors are X-Rite Pantone calibrated.
Other than that, it is equipped with the usual Core i7-7820HK CPU and of course the GTX 1080 GPU. The more compact dimensions, however, do not result in a small battery unit. The engineers at Aorus have fitted a 94.24Wh unit inside.
The Aorus X7 DT V7 features 1-year license for XSplit and the same Killer Doubleshot Pro network controller as the MSI GT73VR TITAN PRO. The Aorus X7 DT V7 is priced at $2899.00.
Alienware 17 R4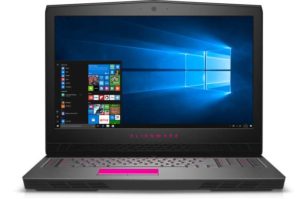 The fifth member of our list is the Alienware 17 R4 which can be found in many configurations. You can get a Full HD (1920 x 1080p) screen but you can also opt for a QHD (2560 x 1440p) resolution or go as high as 4K UHD (3840 x 2160p). You can also choose between a 6th and 7th generation unlocked Core i7 processor.
We have tested the QHD/Core i7-6820HK model and we have some mixed feeling about it. For instance, the battery life is about average (around four hours) when playing video or browsing the web despite the huge 99Wh battery but during gaming, it scored just below an hour. However, it has a well-designed cooling system and it is fairly thin – 29.9 mm (1.18″).
The Alienware 17 R4 has a really nice keyboard with long 2.2mm key travel and fully optimizable RGB illumination. The notebook also has some unique features such as Tobii eye-tracking technology for enhanced gameplay.
You can check our detailed review of the Alienware 17 R4 over HERE or check our custom-tailored display profiles HERE.
Upcoming laptops with GTX 1080
ASUS ROG GL702VI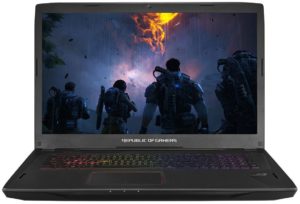 Another model by ASUS made it to our list – the ROG GL702VI which isn't available on the market yet. It's a more affordable high-end gaming notebook as it only offers the Core i7-7700HQ and no HK configurations. It is also limited to Full HD (1920 x 1080p) resolution which in our opinion is not much of a drawback. There will be a model with 60Hz refresh rate and with 120Hz and G-Sync available on both.
The ROG GL702VI is fairly light – 3.30 kg (7.3 lbs) but it features a big 88Wh battery. It's not the slimmest though – 37 mm (1.46″). The notebook will feature Sonic Studio software for in-game noise cancellation and Aura RGB-backlit keyboard with 1.8 mm key travel.
ASUS ROG Chimera (G703)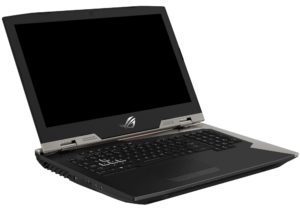 The third model by ASUS on our list is the ROG Chimera (G703) which unlike the ROG GL702VI is an enthusiastic-level gaming notebook. You can configure it with an unlocked Core i7-7820HK and a 4K UHD (3840 x 2160p) panel with G-Sync. However, you can opt for a Core i7-7700HQ CPU and 1080p screen but with whopping 144Hz refresh rate for blazing fast gameplay without motion blur.
However, the ROG Chimera (G703) is the heaviest on the list measuring 4.80 kg (10.6 lbs) which I would evade carrying if possible. Being so heavy, it is strange to see a 74Wh battery inside which isn't a small one but compared to other models that carry a sub-90Wh unit it isn't too much.
HP OMEN X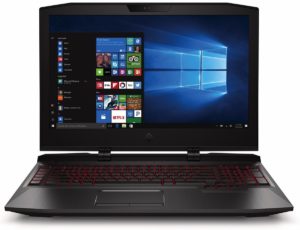 And last on our list of upcoming GTX 1080 notebook is the HP OMEN X which is the company's flagship. In the past year, HP has released a few great Omen notebook so we think that this one might be worthy too.
The OMEN X is designed for easy upgrading as it gives you access to all important swappable components under a single removable panel. It is also advertised as designed for overclocking – not only the CPU, the RAM and GPU too.  Of course, CPU overclocking refers to the Core i7-7820HK configuration.
You can either opt for Full HD (1920 x 1080p) or 4K UHD (3840 x 2160p) resolution. Both panels are IPS and feature NVIDIA G-Sync technology. However, all these features come in a 4.85 kg (10.7 lbs) package which makes the OMEN X even slightly heavier than the ROG Chimera (G703). The HP OMEN X features a mechanical keyboard – something rare even for high-end laptops. It has 2.5mm key travel and N-key rollover.