[Video Review] Acer Swift 5 (SF514-56T) – Still portable, but much more powerful
Acer Swift 5 (SF514-56 / SF514-56T) in-depth review
Once one of the lightest notebooks out there, the Swift 5 has fallen to the clutches of the HP Pavilion Aero 13, and ASUS ExpertBook B9 B9400. However, Acer has figured that having the lightest chassis is not the most important thing anymore. Now, the Swift 5 (SF514-56T) comes with Intel's Alder Lake-P processor. They are pretty powerful but require adequate cooling to perform well. This is why Acer hasn't spared any resources in the design of its thermal management. The company is really proud of its "TwinAir" cooling setup and claims a huge performance boost over last year's model. Of[...]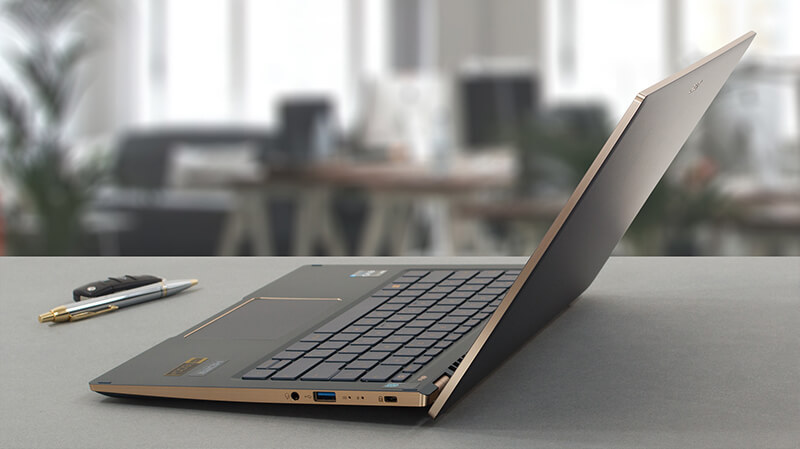 Pros
Good battery life
Super rigid chassis
100% sRGB coverage and accurate colors with our Gaming and Web design profile (AUO B140QAN03.2 (AUODD9E))
No PWM (AUO B140QAN03.2 (AUODD9E))
HDMI 2.1 + two USB Type-A 3.2 (Gen. 1) ports
2x Thunderbolt 4 + Gen 4 SSD support
Fingerprint reader
Antimicrobial Gorilla Glass display surface
Cons
No SD card reader
Soldered memory
AUO B140QAN03.2 (AUODD9E)
HDD/SSD
up to 1000GB SSD
OS
Windows 11 Home, Windows 11 Pro
Dimensions
310.5 x 213.3 x 14.95 mm (12.22" x 8.40" x 0.59")
1x USB Type-A
3.2 Gen 1 (5 Gbps)
1x USB Type-A
3.2 Gen 1 (5 Gbps), Sleep and Charge
2x USB Type-C
4.0, Thunderbolt 4, Power Delivery (PD)
Audio jack
3.5mm Combo Jack
Microphone
2x Microphones with Acer Purified Voice
Speakers
Front-facing Stereo Speakers, DTS Audio
Security Lock slot
Kensington Lock
While usually focusing on portability first, Acer has switched its strategy for the Swift 5 for this year, deciding to maximize performance with the Alder Lake P-series. This earns the laptop a lot of points in our eyes, as we're suckers for performance inside small notebooks. However, the Swift 5 has a lot more to show, so stick with us to find out what that is.
[Intro]
It comes with a fully aluminum chassis, which is very durable and looks amazing. It's got sharp edges and rounded corners while using a Mist Green color with some gold touches, which make the laptop appear very luxurious. Even though it comes with a 14-inch display, the laptop remains very light, with a weight of only 1.20 kg and a profile of 14.95 mm.
[Input devices]
The lid of the Swift 5 is easy to open with one hand, while also lifting up the backside of the base. Once open we can see the keyboard and touchpad. There's a fingerprint reader embedded in the power button, which is commonplace among more premium devices. The board also has green keys with gold lettering. Typing on it is great, as the key travel is as long as humanly possible on this thin chassis, while the feedback is clicky. The touchpad uses an OceanGlass material, which is essentially recycled ocean plastic. Still, it's quite smooth, but the size of the pad is smaller than we would prefer.
[Ports]
The laptop also brings a good selection of ports. On the left side, there are two Thunderbolt 4 ports, an HDMI 2.1 port, and one 5-gigabit full-sized USB port. On the other side, we have one more full-sized USB port, and a 3.5 mm audio jack.
[Display]
On the front, we see the display, which is covered in glass. Acer makes it simple, by offering two panels with a 16:10 aspect ratio and either FHD+ or QHD+ resolution. We went all out and picked the latter and it was a very good choice. The panel reaches 536 nits of brightness and has a high contrast ratio, ensuring deep black colors. It also shows 100% sRGB coverage, making it ready for Creator work. If you want to take it a step further, our Design and Gaming profile lowers the dE value down to 1.4, which is right where you want it to be.
You can purchase our profile in the description below.
[Battery]
The Swift 5 comes with a 56Wh battery pack which lasts for 11 hours and 40 minutes of Web browsing, or 10 hours and 10 minutes of video playback when paired with the Core i7-1260P.
[Performance]
This is the most powerful CPU that you can get on the laptop, and it performs really well, matching or outclassing a lot of its competitors in 3D Rendering. It's also blazing quick in Photoshop, so you can definitely take advantage of the amazing screen.
[Cooling]
Acer has picked a very good cooling solution for the Swift 5, giving it two heat pipes and two fans. This makes it the best-performing Core i7-1260P laptop that we've tested so far, offering very fast speeds in short loads, while keeping cool under long runs.
In terms of comfort, the laptop does well for the performance that it offers, having a hotspot of 41.1°C, while there isn't a lot of noise coming from the two fans.
[Teardown and upgradeability]
Unfortunately, with a device as small as this, the upgradeability is limited, since you've only got soldered LPDDR5 memory, with configurations of up to 16GB. On the bright side, there's one M.2 slot for Gen 4 SSDs.
We have a separate teardown video, in which we show how to access the inside of the Swift 5 for maintenance and upgrades. We'll have it linked in the description.
[Verdict]
The Acer Swift 5 gets a revamp for 2022, which we feel is for the better. Yes, you do get an extra 200 grams to carry around, but the performance benefits and the improved design do make it worth it.
For more info about the Swift 5, you can go to our website and read our written review, which has extra testing and can get you 100% up to speed with the Acer Swift 5.