Dell Inspiron 14 5482 2-in-1 review – good but impractical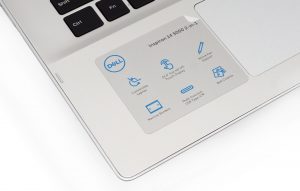 Inspiron 14 5482 2-in-1 is for the people who need a multimedia creation tool on the go and don't want to pay a premium price for that. Dell wants its users to be bold and explore every feature of their device. That sounds cool but there is just one thing… every manufacturer says the same for their 2-in-1 notebook. Use our active multi-touch magnetic turbo pen with our amazing screen for 45 hours straight just on battery power.
Our point is that the creators of the product have the full right to say everything about it. We, however, are going to put it head to head with its Lenovo and ASUS competitors. In our opinion, this is one of the most important and at the same time overlooked segments of the laptop market. 2-in-1 laptops have the power not only to be portable computers for you but at the same time they provide you with an additional input device – the screen.
The Inspiron 14 5482 2-in-1 has everything of the aforementioned and it also features the new Intel ULV CPUs – Core i7-8565U. It is basically the same chip but is able to push its maximum speed up to 4.6 GHz. This definitely sounds impressive, but we are here to test if that improves anything or it is just another gimmick.
You can check the prices and configurations in our Specs System: https://laptopmedia.com/series/dell-inspiron-14-5482-2-in-1/
Contents
Specs Sheet
Dell Inspiron 14 5482 2-in-1 technical specifications table
Display
14.0", Full HD (1920 x 1080), IPS
Dimensions
328 x 233 x 20 mm (12.91" x 9.17" x 0.79")
Ports and connectivity
1x USB Type-C 3.2 Gen 1 (5 Gbps), Power Delivery (PD), DisplayPort
3x USB Type-A 3.2 Gen 1 (5 Gbps)
HDMI 1.4b
Card reader SD, SDHC, SDXC
Ethernet lan
Wi-Fi 802.11ac
Bluetooth
Audio jack combo audio / microphone jack
Features
Fingerprint reader
Web camera
Backlit keyboard
Speakers
Optical drive
Security Lock slot
What's in the box?
Dell has included just the basics inside the box – a 65W power brick, some paper manuals, and the Inspiron 14 5482 2-in-1 itself.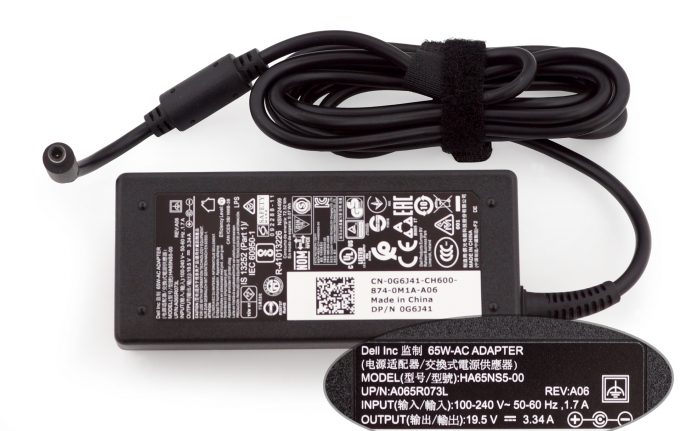 Design and construction
Dell Inspiron 14 5482 2-in-1 is obviously a convertible device. As such, it doesn't offer something different from the competition. Moreover, we have a pretty simple design very reminiscent of almost every Inspiron device. However, there is one big difference here – the materials used for assembling the notebook. It is all aluminum (except the bottom panel) and has a glass cover on top of its screen, thus giving it a pretty premium vibe. In addition to that, the Inspiron 14 5482 2-in-1 has some weight to it at 1.75 kgs and is pretty chunky at 20mm. The latter can be forgiven since the display needs more room to house the sensor technology.
As we mentioned, the screen is covered with a glass on the front side and aluminum on the back which makes it resistant to light bend. Also, it is brought to life by the hinges which are pretty strong themselves.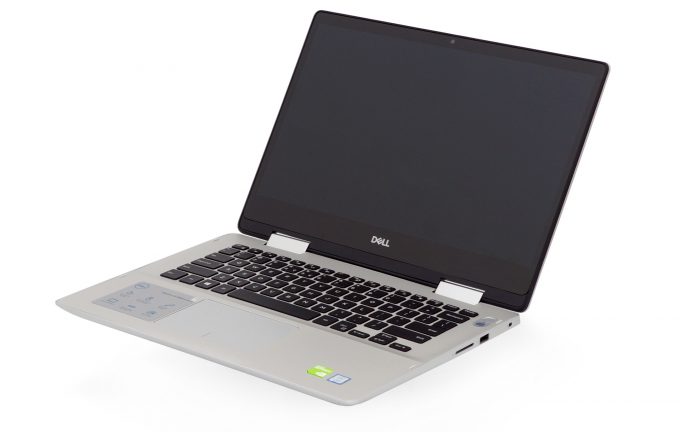 Moving to the base of the laptop, we see a decent keyboard layout – good spacing between the keys and no arrow key black magic. In the same time, the keys are a little soft and provide hardly any tactile feedback. On the other side, the touchpad is fast and responsive. Optional for this model is the fingerprint reader which is one of the fastest on the market.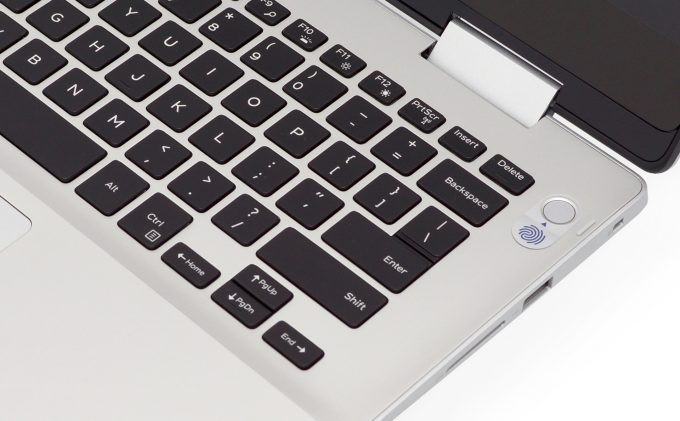 In the following table, you can see a size comparison of Inspiron 14 5482 2-in-1 and some direct competitors. As you can see the Dell device is pretty bulky, and we hope that the performance justifies that.
Width
Length
Height
Weight
Dell Inspiron 14 5482 2-in-1
328 mm (12.91″)
233 mm (9.17″)
20 mm (0.79″)
1.75 kg (3.9 lbs)
ASUS VivoBook Flip 14 (TP410UR)
327 mm (12.87″)
226 mm (8.90″)
15.4 mm (0.61″) (

-23%

)
1.50 kg (3.3 lbs) (

-14%

)
ASUS ZenBook Flip 14 (UX461)
327 mm (12.87″)
226 mm (8.90″)
13.9 mm (0.55″) (

-31%

)
1.40 kg (3.1 lbs) (

-20%

)
Ports
The connectivity options on the Inspiron 14 5482 2-in-1 include an SD card slot and USB Type-A 2.0 port on the left side. In addition to that, there is the power plug, USB Type-C 3.1 (Gen. 1) with Display Port and PowerDelivery support but no Thunderbolt, HDMI, two USB Type-A 3.1 (Gen. 1) ports and a combo audio jack.
Disassembly, upgrade options and maintenance
Okay, getting inside the Dell Inspiron 14 5482 2-in-1 is a bit tricky. Once you unscrew the 9 Phillips head screws you need to put the lid in upward position. After that, you can start unprying the bottom panel and soon after you have to put the laptop on its side. This gymnastics helps you remove the bottom panel easier than it sounds.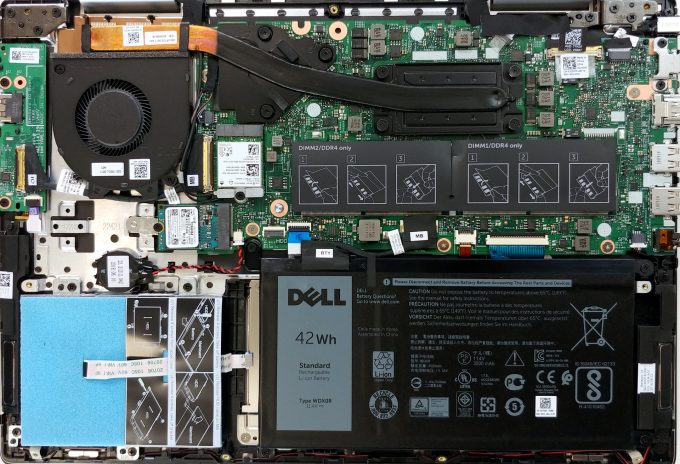 Once you are inside, you can see a great compromise in terms of gaming capabilities. The CPU and the GPU are connected via the heat pipe. This, in many cases, results in worsening the thermal performance of both processors when you use them simultaneously – when playing games, for example. However, for most of the tasks, it should provide good enough cooling.

We are happy to see not one, but two RAM DIMMs and an M.2 slot with NVMe support which offers a good amount of upgradeability. On board, we have the Toshiba KBG30ZMS256G NVMe SSD which, as you can see is super tiny! It uses a mounting plant which can be moved, depending on the size of the M.2 SSD. There is also an HDD cartridge right next to the battery compartment.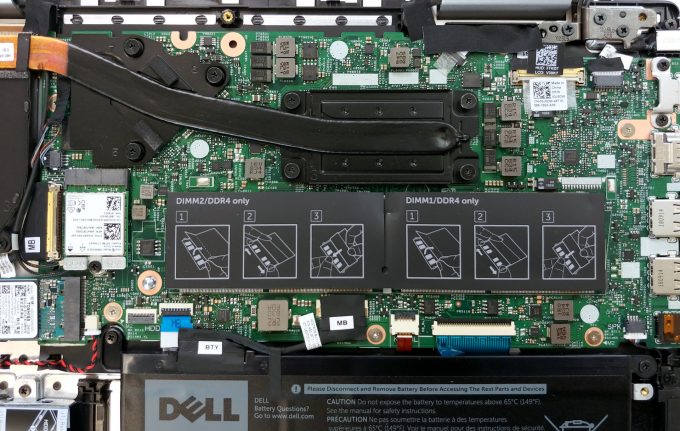 Speaking of battery, the unit is roughly the same physical size as the motherboard and has a 42Wh capacity. While at first it may sound like insufficient, keep in mind that we are talking about energy efficient hardware here.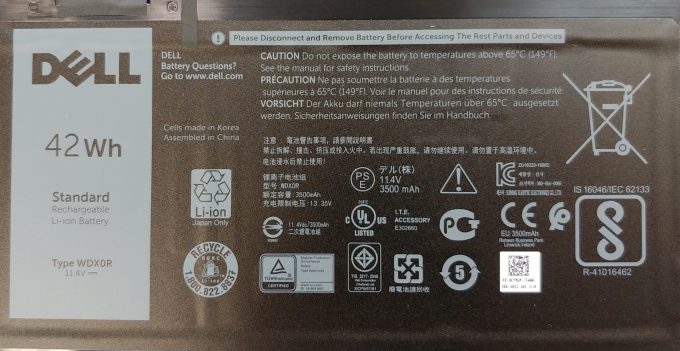 Display quality
The Dell Inspiron 14 5482 2-in-1 offers a Full HD touchscreen IPS display – AUO B140HAN04.5 (AUO453D / N4HYV). Its diagonal size is 14.0 inches (35.56 cm). The screen ratio is 16:9 and the resolution is 1920 x 1080p which translates into a pixel density of 157 PPI. The pixel pitch is – 0.161 х 0.161 mm. The screen can be considered Retina when viewed from further than 22 inches (55 cm). From this distance, the individual pixels become indistinguishable for the average human eye.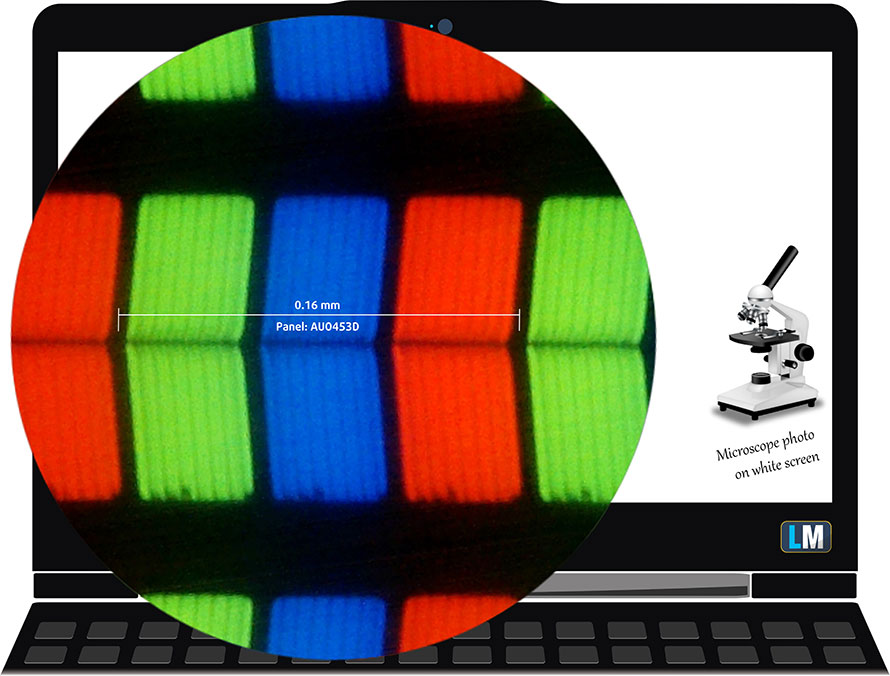 Viewing angles are excellent. We offer images to evaluate the quality.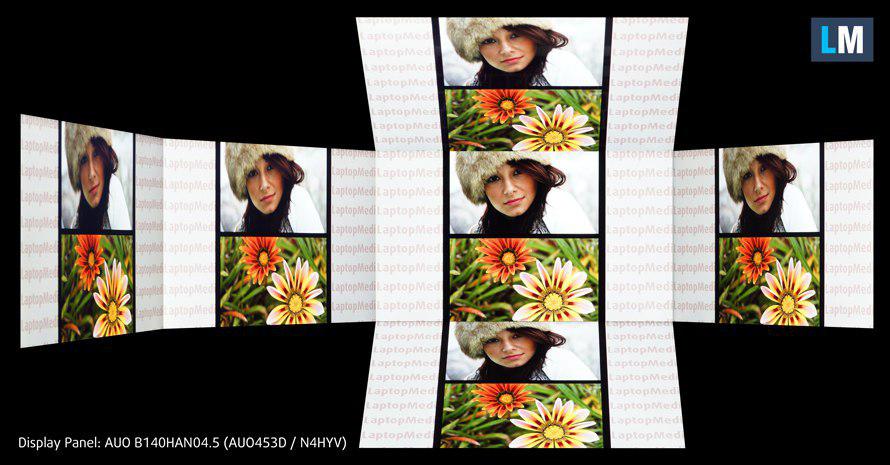 The maximum measured brightness is 228 nits (cd/m2) in the middle of the screen and 218 nits (cd/m2) average across the surface with a maximum deviation of 8%. The Correlated Color Temperature on a white screen and at maximum brightness is 6630K (average) – just missing the optimal 6500K temperature for sRGB. The average color temperature through the grey scale before profiling is 6510K.
In the illustration below you can see how the display performs from uniformity perspective. In other words the leakage of light from the light source. The illustration below shows how matters are for operational brightness levels (approximately 140 nits) – in this particular case at 62% Brightness (White level = 143 cd/m2, Black level = 0.10 cd/m2).
Values of dE2000 over 4.0 should not occur, and this parameter is one of the first you should check if you intend to use the laptop for color sensitive work (a maximum tolerance of 2.0 ). The contrast ratio is good – 1400:1 (1350:1 after profiling).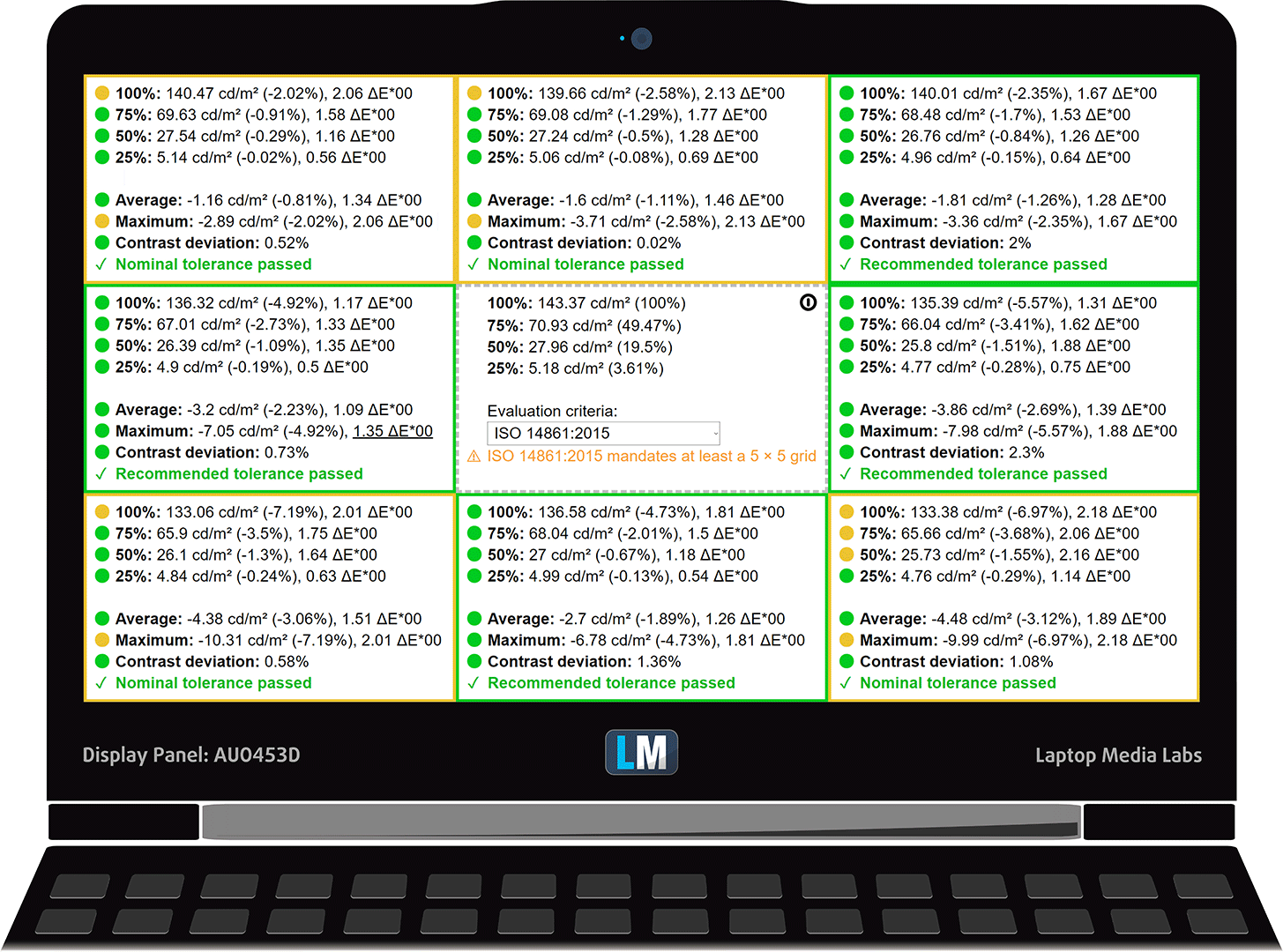 Color reproduction
To make sure we are on the same page, we would like to give you a little introduction of the sRGB color gamut and the Adobe RGB. To start, there's the CIE 1976 Uniform Chromaticity Diagram that represents the visible specter of colors by the human eye, giving you a better perception of the color gamut coverage and the color accuracy.
Inside the black triangle, you will see the standard color gamut (sRGB) that is being used by millions of people in HDTV and on the web. As for the Adobe RGB, this is used in professional cameras, monitors etc for printing. Basically, colors inside the black triangle are used by everyone and this is the essential part of the color quality and color accuracy of a mainstream notebook.
Still, we've included other color spaces like the famous DCI-P3 standard used by movie studios, as well as the digital UHD Rec.2020 standard. Rec.2020, however, is still a thing of the future and it's difficult for today's displays to cover that well. We've also included the so-called Michael Pointer gamut, or Pointer's gamut, which represents the colors that naturally occur around us every day.
The yellow dotted line shows Dell Inspiron 14 5482 2-in-1's color gamut coverage.
Its display covers just 51% of the sRGB/ITU-R BT.709 (web/HDTV standard) in CIE1976.
Our "Design and Gaming" profile delivers optimal color temperature (6500K) at 140 cd/m2 luminance and sRGB gamma mode.
We tested the accuracy of the display with 24 commonly used colors like light and dark human skin, blue sky, green grass, orange etc. You can check out the results at factory condition and also, with the "Design and Gaming" profile.
Below you can compare the scores of Dell Inspiron 14 5482 2-in-1 with the default settings (left), and with the "Gaming and Web design" profile (right).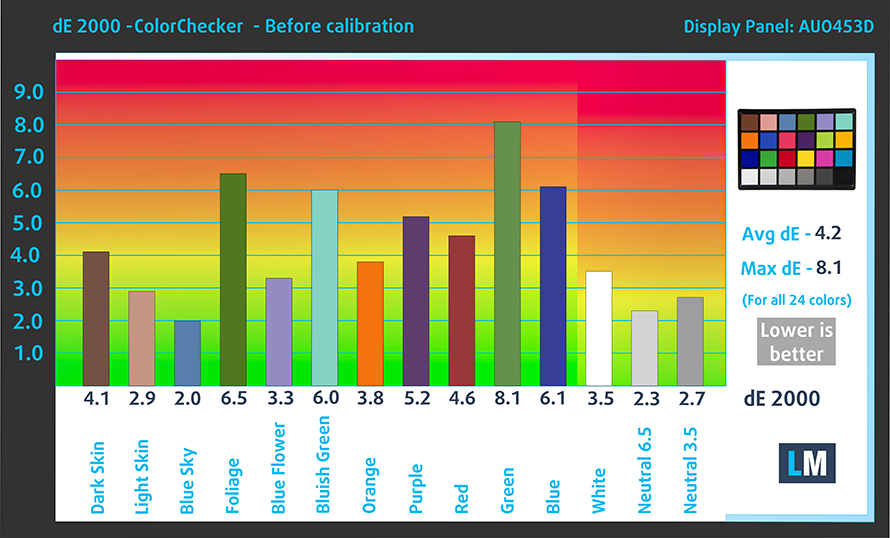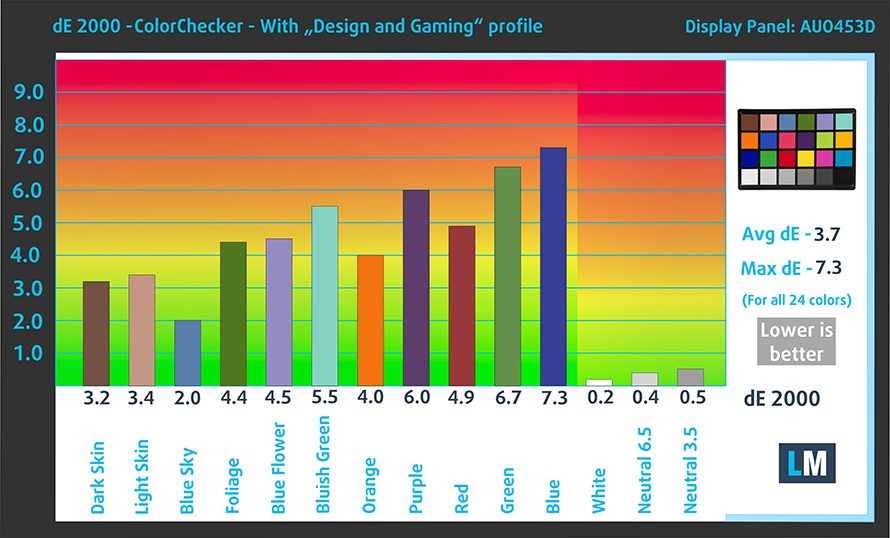 The next figure shows how well the display is able to reproduce really dark parts of an image, which is essential when watching movies or playing games in low ambient light.
The left side of the image represents the display with stock settings, while the right one is with the "Gaming and Web Design" profile activated. On the horizontal axis, you will find the grayscale and on the vertical axis – the luminance of the display. On the two graphs below you can easily check for yourself how your display handles the darkest nuances but keep in mind that this also depends on the settings of your current display, the calibration, the viewing angle, and the surrounding light conditions.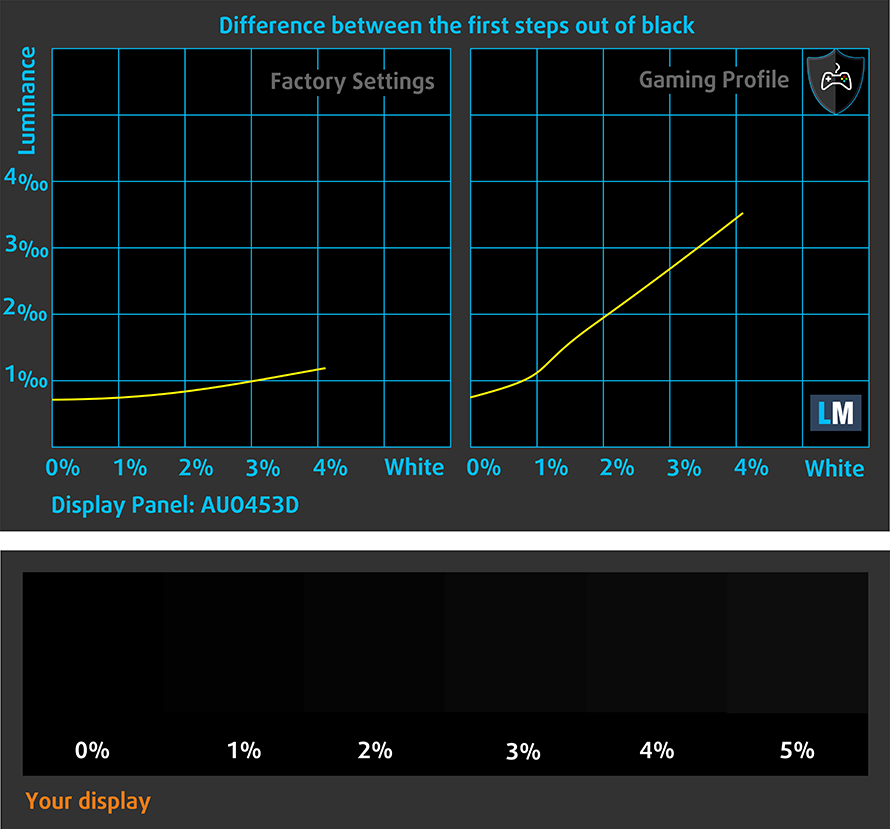 Response time (Gaming capabilities)
We test the reaction time of the pixels with the usual "black-to-white" and "white-to-black" method from 10% to 90% and vice versa.
We recorded Fall Time + Rise Time = 30 ms.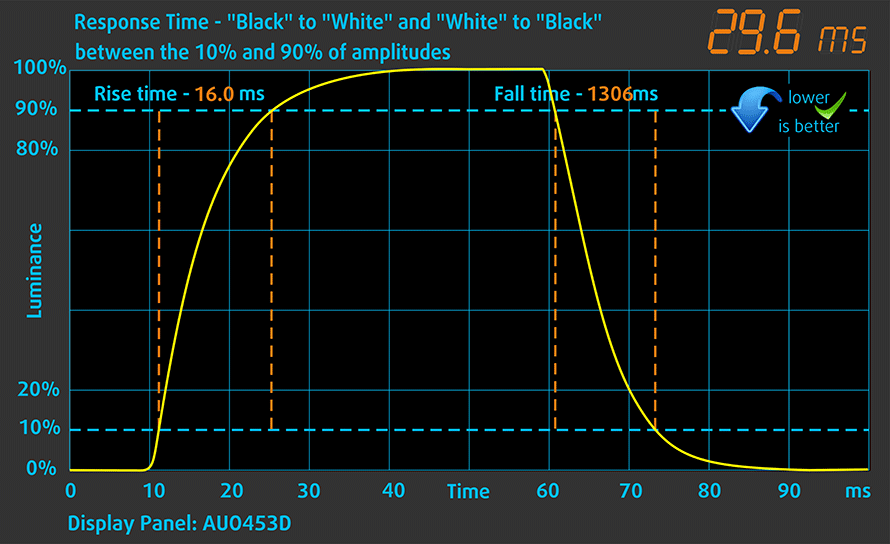 PWM (Screen flickering)
Pulse-width modulation (PWM) is an easy way to control monitor brightness. When you lower the brightness, the light intensity of the backlight is not lowered, but instead turned off and on by the electronics with a frequency indistinguishable to the human eye. In these light impulses, the light/no-light time ratio varies, while brightness remains unchanged, which is harmful to your eyes. You can read more about that in our dedicated article on PWM.
Due to the lack of PWM brightness adjustment at all levels, Dell Inspiron 14 5482 2-in-1 is comfortable and relatively safe to use in this aspect.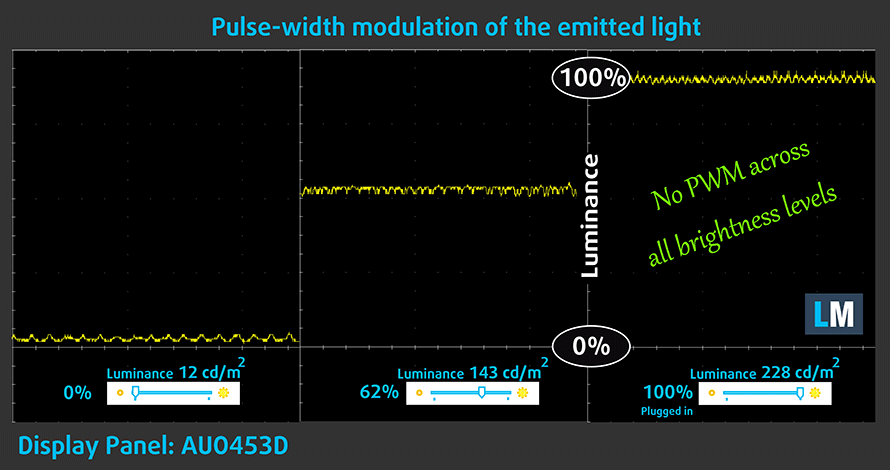 Blue light emissions
Installing our Health-Guard profile not only eliminates PWM but also reduces the harmful Blue Light emissions while keeping the colors of the screen perceptually accurate. If you're not familiar with the Blue light, the TL;DR version is – emissions that negatively affect your eyes, skin and your whole body. You can find more information about that in our dedicated article on Blue Light.
You can see the levels of emitted blue light on the spectral power distribution (SPD) graph.
Conclusion
Dell Inspiron 14 5482 2-in-1's display is touch-sensitive and has a Full HD resolution, comfortable viewing angles and excellent contrast ratio. In addition to that, the light it emits doesn't flicker. However, the screen might appear a bit dim, especially used in outdoor situations with direct sunlight. Another disadvantage is the modest color coverage.
Buy our profiles
Since our profiles are tailored for each individual display model, this article and its respective profile package are meant for Dell Inspiron 14 5482 2-in-1 configurations with 14.0″ AUO B140HAN04.5 (AUO435D / N4HYV) (FHD, 1920 × 1080) IPS.
*Should you have problems with downloading the purchased file, try using a different browser to open the link you'll receive via e-mail. If the download target is a .php file instead of an archive, change the file extension to .zip or contact us at bg.laptopmedia@gmail.com.
Read more about the profiles HERE.
In addition to receiving efficient and health-friendly profiles, by buying LaptopMedia's products you also support the development of our labs, where we test devices in order to produce the most objective reviews possible.
Sound
Dell Insprion 14 5482 2-in-1's speakers are relatively quiet. However, the low, mid, and high frequencies are clear.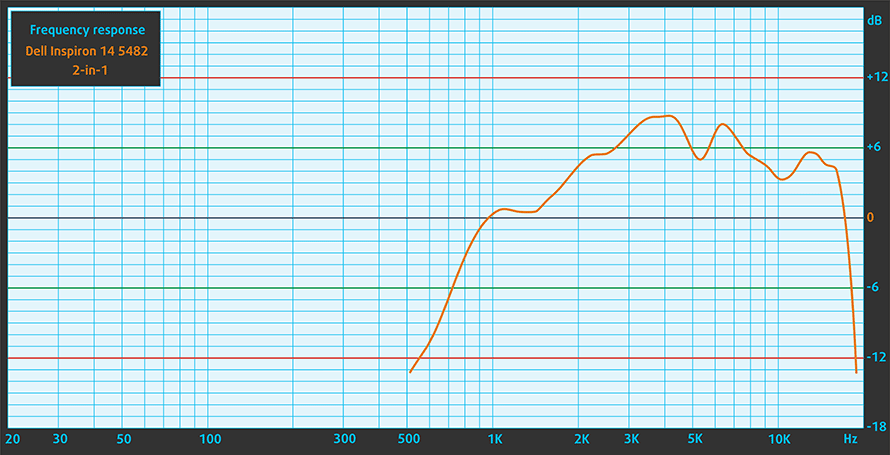 Drivers
You can find drivers and utilities for the Dell Inspiron 14 5482 2-in-1 at Dell's official web page: https://www.dell.com/support/home/si/en/sibsdt1/product-support/product/inspiron-14-5482-2-in-1-laptop/drivers
Storage performance
Dell Inspiron 14 5482 2-in-1 is equipped with a 256GB Toshiba KBG30ZMS256G NVMe drive. As you can see in our table below, this SSD is far from what the competition has to offer, not only in sequential Read and Write speeds, but considering latency as well.
| | | | | | | |
| --- | --- | --- | --- | --- | --- | --- |
| SSD model (480-512GB variants) | Max.Seq.Read (GB/s) | Max.Seq.Write (GB/s) | IOPS 4K Read | IOPS 4K Write | Latency Read (ms) | Latency Write (ms) |
| Toshiba KBG30ZMS256G | 1.48 | 0.24 | 8091 | 19820 | 1.564 | 0.309 |
| Samsung PM981 | 3.41 | 1.88 | 12199 | 27961 | 0.040 | 0.035 |
| LITE-ON CA3-8D512-Q11 | 3.18 | 1.66 | 9864 | 25136 | 0.171 | 0.041 |
| Intel Pro 6000p Series | 1.83 | 0.59 | 7792 | 28266 | 0.075 | 0.033 |
Battery
Now, we conduct the battery tests with Windows Better performance setting turned on, screen brightness adjusted to 120 nits and all other programs turned off except for the one we are testing the notebook with. The 42Wh unit performed exceptionally. It was able to drive the laptop through more than 10 hours of web browsing and around 6 hours and a half of video playback.
In order to simulate real-life conditions, we used our own script for automatic web browsing through over 70 websites.
For every test like this, we use the same video in HD.
We use F1 2017's built-in benchmark on loop in order to simulate real-life gaming.
CPU options
Dell Inspiron 14 5482 2-in-1 comes with a selection of the recently announced Whiskey Lake processors. Today's review unit has the Intel Core i7-8565U CPU which "ticks" at 1.8 GHz base clock and can reach up to 4.6 GHz in Turbo mode.
Results are from the Cinebench 20 CPU test (the higher the score, the better)
Results are from our Photoshop benchmark test (the lower the score, the better)
Dell Inspiron 14 5482 2-in-1 CPU variants
Here you can see an approximate comparison between the CPUs that can be found in the Dell Inspiron 14 5482 2-in-1 models on the market. This way you can decide for yourself which Dell Inspiron 14 5482 2-in-1 model is the best bang for your buck.
Note: The chart shows the cheapest different CPU configurations so you should check what the other specifications of these laptops are by clicking on the laptop's name / CPU.
Results are from the Cinebench 20 CPU test (the higher the score, the better)
Results are from our Photoshop benchmark test (the lower the score, the better)
GPU options
The GPU found on this unit is NVIDIA's GeForce MX130, which is basically a rebranded GeForce 940MX. Its base frequency is 1122 MHz and is able to reach up to 1242 MHz in Boost mode if the cooling allows it to.
Gaming tests
As it is basically a rebranded GeForce MX940, the MX130 performs in a similar fashion. It can push most of the low-demanding games at Full HD resolution but you can't really play at maximum details at a decent frame rate.






Temperatures and comfort
Max CPU load
In this test we use 100% on the CPU cores, monitoring their frequencies and chip temperature. The first column shows a computer's reaction to a short load (2-10 seconds), the second column simulates a serious task (between 15 and 30 seconds), and the third column is a good indicator of how good the laptop is for long loads such as video rendering.
Average core temperature (base frequency + X); CPU temp.
| Intel Core i7-8565U (15W TDP) | 0:02 – 0:10 sec | 0:15 – 0:30 sec | 10:00 – 15:00 min |
| --- | --- | --- | --- |
| Dell Inspiron 14 5482 2-in-1 | 3.12 GHz (B+73%) @96°C | 2.56 GHz (B+42%) @94°C | 2.01 GHz (B+12%) @76°C |
Dell has integrated the latest and greatest of ULV processors by Intel – the Core i7-8565U. The main (and probably only) difference to the Core i7-8550U is the maximum clock speed which reaches up to 4.6 GHz. While this may seem dizzying, it is highly unlikely for this device to ever reach the maximum frequency of the processor. In our tests, we saw some pretty high results but even they were not even close to the promised 4.6 GHz. For the first 10 seconds, the CPU averaged at 3.12 GHz at the scorching 96C. Exactly this is what makes us think that the 4.6 is far from the capabilities of the Inspiron 14 5482 2-in-1.
Real gameplay
| NVIDIA GeForce MX130 | GPU frequency/ Core temp (after 2 min) | GPU frequency/ Core temp (after 30 min) |
| --- | --- | --- |
| Dell Inspiron 14 5482 2-in-1 | 993 MHz @ 69°C | 901 MHz @ 69°C |
Dell Inspiron wasn't able to maintain the base frequency (1122 MHz) of the MX130 for a long time. In fact, it was only able to do it for a matter of seconds before it went down to 990-ish MHz. The good thing is that the temperature was pretty low at 69°C throughout the whole test.
Gaming comfort
As we saw in our tests, the thermal configuration of the Dell Inspiron 14 5482 2-in-1 is being a little conservative. Leaning more towards low temperatures rather than high frequencies makes the laptop pretty cool. At least on the outside – the hottest spot is just beneath the "8" key and we measured a very stable 46°C. This means that the device won't ever get uncomfortably warm to your hands.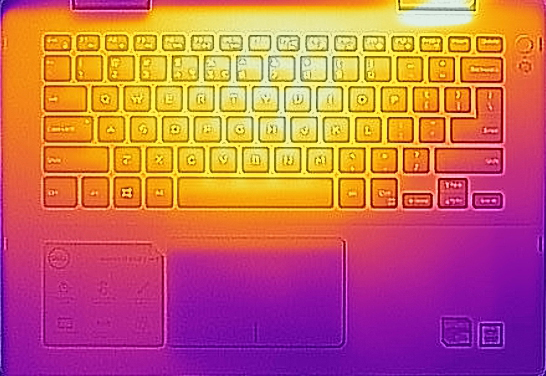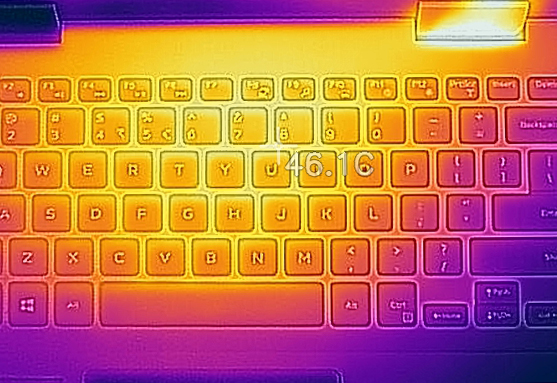 Verdict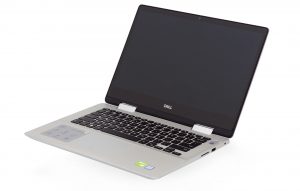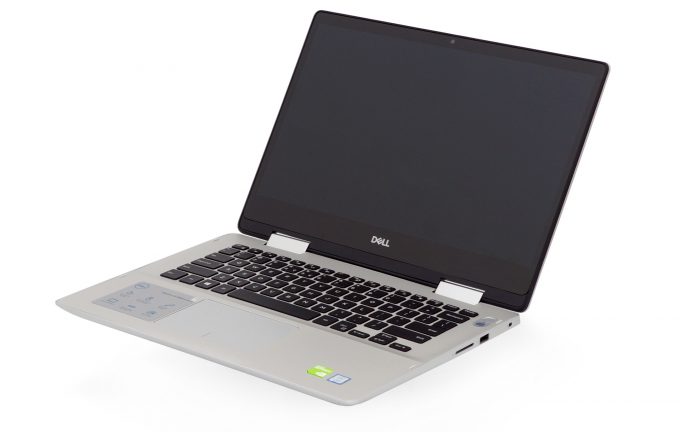 Dell Inspiron 14 5482 2-in-1 is certainly a well-built device. However, it is not the best you can find on the market today. Yes, the touchscreen responsiveness is awesome, but there is more to be desired from the screen. While it is punchy, it lacks half of the colors in sRGB and is dimmer than what you would expect from a multimedia device.
This is sad because the battery life of this 14-inch machine is very good. It can run through 10 hours of web browsing and around 6 and a half of video playback. In addition to that, there is nothing much to say in favor of the Inspiron 14 5482 2-in-1.
Do not get us wrong, it is one heck of a laptop but… you can simply find more in the competition. Especially given that the 14-inch screen is not too different from 13.3-inch devices that infest the market. For example, you could consider the ASUS ZenBook Flip 14 UX461UN Pro which is a great piece of hardware. For a little less you can get the VivoBook Flip 14 TP410UR and the Lenovo Yoga 730 which both come with a stylus in the box. And here it comes the last but probably the most important aspect that we didn't like about this laptop – it's weight. At 1.75 kg there are 15.6-inch devices that are lighter than that. Also, this is the reason it is quite uncomfortable to hold in "tablet" mode.
On the bright side – you get one of the fastest fingerprint readers, an MX130 onboard which can provide you with some gaming capabilities. So, if you are not very picky you won't find any problems with this device. However, if you prefer more refined devices – this is not the laptop for you.
Pros
Good build quality
The screen doesn't use PWM for brightness adjustment (AUO B140HAN04.5)
Responsive touchscreen with stylus support
Great battery life
Offers post-purchase upgrade options
High-end fingerprint sensor
Cons
The display (AUO B140HAN04.5) lacks half of the sRGB colors
Not bright enough screen for outdoor use (AUO B140HAN04.5)
Heavy for a 14-inch convertible
The Core i7-8565U couldn't be utilized at maximum due to thermal limitations
You can check the prices and configurations in our Specs System: https://laptopmedia.com/series/dell-inspiron-14-5482-2-in-1/