Dell Inspiron 7559 review – the gaming arena has become even more spectacular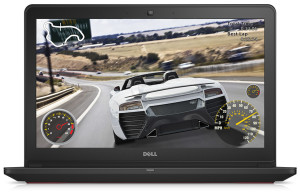 Dell is way more popular with its mainstream, budget and workstation notebooks than it is in the gaming segment. Actually, Dell as a corporation is pretty much leading the high-end gaming PC market behind the scenes with its Alienware subsidiary, but the latter remains differentiated, and that's the right way to go, precisely because of our initial statement.
So, Dell is far from cannibalization with Inspiron 7559, but tries to settle its positions in the "mainstream" gaming class, offering an affordable notebook with some gaming DNA. It's equipped with the appropriate GTX GPU (960M GDDR5), Intel Core processor with standard voltage and an IPS display. That makes the gaming market even more competitive and interesting. The rivalry here is stronger than ever with the new ASUS ROG GL552VW, ASUS ROG G552, Acer Aspire V15 Nitro and Lenovo Y700.
Round One. Fight!
You can check the current price of Dell Inspiron 7559 here: http://amzn.to/1m7Jvli
Contents
What's in the box?
You won't be surprised by anything that comes with the laptop. In addition to the Inspiron, in the box you'll find its Lite-On LA130PM121 charger (130W), and a couple of manuals.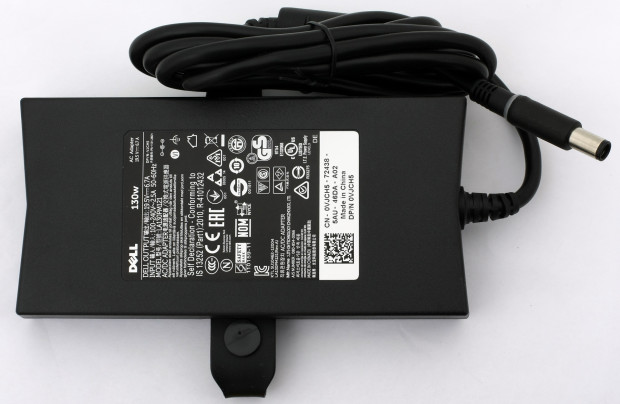 Design and construction
The new Inspiron should be suitable for professional work as well, and perhaps that's why it doesn't look like the typical "beast". With the lid closed, Dell Inspiron 7559 looks rather elegant, with nothing particular grabbing your attention. The Dell logo is red, and not an aggressive red, but more of a soft "Bordeaux" color, instead. The whole panel is covered with matte rubber – it doesn't attract a lot of fingerprints and smudges, and it can be cleaned up quite easily. We really liked that.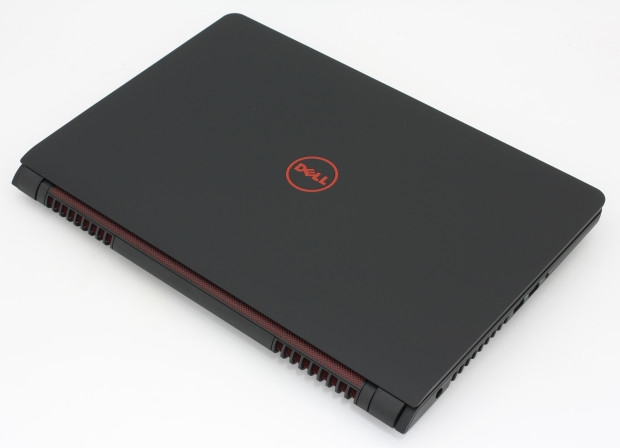 Fortunately, Dell has kept the same style for the interior where the palm rest has the same rubber coating, and the trackpad is surrounded by a thin red line. The speaker grill has the same color and lies almost side to side, covering both of the front speakers. There is a subwoofer at the bottom of the notebook, but we'll take a look at that a little later.
The keyboard of Dell Inspiron 7559 has slightly smaller keys than we would like (15 x 15 mm) but that's a small price to pay for a NumPad panel, on the right. Some gamers won't be happy with the size of the arrow keys too, and especially with the fact that the "Up" and "Down" keys are right next to each other. On the bright side, we have a nice looking white backlight – additional proof that 7559 isn't built just with gamers in mind (you don't see gaming notebooks with a white backlight everyday, right?). Despite the smaller size, the keyboard has good feedback and key travel, so most probably, it won't take you long to get used to it.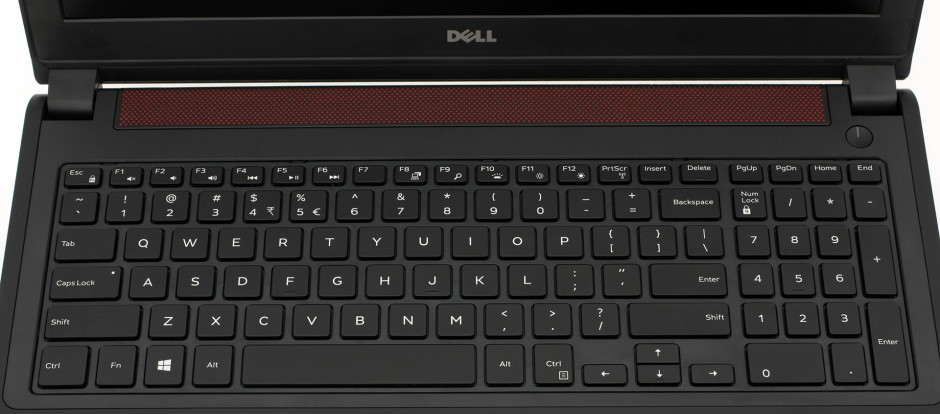 Unlike the keys, the trackpad area is rather generous (102 x 78 mm). That will come in handy when using gestures. The Left and Right cursor click buttons are hidden behind its plate and are divided by a little thin red line in the lower center of the trackpad. We don't have any complaints over its accuracy or surface – it's quite convenient to use.
On the left side of the notebook are the Power-adapter port, two USB 3.0 ports and an audio combo port (for headset, headphone or microphone). Also there is one of the cooling vents, and that's a good position since we don't like the right-positioned air vents in gaming laptops – they tend to cause discomfort, blowing hot air into your mouse hand during long and intensive game sessions. Instead, the right side is populated with an SD/MMC card reader, USB 3.0 port with PowerShare (you can charge other USB devices while the computer is turned off), LAN port and Security-cable slot.
The back has nothing but two more air vents for the cooling system, while the front has a little "Power and battery‑status" LED in its center.
Disassembly, maintenance, internals and upgrade options
It's pretty easy to reach the most commonly upgraded and serviced components in Inspiron 7559 – RAM, HDD/SSD, cooling system and the battery. The latter should be disconnected before maintenance by means of the cable in the red circle in Picture 4. To access it, you have to take off the base cover by loosening its captive screw.
Storage upgrade options – 2.5″ slot, M.2 slot
Good news! Inspiron 7559 has an M.2 slot for additional, faster storage. Unfortunately, it isn't PCIe, but rather SATA III based, which means that you can expect transfer speeds limited to around 500MB/s. In our unit, the M.2 slot is free and the 2.5-inch one is populated by Seagate Solid State Hybrid Hard Drive (ST1000LM014) with a capacity of 1TB.
| Slot | Component | Price |
| --- | --- | --- |
| 2.5-inch slot | Seagate Solid State Hybrid (ST1000LM014) Hard Drive – 1TB, 5400 rpm | Check price |
| M.2 slot, M key, SATA III, 2280 | Free | – |
RAM upgrade options – 2 slots, DDR3L
There are two DDR3L RAM slots, but in our case only one of them is in use. Dell Inspiron 7559 has 8GB SK Hynix 2Rx8 PC3L-12800S RAM, so it could be easily upgraded to 16GB, adding 8GB in the other slot.
| Slot | Component | Price |
| --- | --- | --- |
| DDR3L RAM Slot 1 (1.35V) | SK Hynix 2Rx8 PC3L-12800S – 8GB | Check price |
| DDR3L RAM Slot 2 (1.35V) | Free | – |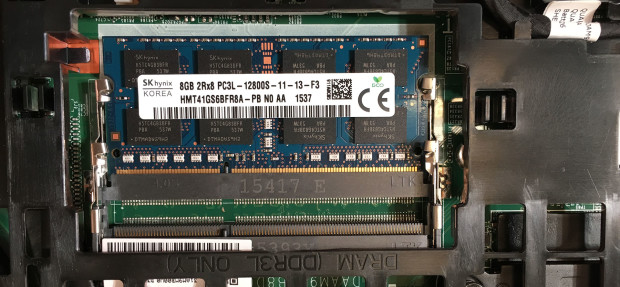 Other components
We also have an Intel Dual Band Wireless AC 3165NGW AC3165 module, so it supports the 5GHz band if your router is 802.11ac as well. Dell Inspiron 7759 uses 74Wh / 6333 mAh battery, made by Suining Elentec Electronics Co. Its capacity should be enough for good battery life, but we'll test that a little later. In addition to the battery you can see the subwoofer, which is part of the 2.1 audio system.
Cooling system
Inspiron 7559 has a well-built cooling system with two fans and three shared heatpipes. We'll check in detail how it cools the notebook under high load in our temperature section. The hot air is lead out to the left and rear sides, which is good, considering the fact that you can use an external mouse on the right – your hand won't be unnecessarily warmed up.
Display and Sound
Dell Inspiron 7559 has a Full HD display with an IPS panel and matte finish – model number NV15N41, built by BOE. It is a 15.6-inch (39.62 cm) screen with a resolution of 1920 x 1080, 16:9 aspect ratio and pixel density of 141 ppi, at 0.18 x 0.18 mm pixel pitch. The display can be regarded as "Retina" (the eye cannot distinguish separate pixels) when viewed from distance equal to or greater than 61 cm.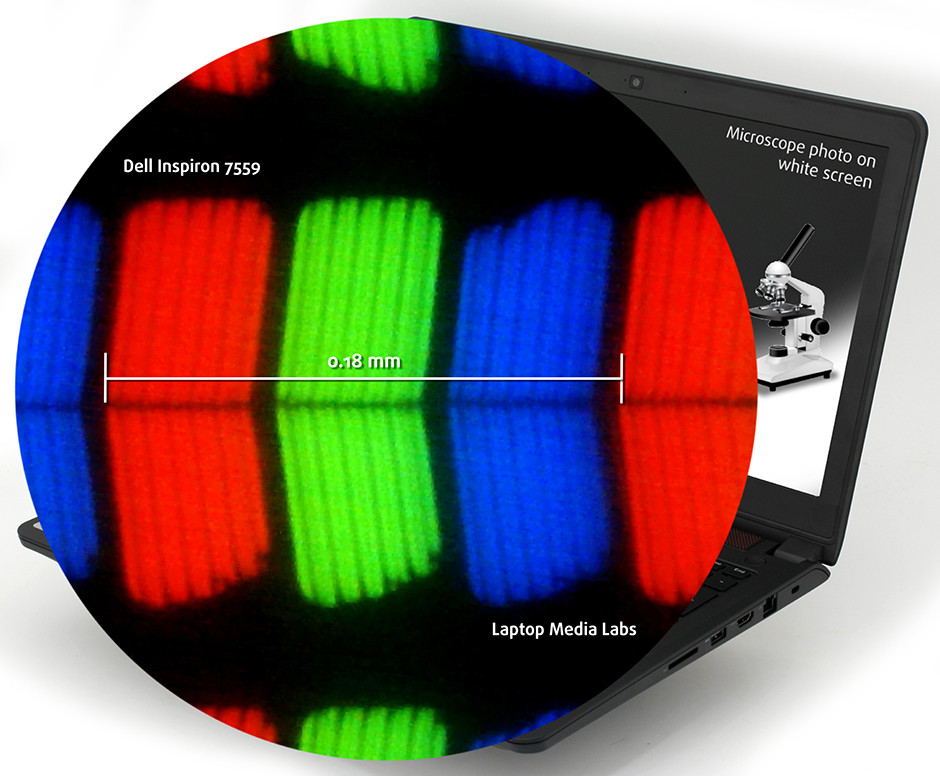 Dell Inspiron 7559 offers comfortable viewing angles, as you can see in the 45° image below.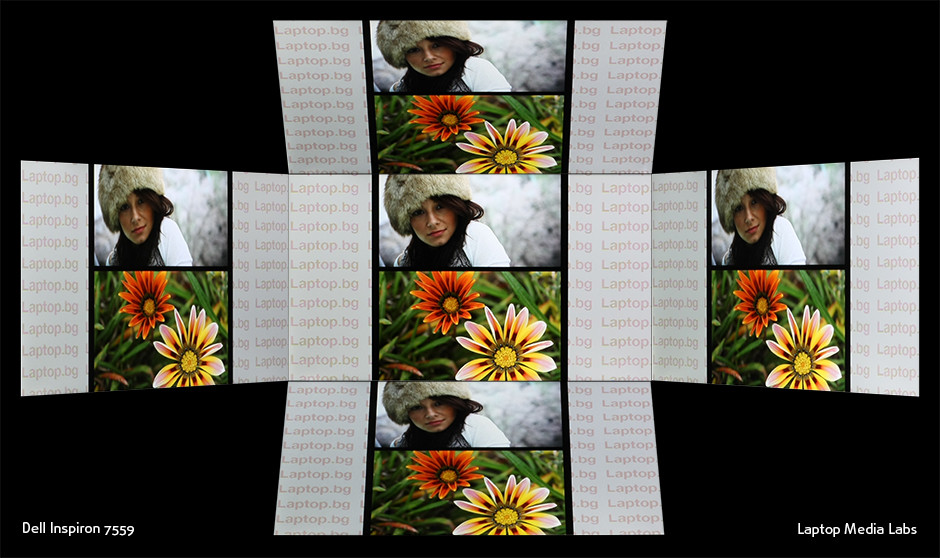 The measured average maximum brightness pre-calibration is 197 cd/m2 with 9% deviation. The average color temperature on the screen is 5770K – pretty close to the optimal (6500K). There aren't any unacceptable deviations on the display.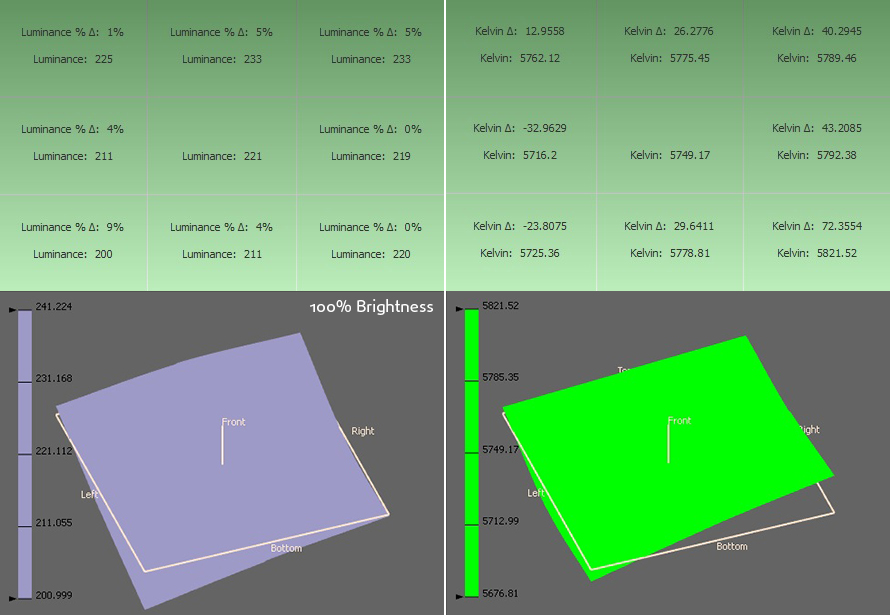 Color reproduction
To make sure we are on the same page, let's have a little introduction into the sRGB and Adobe RGB color gamuts. The CIE 1976 Uniform Chromaticity Diagram represents the spectrum of colors visible to the human eye, thus giving you a better perception of color gamut coverage and color accuracy. Inside the black triangle, you will see the standard color gamut (sRGB), used by millions of people in HDTV and on the Web. As for Adobe RGB, it is used to work with professional cameras and monitors when preparing print. Basically, colors inside the black triangle are used by everyone, and so reproducing them accurately is key in a quality display.
The yellow triangle below represents the coverage of Dell Inspiron 7559's display – 55% of the sRGB color gamut means that it won't provide very saturated colors.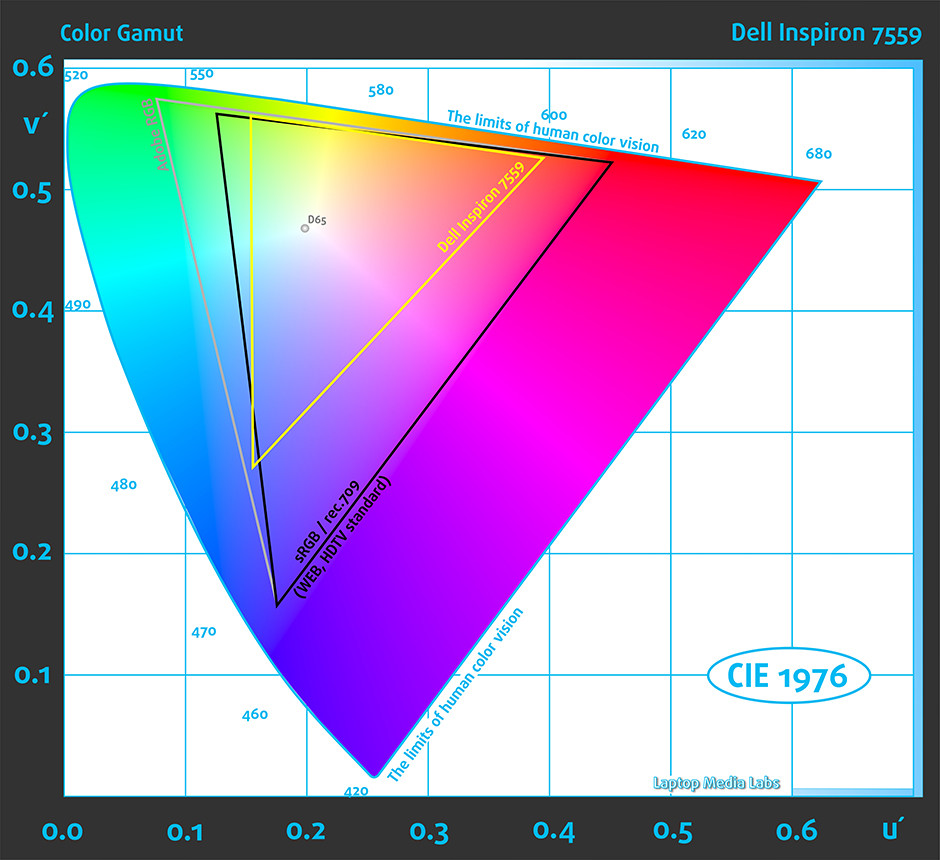 The image below is practically the same as the one above, but this time you can see the colors that have 100% and 50% saturation, as well as the reference colors indicated by the white dots.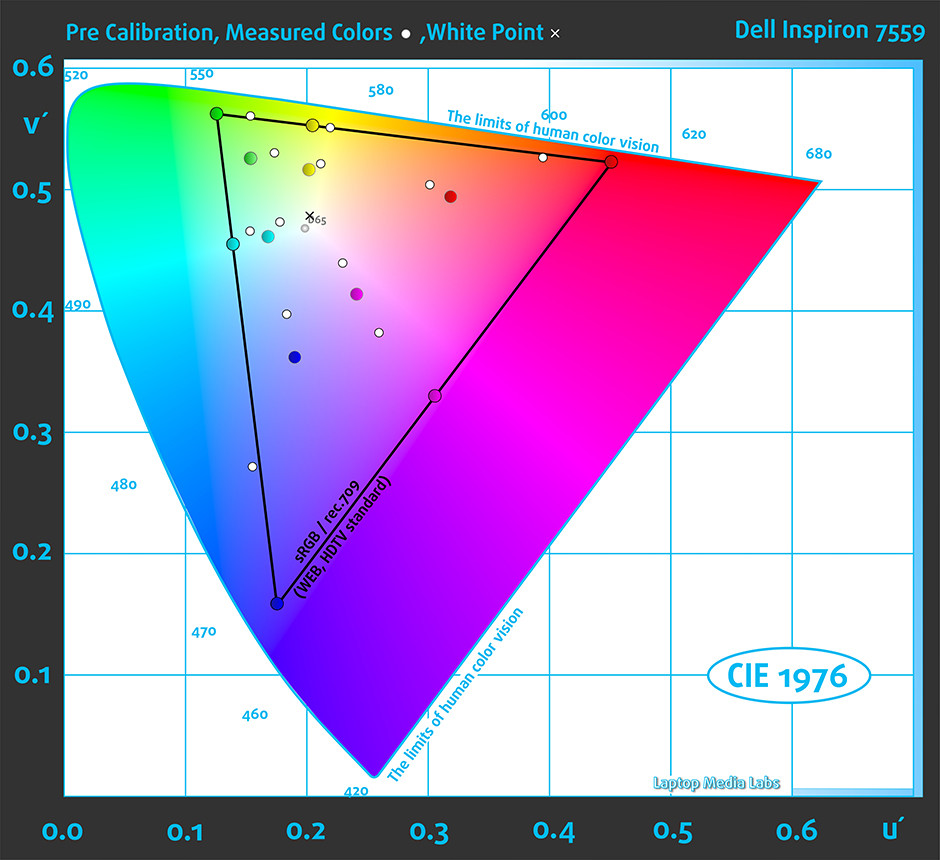 The gamma curve aligns almost perfectly with the standard 2.2 after calibration. You can also view the color temperature on the graph below.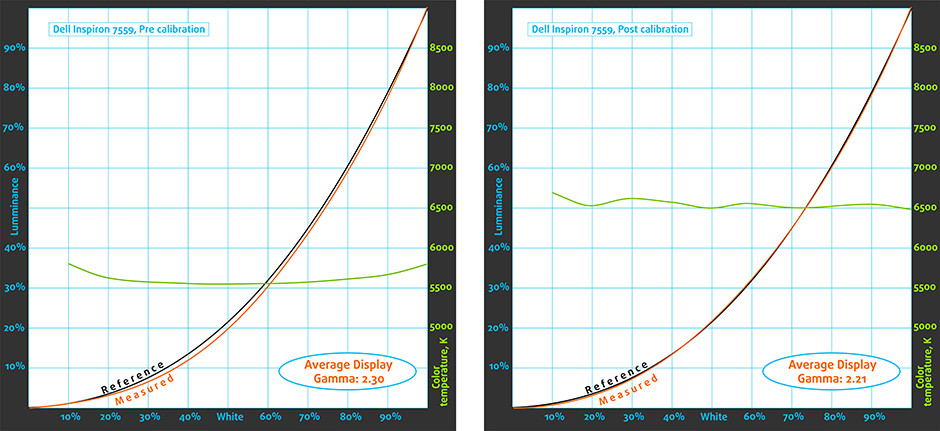 We calibrated the display at 140 cd/m2 brightness and color temp of 6500K.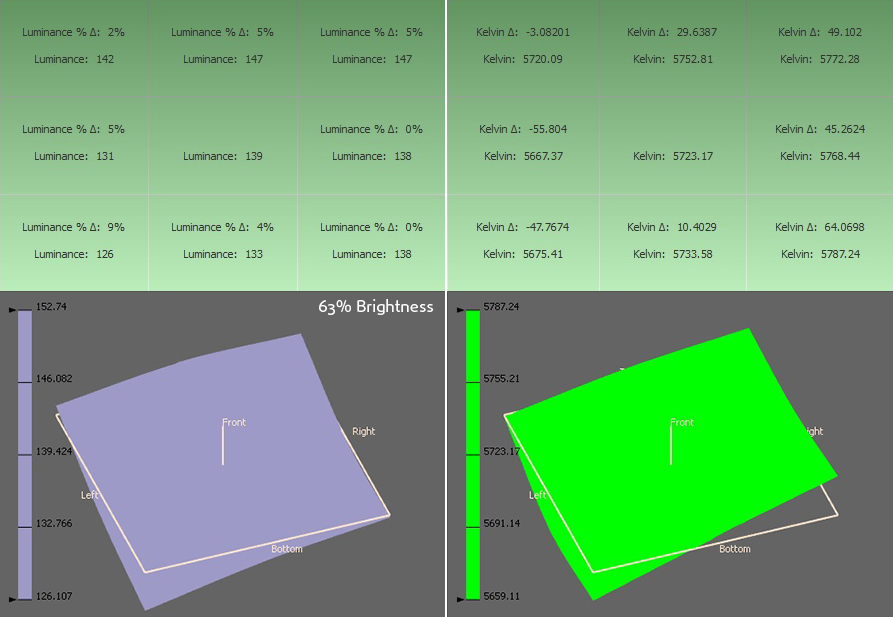 We used X-Rite i1Display Pro for calibration.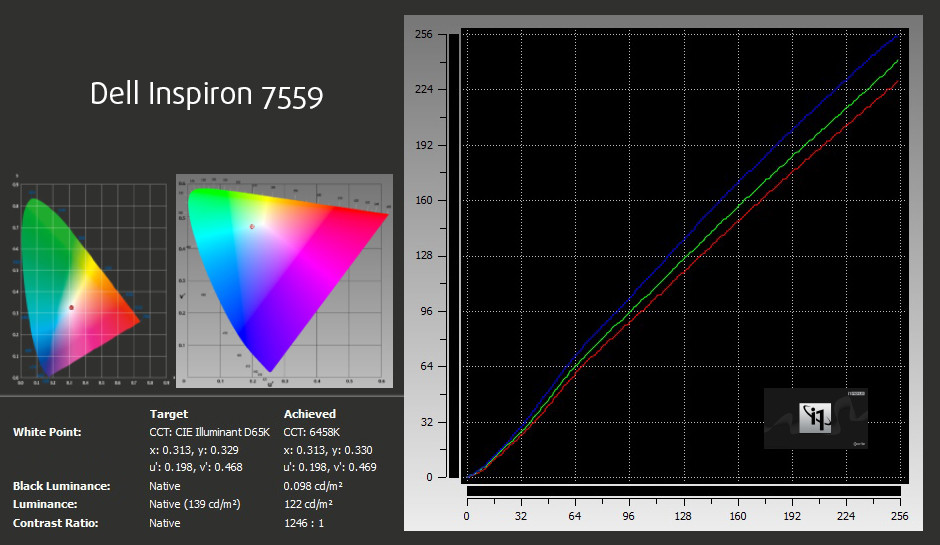 We tested the display using 24 commonly used sample colors like skin tones, grass, blue sky, orange etc. The average DeltaE 2000 is equal to 0.89 after calibration – this adds up to pretty accurate color reproduction. The contrast ratio is 1420:1 before and 1250:1 after calibration.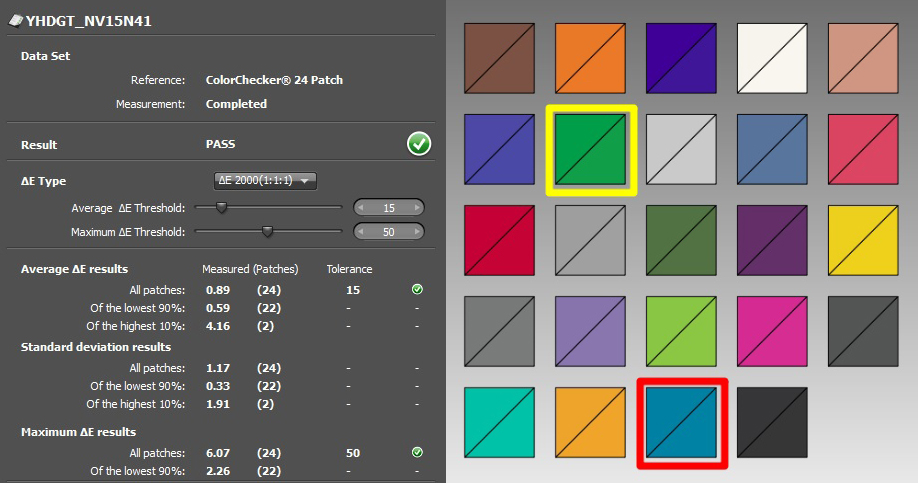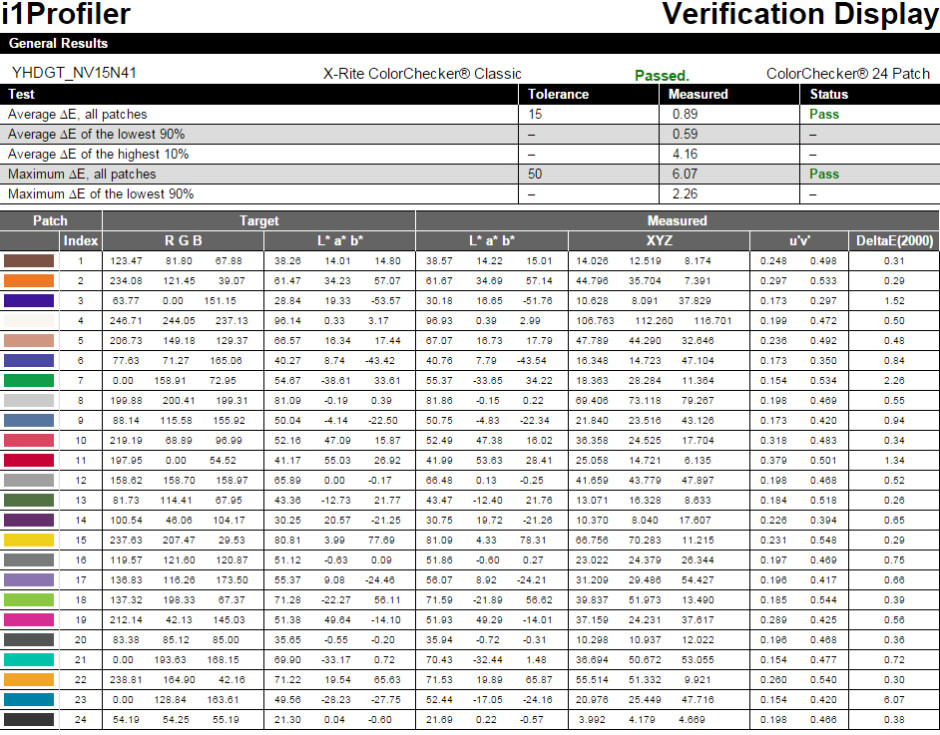 We also included other colors in the test, as you can see from the graph below.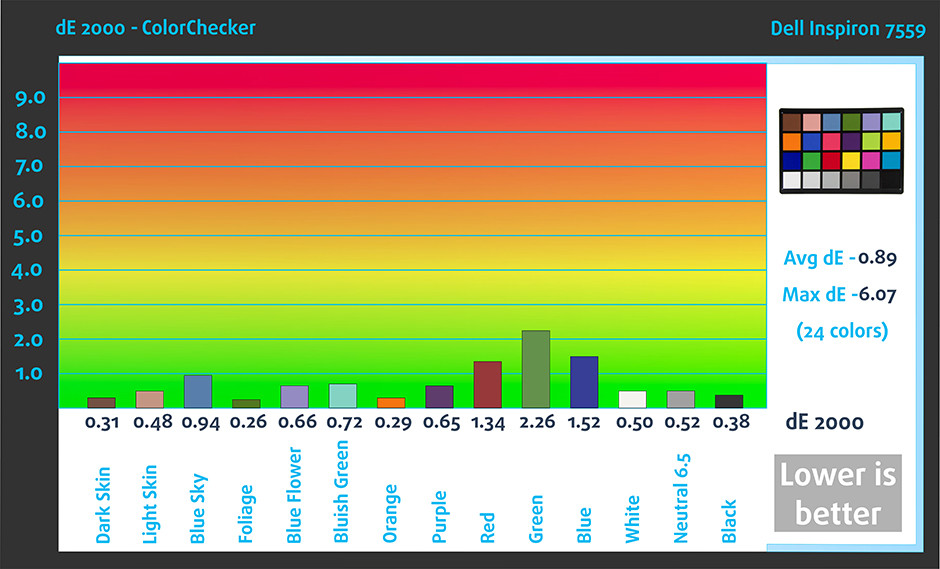 PWM
Dell Inspiron 7559's display uses PWM. However, the frequency of the pulsations is very high – 20.5 kHz, which reduces the negative effect on the eyes.


Conclusion
Dell Inspiron 7559's display has high resolution and accurate colors, according to ColorChecker. Viewing angles are comfortable and the contrast ratio is high, but the coverage of the sRGB color gamut is relatively poor. It is suitable for watching videos, browsing the web, gaming and various business tasks, or in other words, anything that doesn't need accurate colors.

Buy our profiles
[edd_item edd_id_1='69658′ edd_id_2='69661′ edd_id_3='69665′ edd_id_4='69668′]
Sound
Dell Inspiron 7559 provides good stereo sound with high maximum volume. The low and middle frequencies have great quality, but we detected some deviations in the highs.

Specs sheet
These technical specifications refer only to the particular device being tested in this review. Laptops from the same series could have different characteristics and features.
Processor
Intel Core i5-6300HQ (4-core, 2.30 – 3.20 Ghz, 6MB cache)
RAM
8GB (1x 8192MB) – DDR3L, 1600MHz
Graphics card
NVIDIA GeForce GTX 960M (4GB GDDR5)
HDD/SSD
1TB SSHD (7200rpm, 1TB HDD + 8GB SSD)
Display
15.6-inch (39.62 cm.) – 1920×1080 (Full HD), IPS matte
Optical drive
–
Connectivity
LAN 10/100/1000 Mbps, Wi-Fi 802.11ac (Dual Band 2.4&5 GHz, 1×1), Bluetooth 4.0
Other features

3x USB 3.0
Built-in webcam
Built-in microphone
LAN
HDMI 1.4
VGA
Card reader (SD, MMC)
Waves MaxxAudio loudspeakers + subwoofer
Keyboard LED backlight

Battery
4-cell 74Wh Battery
Thickness
25.4 mm
Weight
2.6 kg
Dell Inspiron 7559 configurations
Drivers
The configuration we tested came with Windows 10 (64-bit) pre-installed, but if yours doesn't, or you still need drivers, you should check the official support page:
http://www.dell.com/support/home/us/en/19/product-support/product/inspiron-15-7559-laptop/drivers?rvps=y

Battery Life
The 74Wh battery should provide juice for the 45W Core i5-6300HQ, GeForce GTX 960M and the Full HD IPS 15.6-inch screen. These consume the most energy in 7559, but according to Dell, the battery's capacity should still be enough for almost a full workday without your charger. Since we believe in nothing but our own lab tests, we're going to check what the laptop endurance will be in our Web Surfing, Video Playback and Gaming tests, at 120 cd/m2 brightness, Power Saver mode and connected Wi-Fi.
Web Surfing
As usual, we start with Web browsing, where we use a custom script to automatically load different popular pages.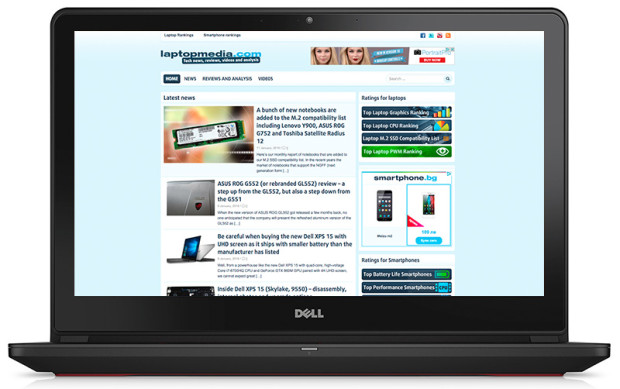 An awesome result of 461 minutes (7 hours and 41 minutes) is exactly what we were promised, and we're pretty happy with it. Keep in mind that we aren't talking about a ULV CPU and moreover, we have a Full HD IPS screen.
Video Playback
For our Video playback test we use 720p HD video.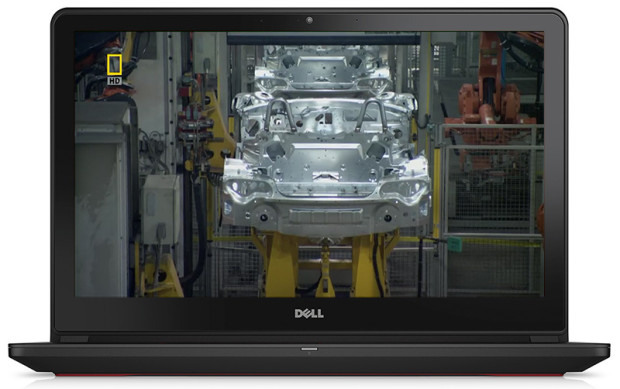 The outcome of our Video playback test considerably lower – 333 minutes, or 5 hours and 33 minutes. Still a good one, though.
3D Gaming
For accurate simulation we used the F1 2015 benchmark running on a loop with graphic settings set to minimum.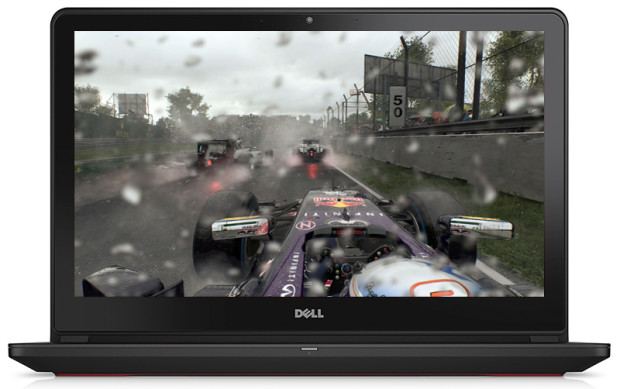 We can use our 7559 as an 'On-The-Go' gaming machine as well, since it managed to stay on for 182 minutes (3 hours and 2 minutes), playing F1 2015, on a single charge.

CPU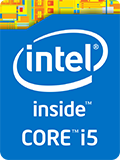 Intel Core i5-6300HQ represents the Skylake family and it's considered a high-performance chip with normal voltage and TDP of 45W. The Core i5-6300HQ has four cores ticking at 2.3GHz and can go up to 3.2 GHz for one active core, 3.0GHz for two active cores and 2.8 GHz for four active cores.
Although it's a part of the Core i5 line, it's just ~15% slower than Intel Core i7-4702MQ and it's ~50% faster than Intel Core i5-4300M. This makes Core i5-6300HQ the perfect choice for gaming machines, where one would want to spend their budget on offerings with a more powerful GPU, but wouldn't want to compromise too much in terms of computing performance.
Furthermore, the chip is manufactured using a 14nm FinFET process and integrates an Intel HD Graphics 530 GT2 GPU with 24 EU (Executable Units) clocked at 350 – 950 MHz. The memory controller supports up to 64GB of DDR3 or DDR4 RAM at 1600 or 2133 MHz, respectively. The CPU is suitable for heavy applications and gaming.
Take a look at our CPU rating system to see where the Core i5-6300HQ stands:
http://laptopmedia.com/top-laptop-cpu-ranking/
The official Intel Core i5-6300HQ page can be found here:
http://ark.intel.com/products/88959
Results are from our Photoshop benchmark test (the lower the score, the better)
Results are from the Fritz chess benchmark (the higher the score, the better)
Fritz
Fritz is a chess benchmark that tests the computing capabilities of the CPU with various chess moves. The Intel Core i5-6300HQ managed to get 8.802 million moves per second. In comparison, one of the most powerful chess computers, Deep(er) Blue, was able to squeeze out 200 million moves per second. In 1997 Deep(er) Blue even beat the famous Garry Kasparov with 3.5 to 2.5.

GPU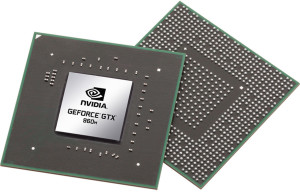 The GeForce GTX 960M (4GB GDDR5) is a high-end graphics card, but is used mostly in budget gaming laptops. It is part of the Maxwell family of GPUs. It features 640 CUDA cores, or simply – shading units, along with 32 ROPs and 53 texture units. It has 4GB of dedicated VRAM (GDDR5 here). The bandwidth of the memory is 80.2 GB/s and the bus is 128-bit.
The GTX 960M uses the same GM107 GPU core that we saw in last year's 860M, but this one is targeted at bumping the notebook's battery life and adding some extra performance. The latter is not emphasized as much. However, the GM107 is clocked a bit higher than last year's model – 1097MHz base clock and boost of up to 1176MHz. It also supports resolutions of up to 2048×1536 through VGA and 3840×2160 through DisplayPort and HDMI.
You can browse through our GPU ranking to see where the NVIDIA GeForce GTX 960M (4GB GDDR5) stands: http://laptopmedia.com/top-laptop-graphics-ranking/
For more information about the GPU, follow this link: http://laptopmedia.com/video-card/nvidia-geforce-gtx-960m-4gb-gddr5/
Results are from the 3DMark: Fire Strike (Graphics) benchmark (higher the score, the better)
Gaming Tests
We conducted the gaming tests in Full HD resolution, with driver version 361.43.


| Tomb Raider (1080p, Low) | Tomb Raider (1080p, Medium) | Tomb Raider (1080p, Max) |
| --- | --- | --- |
| 150 fps | 69 fps | 33 fps |


| F1 2015 (1080p, Low) | F1 2015 (1080p, Medium) | F1 2015 (1080p, Max) |
| --- | --- | --- |
| 62 fps | 51 fps | 39 fps |


| Thief (1080p, Low) | Thief (1080p, Medium) | Thief (1080p, Max) |
| --- | --- | --- |
| 49 fps | 43 fps | 28 fps |

| GTA 5 (1080p, Low) | GTA 5 (1080p, Medium) | GTA 5 (1080p, Max) |
| --- | --- | --- |
| 82 fps | 41 fps | 13 fps |


| Middle-Earth: Shadow of Mordor (1080p, Low) | Middle-Earth: Shadow of Mordor (1080p, Medium) | Middle-Earth: Shadow of Mordor (1080p, Max) |
| --- | --- | --- |
| 70 fps | 42 fps | 33 fps |
Temperatures, Comfort and Stability
When idling, Inspiron 7559's CPU hovers around the 35-40°C mark, which is pretty normal.
When we started the 100% CPU load, the temperature of the cores rose to 70-73°C, but a minute later they bounced back to 63-68°C, with a clock speed of 2.8GHz. Inspiron 7559 kept things like that until the 30 minutes mark, when we added 100% GPU load in addition to the 100% CPU.
It was a nice surprise that 60 minutes later (30 mins CPU + 60 minutes CPU/GPU load), the processor was still running at 78-81°C, / 2.8GHz and the GPU – 69°C, (and 540MHz/2500MHz clock speeds).
Here is how the surface temperatures look at the end of the tests (but before we stop). The hottest point is around the "P" key, with a temp of ~52°C. Not that much and certainly won't compromise one's comfort, although chances are you won't be able to put such a burden on your notebook anyway, that is, without the use of synthetic software.
Conclusion
Ultimately, we have some mixed feelings about Dell Inspiron 7559, and strangely, depending on your region. If you're in the USA, the laptop (which can be found under the i7559 name) is an absolute steal. The current price on Amazon.com is just $799, and this is the best you can get in this price category. Meanwhile, the identical configuration of Inspiron 7559 in the UK is £829 ($1206). That's 50% more than in the USA and dramatically changes things.
Leaving price aside, we have a great gaming (yet elegant) machine with decent hardware aimed to suit the needs of those who can't afford to spend a huge amount of money (the flagship GPUs aren't cheap at all), but still want to have fun playing the latest games – if not on the highest, then at least on medium settings. The work of the powerful GPU and CPU will be displayed on a Full HD IPS screen, which, for good or bad, has relatively low maximum brightness. It uses PWM for all brightness levels below 100%, so we recommend keeping the slider on the max setting. On the bright side, the most common colors are accurate (DeltaE = 0.89), and the viewing angles are great, as expected.
We can't go without some positive words about the battery life, which got up to almost 8 hours on one charge in our Web Surfing test. Something else that impressed us (yes, that's hasn't been typical of us of late) – the superbly simple access to the HDD, M.2, RAM and Wi-Fi in the notebook – just remove the service lid held by a captive screw!
You can check the current price of Alienware 17 R3 here: http://amzn.to/1JjnvZn
Pros
Stylish design with easy to clean rubber coating
Good CPU and GPU performance
Great battery life
IPS screen with accurate colors (Average DeltaE = 0.89) and good viewing angles
Easy maintenance
Well built cooling system
M.2 slot for additional storage
Cons
Relatively low screen brightness and just 55% sRGB coverage
The M.2 slot works with SATA III storage modules