How to open the Lenovo Yoga Slim 6i (14, Gen 8, 14IAP8) – disassembly and upgrade options
1. Remove the Bottom Plate
– Begin by turning off the laptop and placing it upside down.
– Using the appropriate screwdriver, undo the 6 Torx-head screws on the back of the laptop.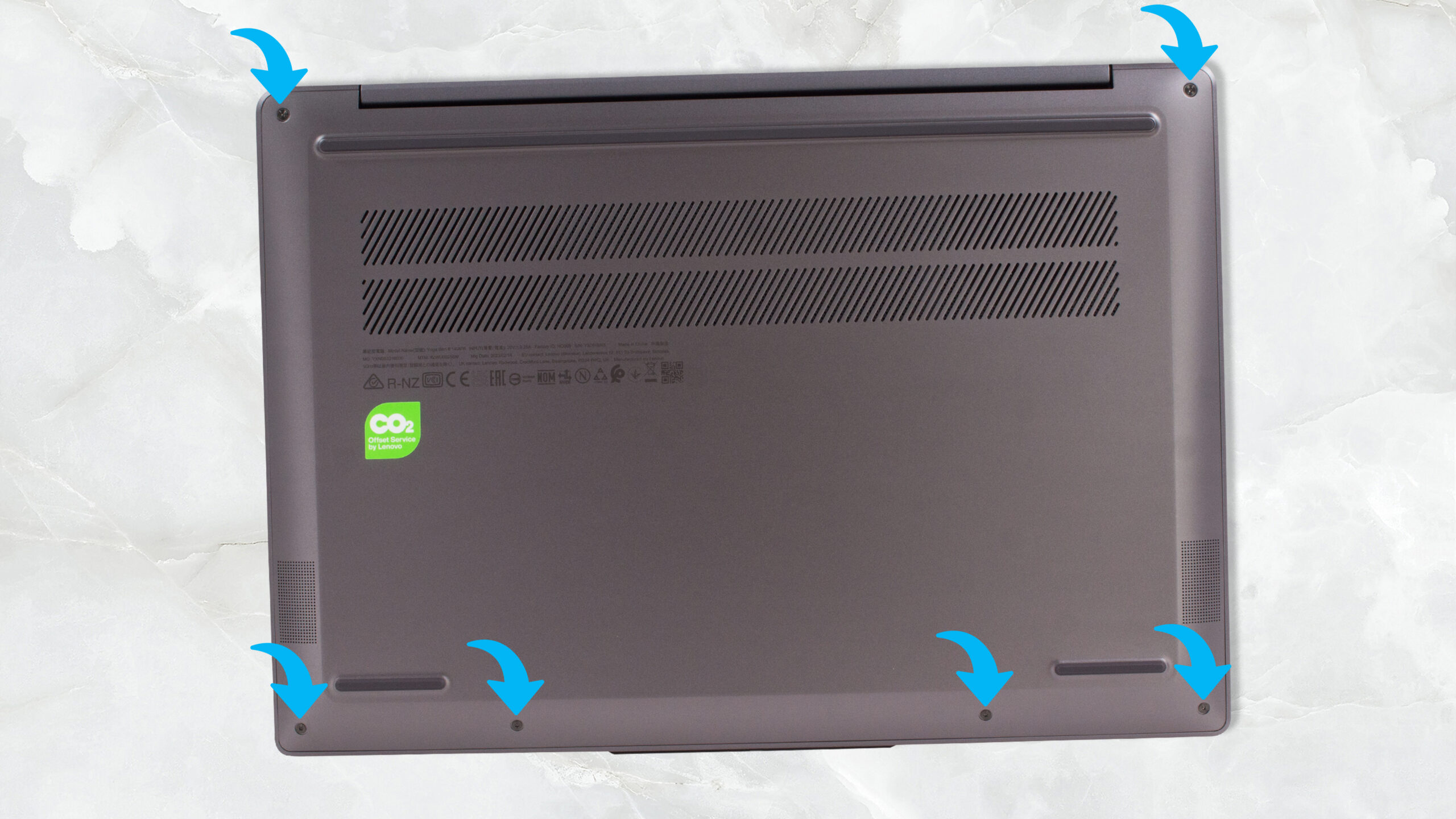 Note: Prying can be challenging, and the bottom plate may be firmly clipped into place.
– Once all screws are removed, you'll need to carefully pry the bottom plate off the laptop. Start from one of the top two corners using a plastic pry tool.
Caution: Be very gentle during this process to avoid scratching or damaging the laptop's body. When you hear the first pop sound, it indicates that the clips are starting to release.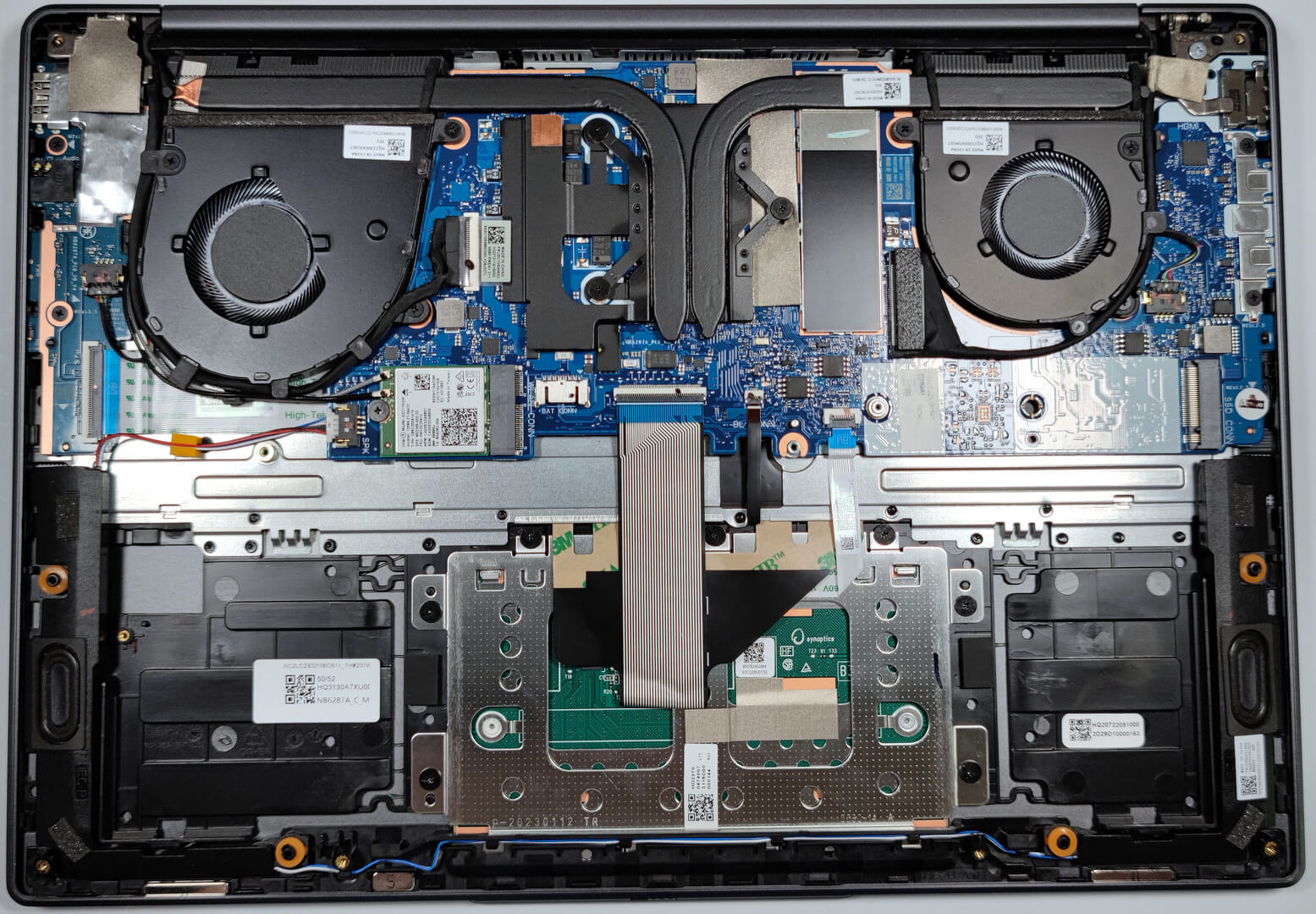 2. Battery Replacement or Removal
– The battery is a 65Wh unit.
– To remove the battery, disconnect the battery connector from the motherboard and then undo the 2 Phillips-head screws that secure the battery to the chassis.
Note: The device's battery capacity allows for 9 hours and 5 minutes of web browsing or 7 hours and 42 minutes of video playback. Some versions come with a 60Wh battery, which slightly reduces the weight of the laptop.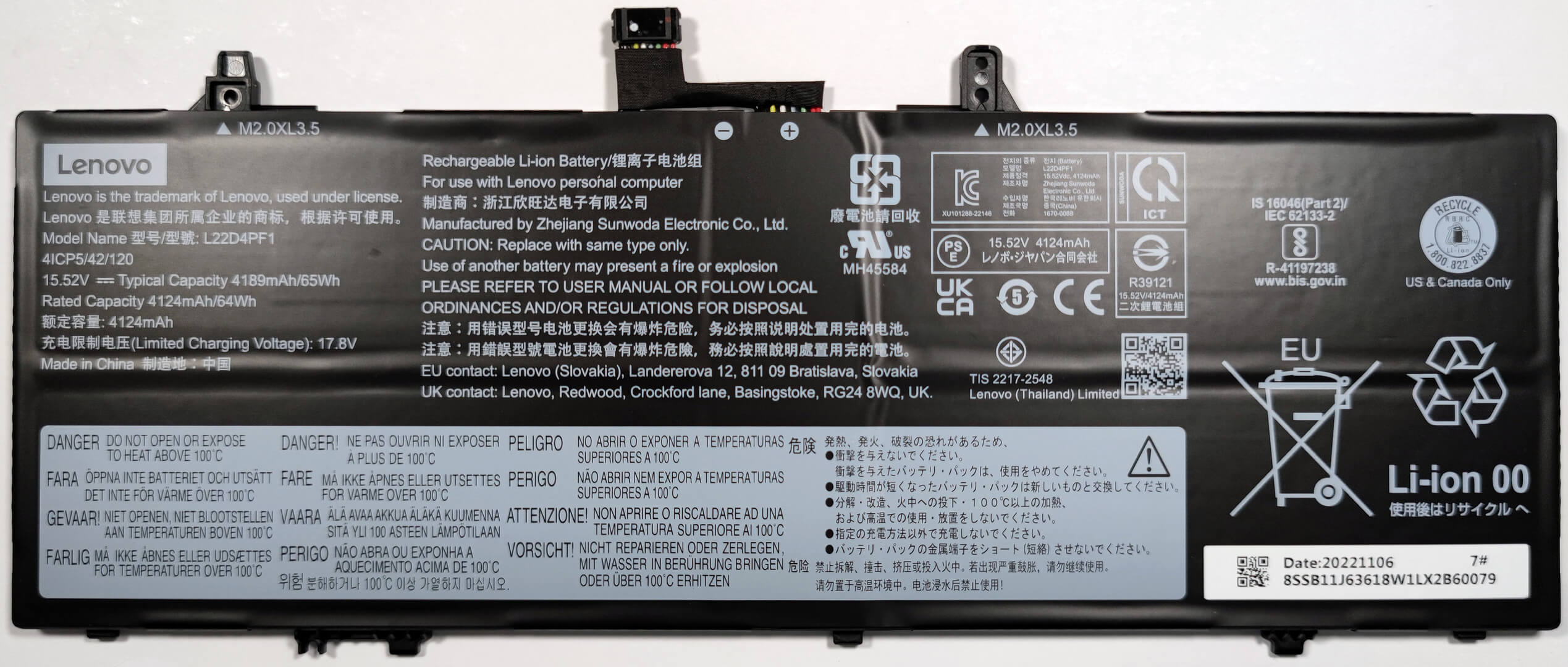 3. Upgrading the RAM
– Unfortunately, the RAM on the Lenovo Yoga Slim 6i is soldered onto the motherboard, which means it can't be upgraded. The device comes with a maximum of 16GB LPDDR5-4800MHz RAM.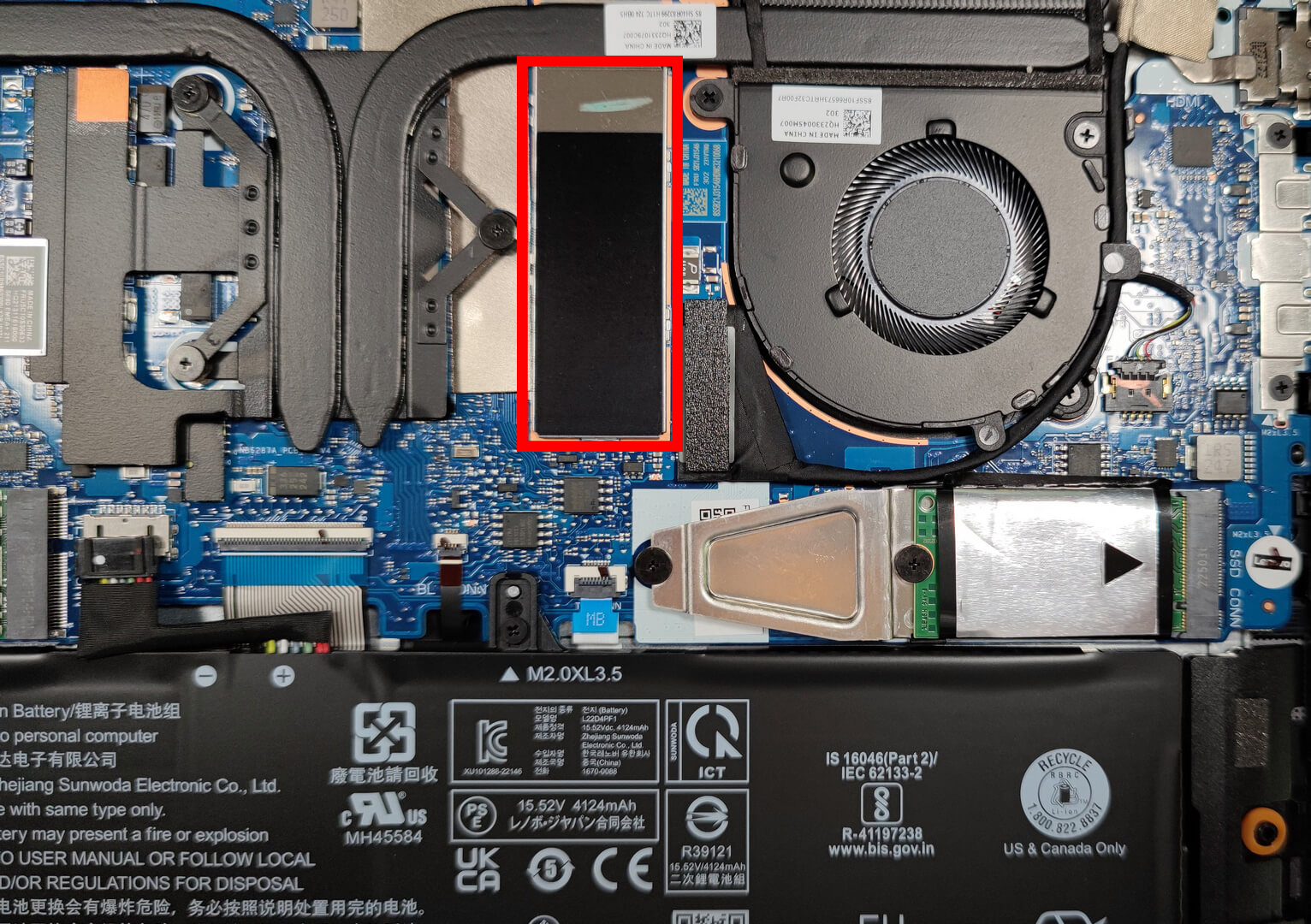 4. Upgrading the Storage
– There is a single M.2 slot on the motherboard. This slot supports both 2242 and 2280 sized Gen. 4 SSDs. Depending on the configuration you have, the laptop might come with a shorter NVMe SSD.
You can buy Gen 4 M.2 SSD modules here: Buy from Amazon.com (#CommissionsEarned)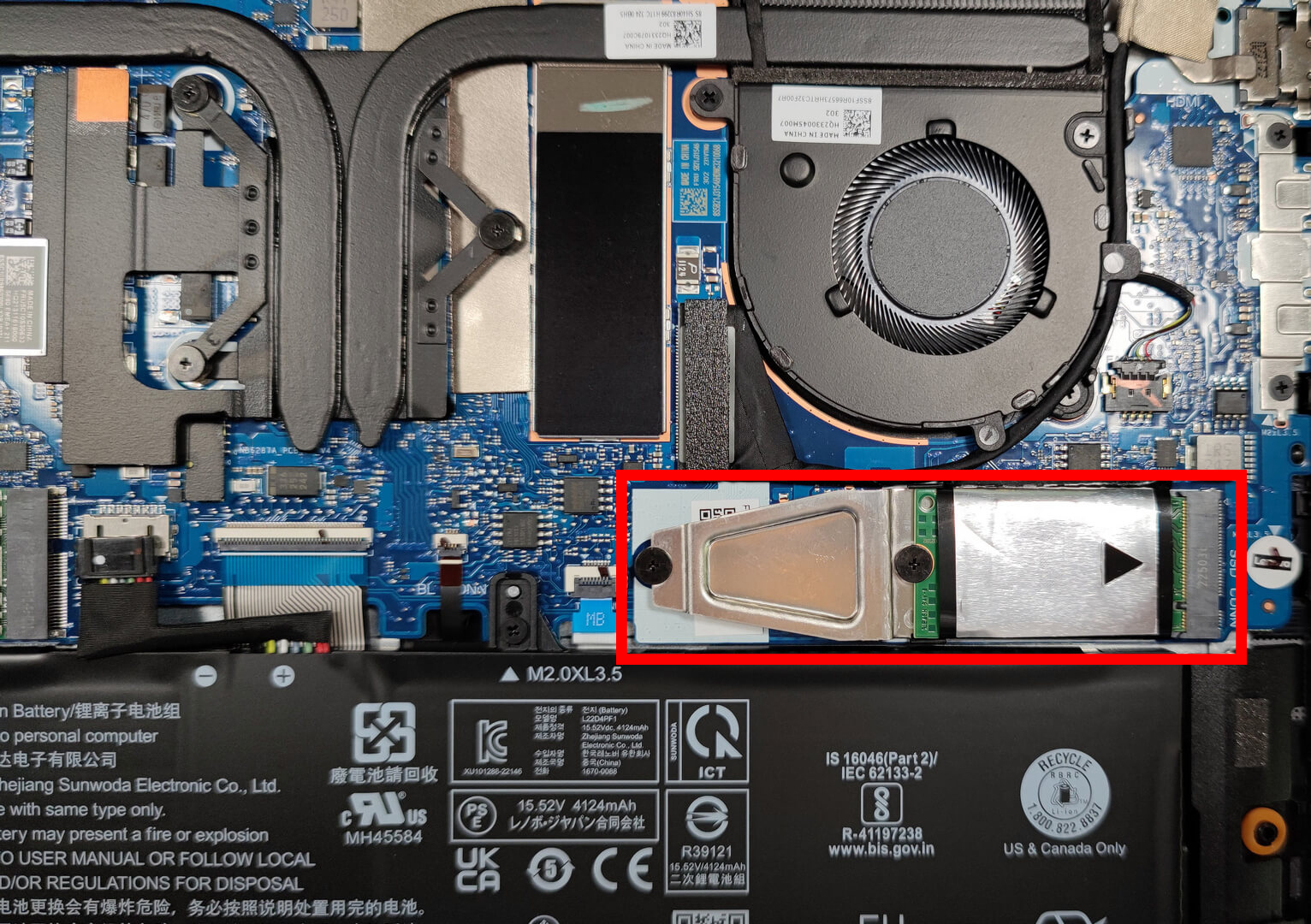 5. Cooling System Overview
– The Lenovo Yoga Slim 6i is equipped with a competent cooling system. It features two fans and two heat pipes to help dissipate heat and keep the laptop running at optimal temperatures.
Hint: Regular maintenance and cleaning can ensure efficient cooling for the device.
With the internals now accessible, you can proceed with any replacements, upgrades, or maintenance you intended to perform. When you're done, carefully reattach the bottom plate, ensuring all the clips snap back into place, and replace the screws.

Lenovo Yoga Slim 6i (14", Gen 8, 14IAP8) in-depth review
The Lenovo Yoga devices are already popular. The manufacturer is offering many laptops in different price categories and in this article we'll show you the not-so-expensive Lenovo Yoga Slim 6i (14", Gen 8, 14IAP8). Ah, yes, the name of the series is long and strange but for a reason. This is an Intel-based machine that can be picked with Alder Lake P CPUs. Given the thin profile of the laptop it'll be very interesting to see how to cooling will handle the 28W chip during our testing.Keep in mind that there is another series with almost the same specs as the one here. It's called Lenovo Yog[...]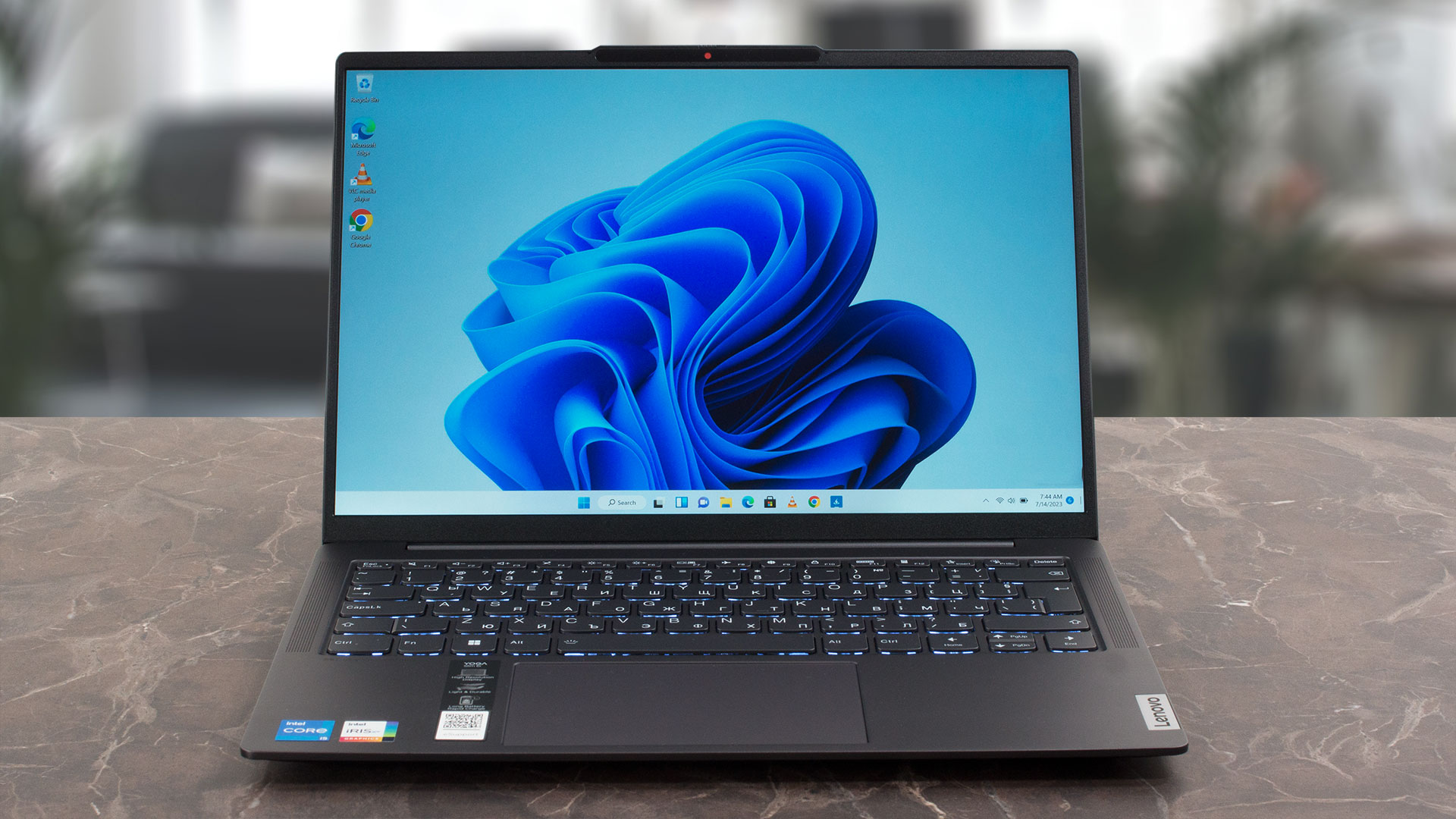 Pros
Thin and light machine
Strong aluminum chassis
Covers 93% of the sRGB color gamut and has accurate color representation with our Gaming and Web design profile (LEN040WU+)
High resolution and 16:10 aspect ratio
No PWM (LEN040WU+)
2x Thunderbolt 4
Good performance for its class
Full HD Web camera + IR and ToF sensors
Good battery life
Cons
Soldered memory and just one M.2 slot
No SD card slot