Intel UHD Graphics 620 (8th Gen. Kaby Lake Refresh) – Gameplay recordings + Performance analysis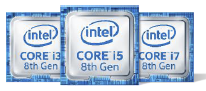 A couple of days ago Intel officially launched its 8th generation processors. It turned out that the 8th generation branding will refer to three different architectures – a refreshed version of Kaby Lake, the new 14nm++ Coffee Lake and the 10nm Cannonlake.
You can check out all Intel products here: http://amzn.to/2shqjEj
One of the biggest improvements in this generation is the addition of more physical cores. Intel ditched the dual-core design even for its ULV notebook chips and the desktop Core i3's. The Intel Core i5-8250U, Intel Core i5-8350U, Intel Core i7-8550U, Intel Core i7-8650U are the four Kaby Lake Refresh ULV chips that were launched. Now they will feature four cores and eight threads but this is not the only upgrade.
The now old HD Graphics 620 is replaced for a better UHD Graphics 620 integrated GPU. The new iGPU is dubbed to deliver up to 40% better performance. Here at LaptopMedia, we got an early unit of a notebook equipped with one of the new chips and we did not hesitate to test it. That's why we are happy to present you with what could be the first gameplay footage recorded using the new UHD Graphics 620.
You can check out the full technical specifications of the UHD Graphics 620 over here: http://laptopmedia.com/video-card/intel-uhd-graphics-620/
You can check our Laptop Graphics Ranking over here: http://laptopmedia.com/top-laptop-graphics-ranking/
As you can see, we have tested the graphics card both with fairly lightweight games such as Dota 2 as well as some heavy titles like GTA V. You can see that the UHD Graphics 620 is capable to deliver a playable 30 frames per second on low to medium graphics settings in most cases. We had to lower the resolution to 720p for GTA V and HD (1366 x 768p) for CS:GO to run smoothly but Dota 2 and Rocket League were completely playable on Full HD as long as you stick to the lowest settings.
The UHD Graphics 620 is by no means a gaming GPU and even though it apparently can run games like GTA V with a playable frame rate we strongly advise to stick to more lightweight titles as the GPU uses your system memory and this will start to show off after a longer gaming session especially with a title like GTA V.