The best browser for Windows 10 (Chrome vs Firefox vs Edge vs Waterfox vs Opera)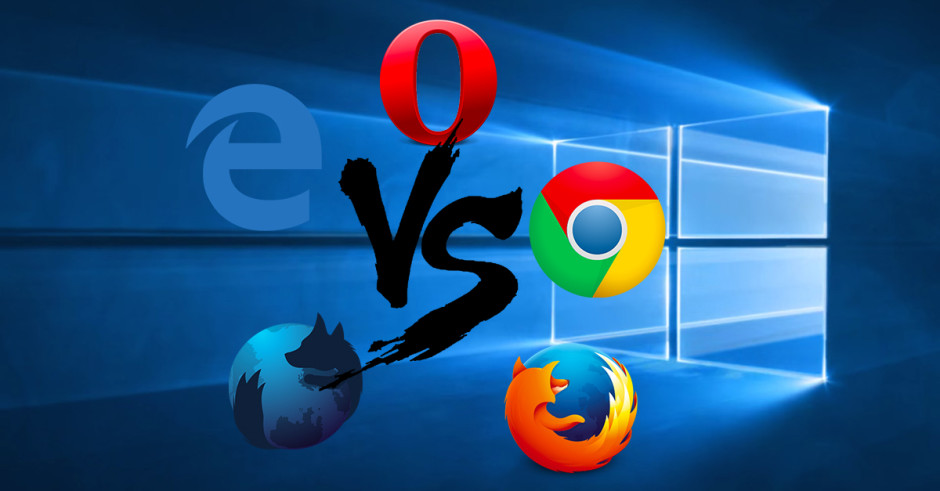 If you are one of those people who recently installed Windows 10 and still wondering which browser to use as your daily driver, well you are in luck. With the release of Windows 10, Microsoft introduced a brand new browser – Edge and it will be interesting to see how the company's new software product stacks against its competitors. In addition, Mozilla has released a new overhauled version of their famous Firefox browser with enhanced features and neat integration into Microsoft's new OS.
However, with all the browsers out there it's really hard to determine whether you should stick with your old one or go with Edge for example. In this short article, we will test the performance of the most popular browsers in order to answer all those questions. You will find performance tests for Google Chrome 32 and 64-bit version, Firefox, Waterfox (the 64-bit version of Firefox), Opera and Edge, of course. But before we begin, let's make a short introduction of each browser.
Contents
Introduction
Google Chrome (32-bit and 64-bit)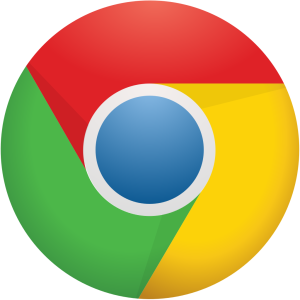 The Google Chrome browser is one of the most fast developing software products of our time. It currently holds the lead with browser distribution worldwide and until June 2015, Chrome has been used by more than 64% users online. The browser uses WebKit fork named Blink and Javascript V8 engines. It's also a cross-platform product that can be found on Windows, OS X, Android, iOS and Linux (as Chromium).
Version used for the tests: 45.0.2454.37 for the 64-bit version and 44.0.2403.155 for the 32-bit version
Download page: Chrome 32-bit / Chrome 64-bit

Microsoft Edge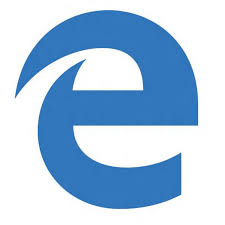 It's a newly released browser from Microsoft that's exclusively available only on Windows 10 that started as a "Project Spartan". The software product is still in development and currently can't support add-ons, but its lightweight nature and simple UI appeals to a lot of users. It uses a completely different engine and has almost nothing in common with Internet Explorer as it uses EdgeHTML engine – a fork of Trident. Finally, Microsoft has released a browser that can be par with all modern solutions on the market right now and judging by our benchmark tests, the browser has a lot to offer even if it's still in early stages of development.
Version used for the tests: 20.10240.16384.0
Official page: http://www.windowscentral.com/microsoft-edge

Mozilla Firefox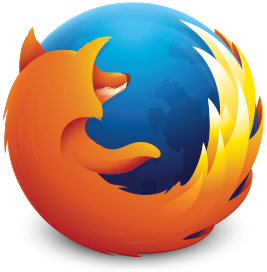 An open-source software developed by Mozilla Foundation distributed with special MPL license or you may call it freeware. It's also a cross-platform software product available on Windows, OS X, Linux, Android, Firefox OS and it's currently used by more than 21% of the users online. Firefox is developed thanks to the Gecko and SpiderMonkey engines that are both now maintained and developed by Mozilla Foundation.
Version used for the tests: 40.0
Download page: https://www.mozilla.org/en-US/firefox/new/

Mozilla Waterfox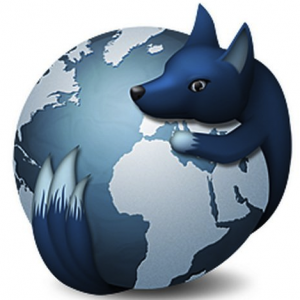 The Waterfox browser is essentially the same as Firefox but runs on 64-bit instructions for Windows and OS X. Waterfox still doesn't have a stable version, but runs on the same Gecko engine as Firefox.
Version used for the tests: 39.0
Download page: https://www.waterfoxproject.org/downloads.html

Opera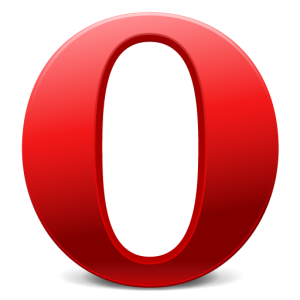 The Opera browser is renown due to its wide support of operating systems and early adopting new features that are later implemented in other browsers. It uses Blink engine (the same as Chrome) since it's developed not only by Google but with resources from Opera Software ASA, Intel, Samsung and others. Furthermore, the Opera browser uses V8 JavaScript engine, again developed by Google. The Opera browser can run on Android, iOS, Windows Phone, Symbian, Maemo, Bada, BlackBerry, Windows Mobile, Windows, Linux, OS X. Its current market share is 1.8% according to W3Schools.
Version used for the tests: 31.0.1889.99
Download page: http://www.opera.com/computer/windows

System used for testing
For testing purposes, we used Lenovo Y50 notebook and the configuration used for the writing of this article is Intel Core i7-4710HQ CPU paired with 8GB of RAM and NVIDIA GeForce GTX 860M GPU. The storage drive is Samsung 840 EVO 500GB SSD with freshly installed the latest version of Windows 10.

Benchmark tests
RAM consumption
This might be one of the most important tests here as not every machine has the luxury to hold 8GB of RAM. Older configurations may struggle with the RAM consumption of Chrome for example as the browser is widely known for this issue. However, Chrome uses a lot of RAM to ensure more secure browsing without crashes affecting user experience and other reasons, but that's a whole other story for now. Nonetheless, in order to be objective we load 7 identical web pages on each and every browser and then check the RAM consumption in Windows' Task Manager.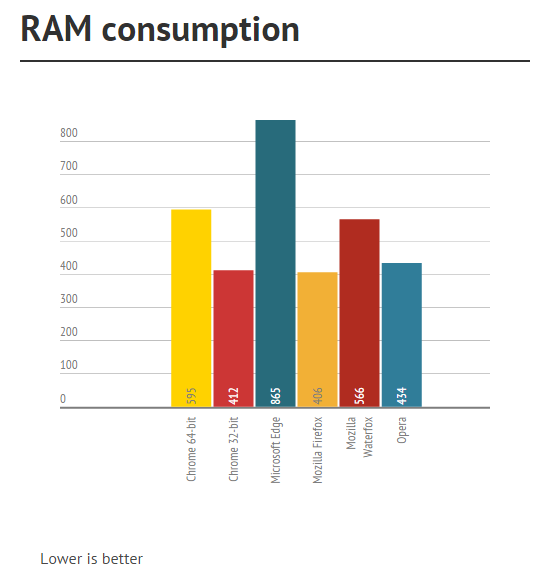 It's really interesting to see that Edge consumes a lot more RAM than its competitors even surpassing Chrome's 64-bit version. Waterfox follows the pack closely with 566MB of RAM. In other words, the clear winner here is Firefox.
Winner: Firefox

SunSpider
This benchmark checks the real world JavaScript problems that developers solve and tries to be the most relevant test out there. It's a great way to compare different browser versions and competing browsers as well. Lower result is better.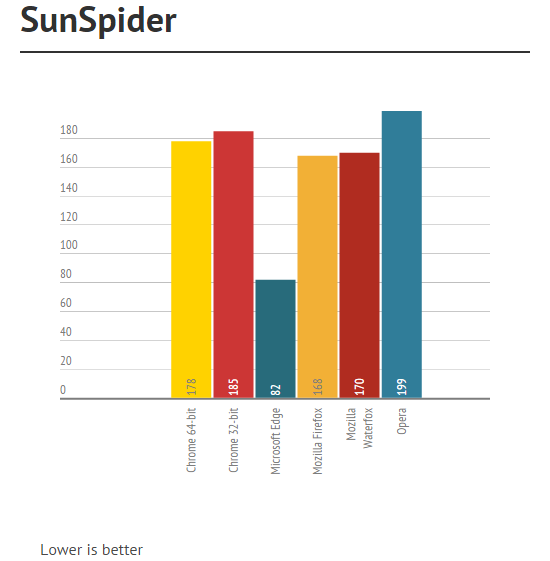 Winner: Edge

Browsermark 2.1
Browsermark 2.1 also focuses on real life performance measurements and answers questions like:
How well browser will resize screen?
How fast browser loads pages and send requests?
Does browser support modern web site development techniques?
This and many other things are measured in one run
And of course, we haven't forgotten our roots, Browsermark 2.1 still has heavy workloads which measure sheer power of the browser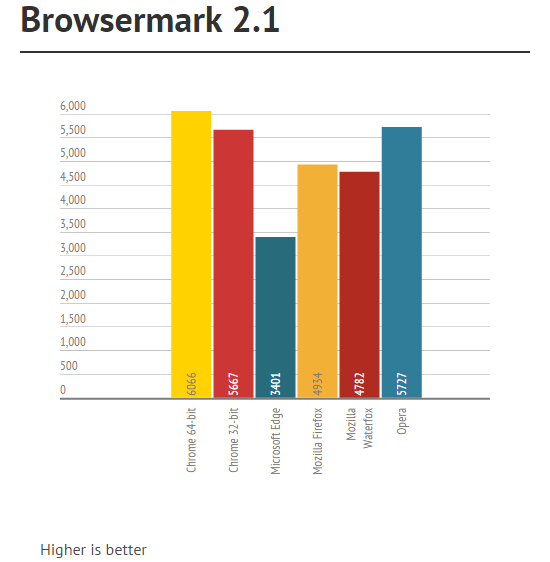 Winner: Chrome (64-bit)

WebXPRT
This is the most thorough and heavy test here. WebXPRT runs six HTML5 and JavaScript-based workloads: Photo enhancement, organize album, stock option pricing, local notes, sales graphs, explore DNA sequencing.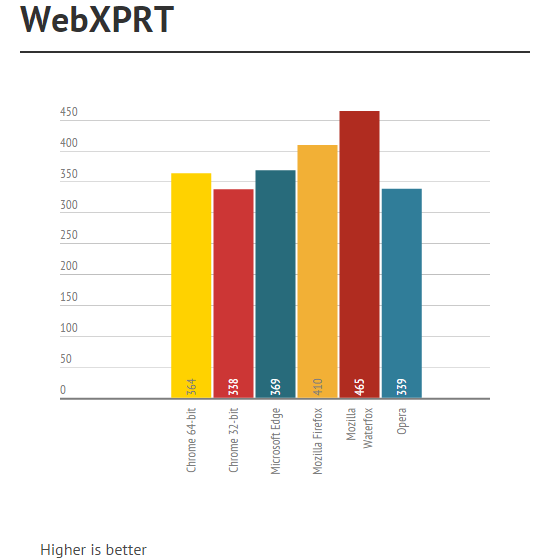 Winner: Waterfox

Octane 2.0
The Octane 2.0 is developed by Google and assesses the performance of the JavaScript engine in the browser and how capable the product is with today's complex and demanding web applications.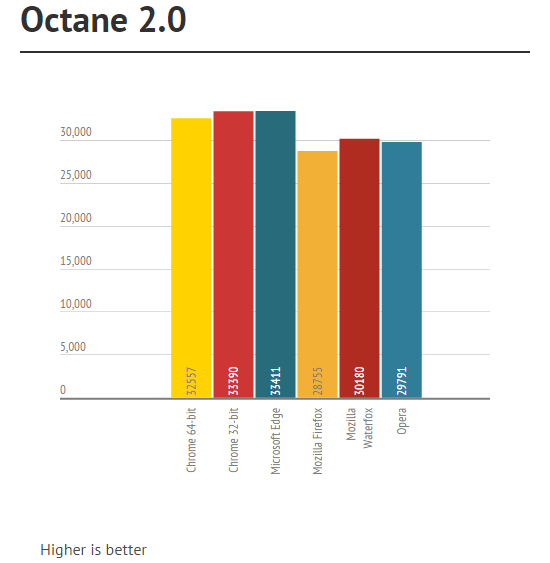 Winner: Edge

HTML5Test
A simple test to indicate how well the browser supports the HTML5 standard and features. This application just detects which features the product supports rather than test them and check their functionality.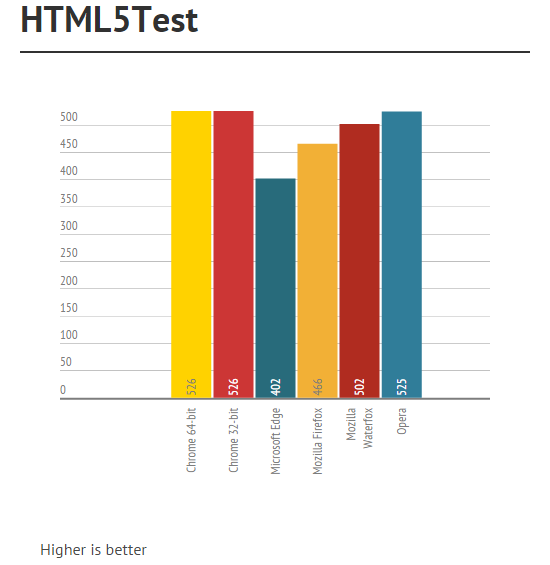 Winner: Chrome (32-bit and 64-bit)

Kraken 1.1
This is another JavaScript test, but this time developed by Mozilla. Lower score is better.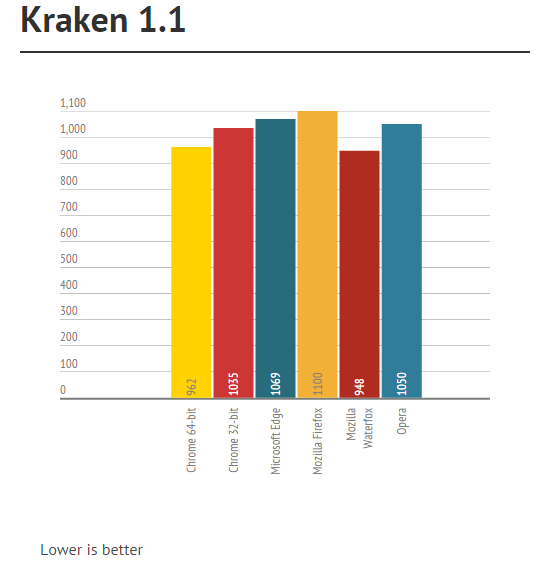 Winner: Waterfox

JetStream
This test is focused mainly on the most advanced web applications.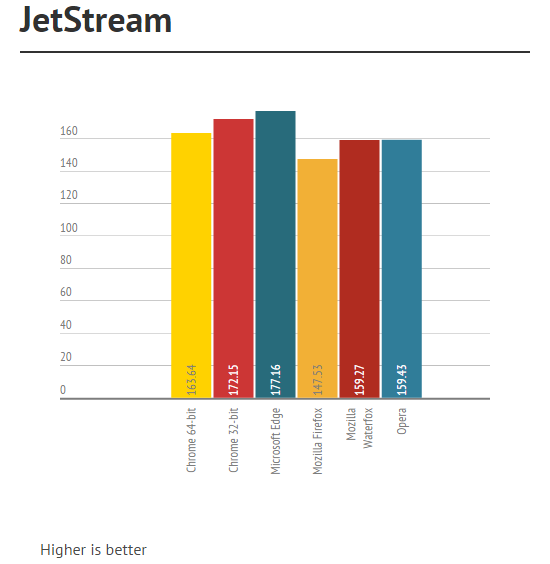 Winner: Edge
Ranking:
1. Microsoft Edge – 3 wins
2. Chrome – 2 wins
2. Waterfox – 2 wins
3. Firefox – 1 win
4. Opera – 0 wins
Verdict
You can see from the results above that most scores do not differ from each other as much, but we do have clear winners on some. If your machine is an older one with insufficient RAM, we recommend going for the Firefox or Opera browsers as they consume much less operating memory. But if you are running a more powerful PC or notebook, you can stick with more powerful browsers like Chrome, Waterfox or even Edge.
However, this is note the most important aspect for some as modern browsers are somehow on par with each other in terms of speed and overall performance so it's up to the user to decide which UI suits him best. In addition, this article shows how far Microsoft has gone with their newly released browser – Edge. While Internet Explorer failed to deliver the much needed performance, it seems that Edge rights all wrongs here. Keep in mind, though, that Microsoft Edge is still in early stages of development and needs more polishing but we think things will get better. Our only complaint here is the abnormally high RAM usage by Edge. We hope this gets fixed soon as well as implement the support of add-ons.