Top 10: Notebooks for developers and software engineers

We return with another useful Top 10 ranking but this time focusing on notebooks that are useful for software engineers and developers. However, unlike our previous list of Top 10: Gaming notebooks with the best cooling designs, this one covers a broader set of criteria so we strongly recommend that you consider other notebooks that are not included in this list while minding some of the guidelines we've outlined here.
Anyway, we've included only notebooks that we've tested, reviewed and confirmed that they are good for such work. But what are our criteria? What are the essential features?
Firstly, you need a powerful processor due to the plethora of tools and utilities to help with your job. So a lot of processing power is needed and the ideal solution would be Intel's quad-core high-performance, high-voltage family of chips like the Core i5-7300HQ, Core i7-7700HQ, Core i5-7440HQ and Core i7-7820HQ. They are mostly found in gaming-centric notebooks, high-end workstations and mid-range multimedia laptops. However, not everyone can a premium dollar on a mobile workstation or a high-performance gaming laptop and even if they do, they will be sacrificing portability for sure. So the second best choice is Intel's 8th Generation (Kaby Lake Refresh) ultra-low voltage (ULV) processors – the Core i5-8250U and Core i7-8550U. These chips support Hyper-Threading like the big boys and feature four cores that can boost above 3.0 GHz easily for short periods of time. Furthermore, all the chips listed above have strong single-core performance with high boost frequency, which is essential in some cases where single-thread-heavy tasks such as developing JavaScript applications are a big portion of your work.
And although processing power is essential, it isn't everything. You will also need plenty of RAM or at least have the option of upgrading. This means that the motherboard should hold at least one available slot but we recommend aiming for at least two memory slots. A fast SSD for your OS and software is also of big importance but let's face it, who doesn't need an SSD nowadays? Keep in mind, though, that the SSDs, which retailers and OEMs include in their configurations can vary depending on your region. Just make sure you are getting an M.2 PCIe NVMe-enabled SSD on your machine before buying.
And finally, we've looked for a few other factors when doing the selection for our list that shouldn't be ignored – comfortable and usable keyboard for typing with nice and clicky tactile feedback, a good display coming with at least 14-inch diagonal (for enough working space), good contrast (makes text pop out and less tiring to the eyes) and doesn't use PWM for regulating brightness (especially beneficial for users with sensitive eyes). We will start with the less expensive notebooks that should be good enough for the average Joe.
Contents
Acer Aspire 5 (15-inch and 17-inch)
When talking about good price/performance ratio, good image quality and great balance, Acer's latest and super cheap Aspire 5 series immediately come to mind. They offer pretty much everything you'd need at this price point and can be used for office work, multimedia and even light gaming.
The Aspire 5 come in two flavors – 15-inch and 17-inch. Both variants offer Core i5-8250U and Core i7-8550U paired with up to GeForce MX150 GPU and more importantly, can be upgraded with up to 32GB (2x 16GB) DDR4-2400 RAM. SSD configurations may vary depending on the build but it does support PCIe NVMe drives.
When it comes to image quality, the 17-inch version is probably the better choice as it has an excellent Full HD IPS display with high contrast, wide sRGB coverage, high maximum brightness and no PWM. The 15-inch model will do fine as well as it uses PWM only below 21% brightness so it's practically safe to use for long periods of time. You will go below 21% brightness only if you are in a really dark room anyway. In addition, the keyboard is pretty nice but don't expect too much from the touchpad.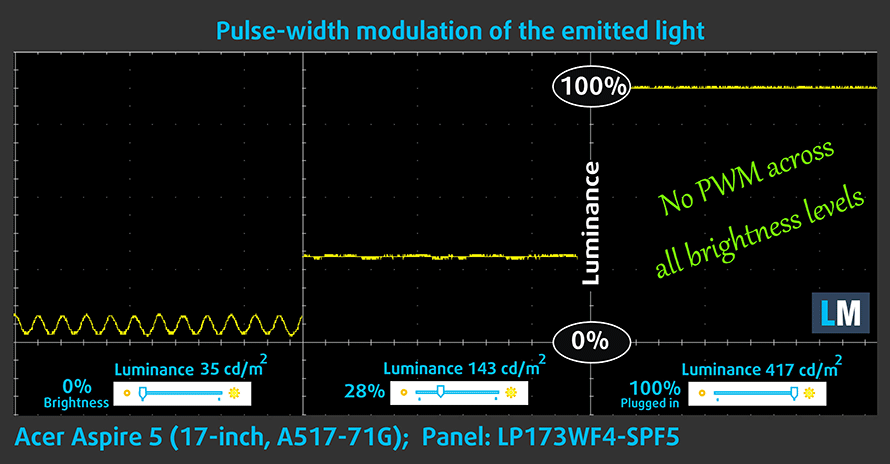 Acer Aspire 7 (15-inch and 17-inch)
Despite looking pretty similar to the Aspire 5 series, the Aspire 7 notebooks feature considerably more powerful hardware, redesigned cooling solution that's appropriate for the more demanding CPU and GPU and better input devices. The slightly concaved keycaps, discreet LED illumination and responsive touchpad will fit most users.
And when it comes to performance, the Aspire 7 notebooks are one of the most affordable options out there featuring Core i5-7300HQ and Core i7-7700HQ processors. They are also paired with GTX 1050 and both chips are chilled by an effective and silent cooling design. Of course, the upgradability of memory is capped at 32GB DDR4-2400 and the option of M.2 PCIe NVMe SSD is still present.
However, keep in mind that there's a huge difference between the 17-inch and 15-inch option when it comes to displays. The former once again offers superior 1080p IPS panel with no PWM (the same as the 17-inch Aspire 5) while the 15-inch uses PWM from 0 to 99% brightness. The good news is that the frequency of the emitted light is pretty high and will probably affect only users with sensitive eyes. You can also rely on our Health-Guard profile that eliminates PWM if you happen to prefer the 15-inch mobility.

ASUS VivoBook Pro 17
The VivoBook Pro 17 is probably the best alternative to the 17-inch Aspire 5 and Aspire 7 series right now as it sports an 8th Generation Core i5 and Core i7 chips paired with GTX 1050 or MX150. Whichever configuration you choose, it will suit you fine for software development. Also, the size and weight of the chassis make it one of the most portable 17-inch notebooks in this price range.
In addition to the powerful CPU and GPU, the motherboard allows up to 32GB of DDR4-2400 memory and an M.2 PCIe NVMe drive slot. And when it comes to image quality, the VivoBook Pro 17 proves to be a worthy successor to the legendary multimedia lineup with excellent PWM-free IPS display and high-quality sound. Keep in mind, though, that the keyboard won't be a good fit to everyone.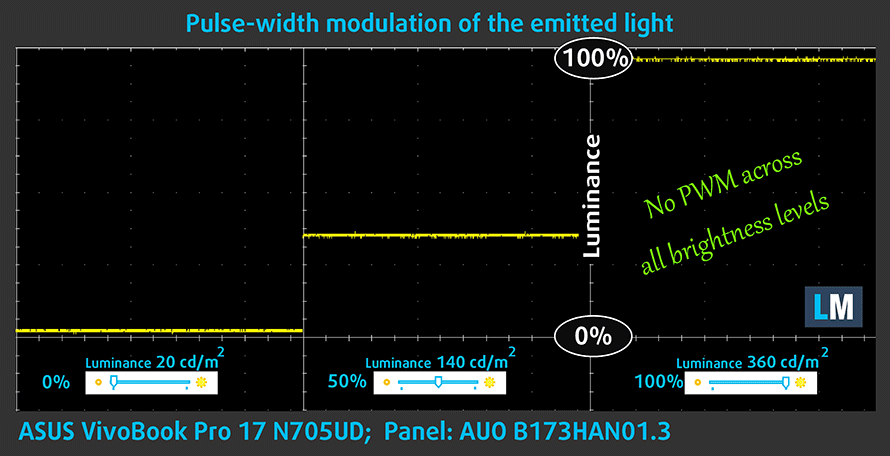 ASUS VivoBook Pro 15
If you are looking for portability, simplicity and performance, the 15-inch VivoBook Pro is probably your best bet. It comes with a stylish brushed aluminum chassis, excellent input devices, good IPS display and punchy sound. However, the former might be a deal-breaker for some as it has high-frequency PWM (21 kHz) and will probably affect users with sensitive eyes. You can always use our Health-Guard profile, though.
And if PWM isn't an issue for you, the VivoBook Pro 15 can offer great performance without sacrificing portability thanks to the quad-core Intel Core i5-7300HQ or Core i7-7700HQ processor, GTX 1050 GPU, up to 32GB RAM and a PCIe NVMe SSD. Just make sure you are getting the 1080p IPS version of the laptop.

ASUS ROG Strix GL753/GL553
Going beyond the $1 000 mark, we start to come across mainly gaming notebooks when looking for a high-performance processor but that doesn't mean they can't be used for programming. In fact, some of you will be happy to find out that their future notebook is quite capable of running some of the latest games without any performance issues.
The relatively affordable ASUS ROG Strix GL553VD/GL553VE and GL753VD/GL753VE gaming laptops are the first to come to mind. All variants offer excellent IPS panels, long-travel and clicky keyboards, Core i7-7700HQ processor, plenty of RAM and support for M.2 PCIe NVMe SSDs.
However, you will sacrifice portability and general sturdiness compared to the VivoBook Pro 15, for example. Also, keep in mind that the 15-inch screen models suffer from high-frequency PWM that will affect a small portion of the users while the 17-inch alterations are PWM-free.
Read the full review of the 15-inch model here.
Read the full review of the 17-inch model here.


Acer Aspire V17 Nitro Black Edition (VN7-593G)
The Acer Aspire V17 Nitro Black Edition is capable of more than just one thing – depending on the configuration you choose, it's going to be an excellent everyday solution capable of plenty of processing and graphics power and if you can spend a few more bucks on the 4K UHD version, color-sensitive work is also possible. Unfortunately, the 15-inch Full HD variant wasn't included in the list as it has low-frequency (aggressive) PWM and we can't confirm whether or not the 17-inch Full HD version uses PWM.
Still, the Aspire V17 Nitro BE might seem like an overkill due to the GTX 1060 GPU and 4K UHD IPS panel but it checks all the boxes for a reliable programming companion – Core i7-7700HQ processor, up to 32GB DDR4-2400 RAM, PCIe NVMe SSD support while the screen (on the 4K variant we've tested) is absolutely astonishing – full sRGB and Adobe RGB coverage, high contrast, high maximum brightness and more importantly, no PWM across all brightness levels. Moreover, typing on this keyboard is a delight and you won't feel the urge to use an external one. And aside from all the work that you can do on this machine, the GTX 1060 allows for some serious gaming on the side as well.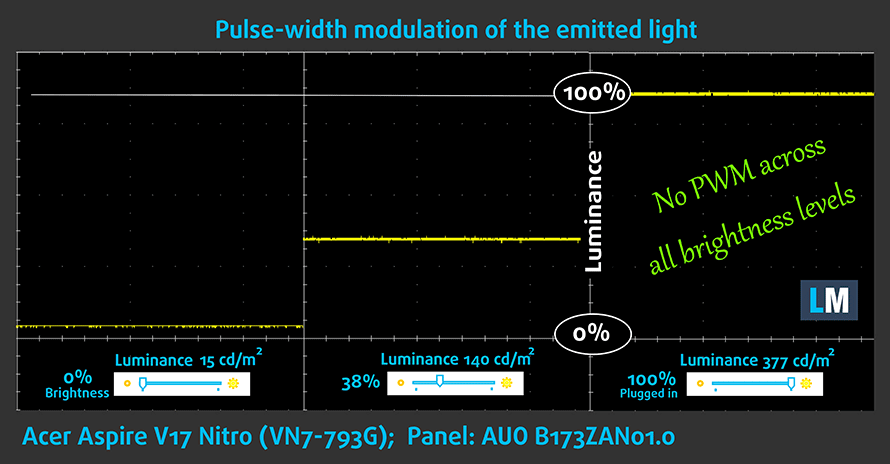 Dell XPS 15 (9560)
So you have some extra bucks on the side and you want to spend them on a high-end, high-performance notebook? Well, look no further than the notorious Dell XPS 15 or also known as the MacBook killer. Is it the MacBook killer, however, you should decide that for yourself given all the facts.
Anyway, the XPS 15 delivers exceptional build quality and unmatched portability – 15-inch screen in a 14-inch body. But it doesn't skimp on performance as well as the laptop sports a quad-core Core i7-7700HQ (or Core i5-7300HQ) processor and a capable GTX 1050, up to 32GB of DDR4-2400 memory and an M.2 PCIe NVMe SSD. Keep in mind, though, that configurations vary and you can choose between a 97Wh battery option without 2.5-inch HDD and a 56Wh unit with 2.5-inch HDD.
Screen options also vary but it doesn't matter with which one you go because the Full HD and the Ultra HD options don't use PWM above 25% brightness. You will, however, benefit from the better overall better picture quality on the 4K UHD version due to the 100% sRGB and Adobe RGB coverage, higher contrast and higher maximum brightness. The trade-off here is battery life, obviously. And as for input devices, it's hard to find any better than these on a Windows laptop.

Recently, Dell has released the new generation with Intel's high-performance hexacore Core i7-8750H based on the Coffee Lake architecture and NVIDIA GeForce GTX 1060 Max-Q and we are pretty sure it will do the job just as well as the old one so consider this as an alternative to the older variant.
Read the full review of the XPS 15 9560 here.
Dell Precision 3520
A workstation for web development? Sure, why not! The Precision 15 3520 might be aimed at professionals working with CAD, CGI and DCC applications, due to the NVIDIA Quadro GPU, but this doesn't mean it won't fit the web developer's profile too. Since the laptop comes with plenty of processing power, you just have to choose between the Core i5-7440HQ processor or the Core i7-7820HQ. Memory is limited once again up to 32GB while the supported M.2 SSD is up to PCIe NVMe. Be careful when choosing your configuration, though, as the M.2 SSD obstructs the 2.5-inch HDD and vice versa so if you go with the HDD, you won't be able to insert an M.2 SSD.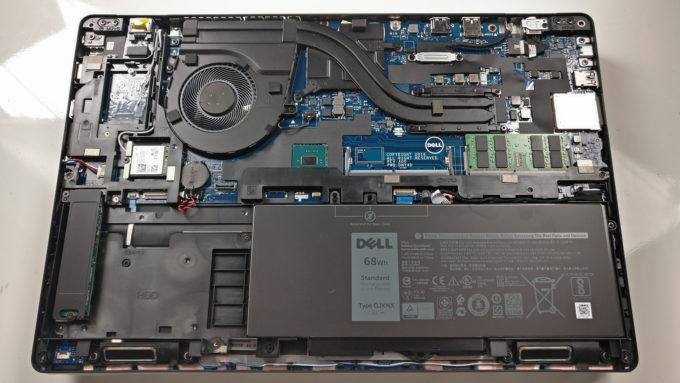 Input devices are extremely comfortable and image quality is excellent while battery life is just amazing. Nevertheless, the display uses high-frequency PWM from 0 to 99% brightness so you have to get around that using our Health-Guard profile or just settle for it if you don't have sensitive eyes.

Dell Precision 5520
If for whatever reason you don't find the Dell XPS 15 and Precision 3520 suitable for you, the Precision 5520 might be the answer to your problems. This laptop, although pretty pricey, combines the best of both worlds – it's just as portable as the XPS 15, offers ideal screen quality (and no PWM above 25%), and impresses with great battery life and performance. It can be easily mistaken for an XPS 15 if you don't look closely enough.
And like all laptops we've picked in this article, the Precision 5520 also supports two sticks of RAM and an M.2 PCIe NVMe slot. The processor running the show is Core i7-7820HQ paired with a Quadro M1200 GPU suitable for CGI, CAD and DCC applications but the former will definitely come in handy when writing your code.

Winner – Apple MacBook Pro 15!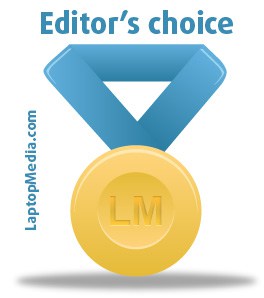 Despite all the backlash the MacBook Pro 15 received from last year, the list wouldn't be completed without a MacBook in the list. So if you have the extra cash, we strongly recommend considering the MacBook Pro 15 with Core i7-7700HQ or Core i7-7820HQ processor. It has unmatched build quality, image quality (screen without PWM), extremely comfortable input devices and extra long battery life without sacrificing portability.
But as all notebooks out there, the MacBook Pro 15 also has its flaws and in this case, it's the limited upgradability. Unfortunately, Apple decided to go with soldered memory and storage so you are limited to 256GB or 512GB of PCIe NVMe-enabled soldered SSD and up to 16GB of 2133 MHz LPDDR3 RAM. The latter should be enough for most of you but will be a limiting factor for some. In addition to this, consider buying some USB-C hubs and dongles because there are only USB-C connectors, although all of them support the Thunderbolt 3 standard.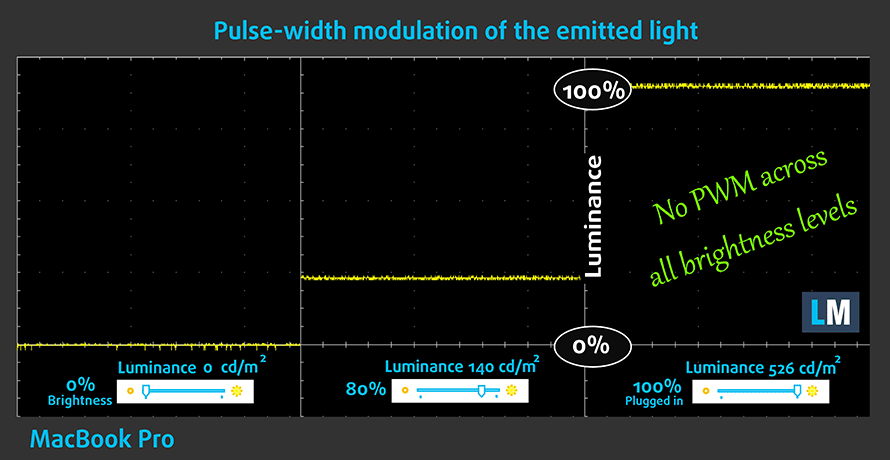 Conclusion
As we said in the beginning, there are plenty of notebooks that can be used for coding since there are plenty of configurations out there with powerful processors, at least two RAM slots and comfortable enough keyboard. However, we've limited our list to notebooks that we've tested and can confirm that they don't use PWM (or at least not aggressive pulsation).
Although it is largely a subjective opinion, the MacBook Pro 15 is the winner in this category. We think it's the best choice when not considering the price because it offers the best possible experience overall with great screen, unmatched keyboard and touchpad quality, exceptional build, portability, cooling design and performance. But just like every product, it has its flaws and in this case, it's just one – the limited upgradability. However, the best choice will probably differ depending on your needs so we will be happy to hear your thoughts on this. Which one would you choose and why?