Intel unveils their new Vaunt smart glasses – lightweight, inconspicuous and simple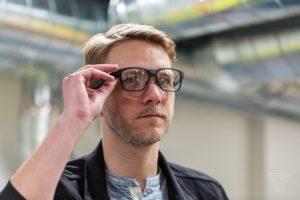 It's been a while since the world witnessed the arrival of Google Glass which was quite intriguing, although leaving many with mixed feelings. Well, now the time has come for us to have a look at something similar and more modern. We are talking about Intel's new Vaunt smart glasses.
One of the main advantages of this product is that one can hardly tell that it's a pair of smart glasses – they look just like regular glasses and since there's no camera, there is no unusual module installed, as it was the case with Google Glass. Other than that, we must also mention the lightweight design with weight under 50 grams. One of the "culprits" for the latter is the available plastic frame.
Enough with design, let's move on to functionality. The manufacturer has incorporated a laser which projects a red, monochrome image (400x150p) directly into one's eye. It must be mentioned, however, that the laser is low-powered and there's no need to worry. What's more, the display only becomes visible when one looks at it. Whether you have prescription lenses or not, everything stays in focus because the image is projected onto the back of your retina.
You can check all current available Intel products here:  Buy from Amazon.com (#CommissionsEarned)
What can you use it for? Well, mainly basic notifications and other situations – for example, when chatting with someone on your phone, they glasses can display the person's birthday and other such information. Furthermore, the Vaunt smart glasses can establish connection with your phone via Bluetooth and thus display valuable information in certain cases. Another noteworthy fact is that there will be an option for controlling the device with head gestures. Also, Vaunt is planned to be an open platform allowing for developers to use their creativity.