Lenovo Phab Plus's Snapdragon 615 doesn't have overheating issues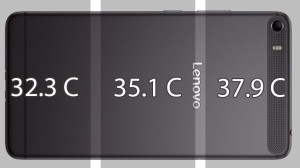 Lenovo Phab Plus is one of the models that will receive a full review in the following days but we are still making some tests. Using Epic Citadel we checked how the device handles high loads after prolonged usage. Ater more than hour we were surprised by the good results.
Despite the quad-core Snapdragon 615 mobile processor, our electronic thermometer recorded the highest temperature of only 37.9 degrees near the camera. The maximum value of 35.1 degrees was reached in the middle, but at the bottom the phone remained extraordinary cool – 32.3 degrees. After these results, we can conclude that Lenovo Phab Plus's aluminum body remains cool even after heavy usage.
Information about the price of Lenovo Phab Plus and availability can be found at the following link:
http://amzn.to/1PPEhVN