Lenovo showcases a concept of a laptop with a flexible screen
It is not the first time we hear about a device with a curved or flexible screen. Some manufacturers have tried to bring such a concept to life. Most of them did not succeed but at least curved screens are a thing for now.
On June the 20th at an event in New York, Lenovo showcased a concept of an own device with a flexible screen, but this time it is no smartphone it is a laptop. The company barely gave out any information except the fact that it is just a concept which means that if we ever see such a device it won't be anytime soon.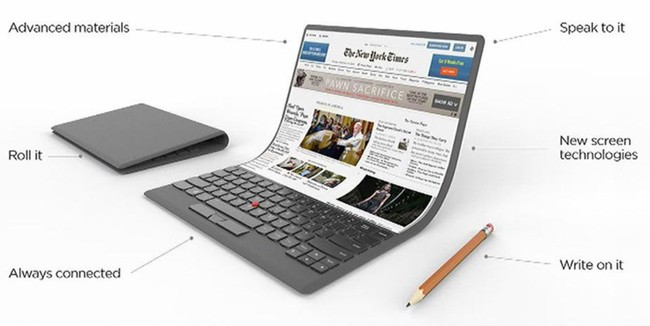 What we get is a picture of the concept. It claims that the screen is made from "advanced materials". The device's screen is touch sensitive and you can use a stylus to write on it – maybe something like the Yoga Book. It seems that you also get a physical keyboard attached which looks like it's taken from a ThinkPad. It also will take voice commands.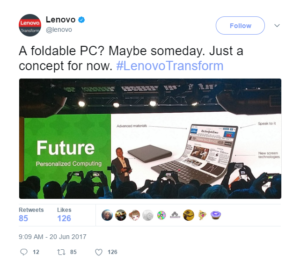 This concept of a foldable notebook is called Lenovo Transform and it is dubbed to use new screen technologies. The company insists on calling it just a concept on its tweet which says: "A foldable PC? Maybe someday. Just a concept for now. #LenovoTranform"
We think that if we ever see this device come true it won't be anytime soon. We don't believe that Lenovo is working very hard on it. Maybe this showcase was just to drag media attention. However, it seems like an interesting idea and we would like to see how it develops.
Meanwhile, you can check out all available Lenovo products over here: http://amzn.to/2sAusof