The GTX 1060 in Lenovo Legion Y520 is a Max-Q version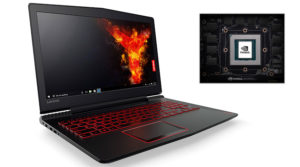 Thermal design is very important for laptops, especially when we're talking about gaming machines. That's why NVIDIA made Max-Q versions for some of its popular GPUs, which have lower performance (~10%) than their original counterparts but also less heat dissipation, making them suitable for thin and light notebooks.
The problem is that the manufacturers often "forget" to mention that their laptops are equipped with a Max-Q GPU and declare just "GTX 1060" for example, in their specs sheet. That's the case with the new Lenovo Legion Y520 as well – if you take a look at its official page, you'll see a lot of shiny marketing words but no information whatsoever about the 1060 being a "Max-Q".
That's why we're developing our Laptops Specs System – a new part of our media where you can check the in-depth specs of the latest laptops on the market. We try to be as comprehensive as possible, but of course, if you have something to share or suggest, you can leave your thoughts in the comments section.

Lenovo Legion Y520 configurations