The new Intel Core i5-8250U will be up to twice as fast compared to its predecessor – Core i5-7200U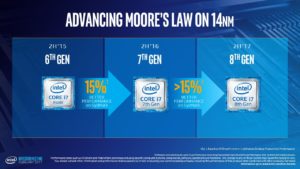 AMD's Threadripper processors are on their way but so is Intel's next eight generation Core processors – Coffee Lake. The launch of the new generation is set for this Fall and leaks are starting to show up. It turns out that one of the first notebooks to ship with the new Core i5-8250U will be the next generation of Swift ultrabook by Acer.
Up until now, we did not know much detail about the upcoming generation nor the Core i5-8250U itself but benchmarks on the Geekbench platform have surfaced. We see a bump both in the single-threaded department and in multithreaded performance. We are comparing the Dell XPS 13 Kaby Lake version with the upcoming Coffee Lake model. The base clock speed of the Core i5-8250U as listed on Geekbench is 1.79 GHz which is a big decrease from the 2.50 GHz base clock of the i5-7200U, however, single-threaded performance is still bumped by almost 15%. The huge difference is in multithreaded performance – 94%. This is due to the presence of double the threads. The Core i5-8250U and presumably other models from the Coffee Lake generation will have four instead of two physical cores, therefore, eight instead of four threads which explains the enormous bump in multithreaded performance. Here is the comparison between the Geekbench scores of both generations:
Dell XPS 13 – Core i5-7200U
Dell XPS 13 – Core i5-8250U
 Single-core score
 3493
 3996 (

+14%

)
 Multi-core score
 6726
 13060 (

+94%

)
It is interesting to see how much power will the Core i5-8250U draw because of the extra cores and how will that affect battery life. On the other hand, these extra cores will ease rendering, editing, and other CPU-heavy applications making the ULV chips an even more tempting solution.
Meanwhile, you can check out all currently available Core i5-7200U notebooks over here: http://amzn.to/2vAZJYv