The new Toshiba Satellite P50-C with quad-core i7 processor has way better performance, but in favor of battery life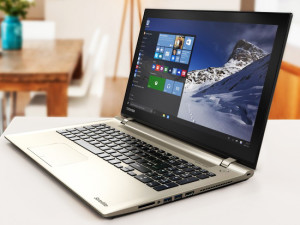 Some time ago we reviewed the Toshiba Satellite P50-C, which came out to be a really balanced solution with great specs, reasonable price and some neat features worth considering. However, the biggest downside of the machine was the CPU being a bottleneck for the relatively powerful GeForce GTX 950M GPU. It was quite prominent in some games.
You can look up the model with Core i7-6700HQ at Amazon.com.
However, the refreshed series sports a whole new processor and a new cooling design to go with it. You can check out our disassembly article to see the changes in the cooling design and soon you can expect a full review of the model. In the meantime, we would like to shed some light onto the battery performance. While the last model offered fairly good battery life, mainly due to the ULV Intel CPU – Core i7-5500U, the new model offers considerably lower battery runtimes. It's kind of expected since the old CPU has 15W TDP while the Core i7-6700HQ has 45W TDP.
In search of balance, Toshiba sacrificed the battery performance in order to bring better performance for those of you who need it. The Core i7-5500U version had 352, and 286 minutes of web browsing and video playback respectively. The refreshed variant got 230 and 186 minutes of runtimes. That's around 35% decrease in battery performance, but this time, we don't expect it to have problems with the CPU being a bottleneck in terms of gaming performance, for example.