Toshiba Portege R30 has a display with accurate colors and good brightness
Before immersing you in our in-depth tests (stay tuned for the detailed review coming soon), we'll take a quick glimpse at what Toshiba R30's display managed to accomplish in some of our picture quality checks.
The current price of Toshiba Portege R30 can be found here: http://amzn.to/1mfq3Cy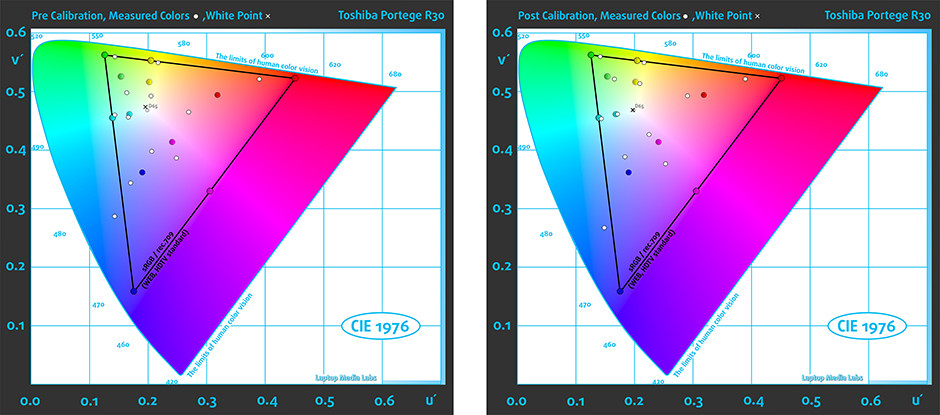 Despite its narrow 51% sRGB coverage, Portege R30 showed good color accuracy in the test with 14 (commonly occurring) natural colors such as dark and light skin, blue sky, red, green, blue, etc. Its average DeltaE 2000 is 1.56, while the maximum deviation is 3.28. Values below 2.00 are preferable to users who work with colors, and deviations below 1.00 are unrecognizable to the naked eye.
In other words, Portege R30 can't be your companion for Photoshop work (due to the reduced color coverage) but will be good enough for everyday use like surfing the Web or watching movies.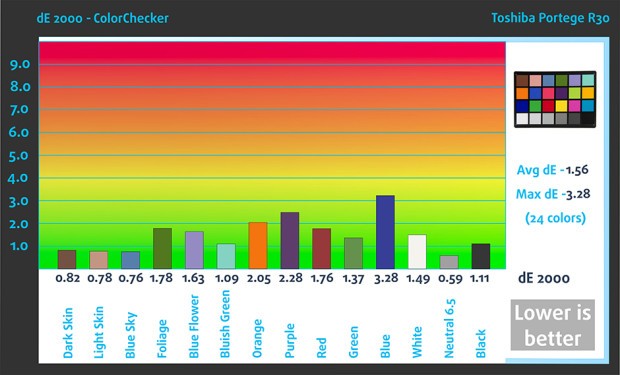 We have some good things to say about the brightness levels as well – the mean maximum brightness (divided in 9 sectors) is 308 cd/m2 ,which is more than in most notebooks that happen upon our labs, and that will provide the necessary comfort for working in well lit locations or outside in the sun. The matte coating is certainly a benefit in that respect.
Given Portege R30's light body and long battery life, we expect (we'll check that in our review, of course) the new Toshiba notebook to be perfect for traveling and tasks on the road.
The current price of Toshiba Portege R30 can be found here: http://amzn.to/1mfq3Cy