Toshiba releases its new line BG3 – the world's thinnest 3D flash SSDs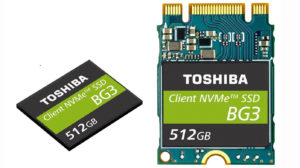 Toshiba is launching a whole new line of fast high-end SSDs called BG3. What's really special about them is the size – they are the world's thinnest SSDs featuring 3D NAND flash memory. They are just 1.3 mm-thick and come in two form factors – M.2 1620 and M.2 2230.
With their small size and fast speeds, they are set to power the next generation of ultra-portable devices and IoT solutions. The 1.3 mm thick body holds Toshiba's high-end BiCS 64-layer 3D NAND memory using HMB and TLC technology and makes use of the PCIe Gen3 x2 interface. The SSDs are also DRAM-less. The new BG3 SSDs will be capable of delivering read speeds of up to 1520 MB/s and up to 840 MB/s writes. These speeds are up to 2.7-times higher than the maximum theoretical speeds that the conventional SATA III interface can reach.
The BG3 SSDs will come in 128, 256 and 512 GB of capacity.
"Toshiba's third generation BG SSDs were designed to not spark, but fuel a revolution in mobile and IoT computing." – says Jeremy Werner, vice president SSD marketing and product planning.
Meanwhile, you can check out all of Toshiba's products over here: http://amzn.to/2srQw7k