Toshiba Satellite Click Mini has a bright and harmless screen, but lacks the needed colors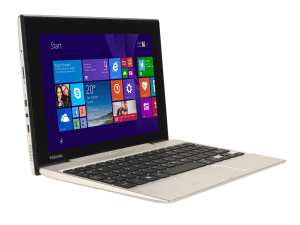 Convertibles these days are becoming more and more popular and it looks like Toshiba wants to take a piece of that pie too. Usually, the Japanese company puts some quality IPS panels on their notebooks, but what about the Click Mini? Well, it leaves us wanting a bit more, but given the price we are happy that it's equipped with IPS panel.
We are currently working on the review and we have an interesting insight regarding the screen quality. While it has its perks, important qualities are missing making the experience mediocre. For instance, the panel provides enough maximum brightness (326 cd/m2) for working in really bright environment, it has good viewing angles and the pixel density is more than fine (254 PPI due to the Full HD resolution (1920×1080) and the 8.9-inch diagonal). The panel is also completely harmless to your vision since we didn't record any PWM (pulse-width modulation or screen flickering) throughout all brightness levels. However, the low color gamut coverage (67% of the sRGB and 48% of the Adobe RGB) will make colors appear a bit pale.

Wait for our full review as we've included tons of other interesting tests.