We are happy with the results of LG G Flex2's battery life, but we had bigger expectations for the high-end device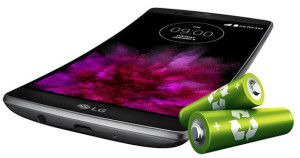 We are currently working on our LG G Flex2 quick review and we would like to to tell you about its performance in terms of battery life.
LG G Flex2 sports a 3000 mAh battery, that we think is enough to sustain the device's battery life for a long time, even though it has a 5.5-inch screen with 1080 x 1920 resolution.
We ran our usual tests – talk time, web surfing, 3D gaming and video playback, under the same conditions as always – 120 cd/m2 brightness, turned on Wi-Fi and turned off 3G, GPS and Bluetooth. Let's see if it manages to meet our expectations.
The high-end, stylish looking device from LG got good results in the tests we conducted. Sadly, it couldn't surpass the results of its predecessor, which still holds the fifth spot in our battery endurance chart with its 714 minutes of web surfing, 300 minutes of 3D gaming and 1750 minutes of talk time.
The LG G Flex2 managed to stay alive for 918 minutes (15 hours and 18 minutes) in our talk time test, 445 minutes (7 hours and 25 minutes) during web browsing via Wi-Fi, 261 minutes (4 hours and 21 minutes) of 3D gaming and 673 minutes of video playback.
We can't say that we are completely satisfied with the numbers, but we can't complain either. The results aren't bad at all and the device can get you through the day with ease. Additionally LG G Flex2 has fast charging capabilities, so if you run out of juice and you really need some, it won't take you long to charge it.