Windows 10 Creators Update to bring new battery saving option
Windows 10 Creators Update that should hit the market in the spring, most likely in April will bring a handful of new features to the end user. A few days back we showed you the "Game Mode" that is being tested by the Windows Insider program. It should allow your PC to boost its performance while gaming which is particularly interesting for low-end devices. Now Windows 10 Creators Update build 15014 brings a new battery saving/performance-boosting option to the Insiders.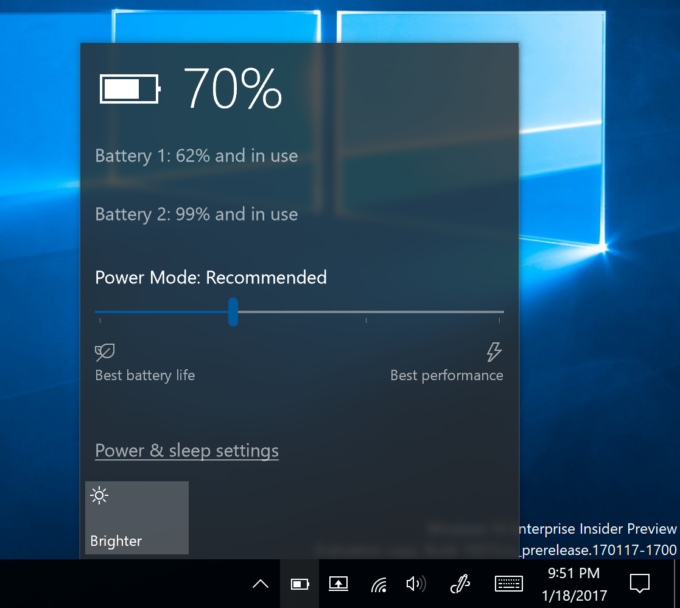 This new feature can optimize hardware to either let you use the full potential of your hardware or to squeeze every last drop of battery life left. The idea is that you will be able to compromise performance in favor of battery life and vice versa. This feature is controlled by a "power slider" that you ca access from the power flyout on the Taskbar. The slider looks like the usual brightness level slider but this time rather than having 100% and 0% brightness at both ends you find Best performance on the right and Best battery life on the left. This power slider is still not working and it is only a UI update enabled to gather early feedback.
Apparently, Microsoft is working with its OEM partners to bring the best setting for every PC to get more from its battery or hardware (performance). Here is what the build notes read:
"Some of our Windows PC OEM partners have asked for the ability to give people a number of options for how to 'tune' their PC for different scenarios. A person playing a game, for example, might be willing to have a few less FPS when on a long flight if it gets them more battery life – whereas the same person playing the same game, when near a power supply, may want top-end CPU performance to eek out every ounce of performance they can get."
Meanwhile, you can check all available Windows notebooks here: http://amzn.to/2jYEOtA