Dell Inspiron 15 3576 review – ultra-budget device with Core i7-8550U and Radeon 520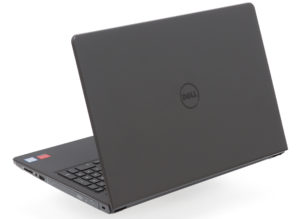 Dell Inspiron 15 3576 has evolved from the Inspiron 15 3567 which we reviewed a couple of weeks ago. Despite the obvious similarities, the newer model features Intel's 8th Gen Core i5 and Core i7 CPUs while the older one comes with up to a Core i5-7200U. This automatically puts it in a slightly more "premium" segment. It is perfect for people who need a lot of performance and are keen on giving up on other features such as build and screen quality.
Dell states on its website that it sells Inspiron 15 3576 with a touch screen display as an option. However, we chose what we think will be the most commonly used screen – the Full HD TN panel. To further enhance the KB-R CPUs Dell included 8GB of DDR4-2400 MHz memory alongside a 256 GB SSD and a dedicated Radeon 520 GPU.
You can check the prices and configurations in our Specs System: http://laptopmedia.com/series/dell-inspiron-15-3576/
Contents
Specs Sheet
What's in the box?
Ingredients: a plastic bag (99% manuals and documentation, 1% air), another plastic bag (100% Dell Inspiron 15 3576), cardboard compartment (50% cable, 50% 65W charger).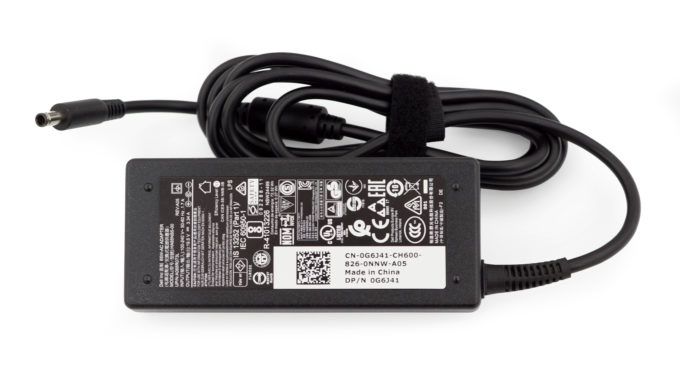 Design and construction
Despite the more premium grade hardware, the outer shell of this device is built with the same plastic materials as the cheaper Inspiron 15 3567. Moreover, everything except the lid panel looks identical – rough plastic with some texture to it. The lid, however, is more reminiscent of that of the Lenovo V330 – glossy plastic, super prone to smudges and scratches. Inspiron 15 3576 measures at 380 x 260 x 23.65 mm (14.96″ x 10.24″ x 0.93″) and weighs 2.13 kg (4.7 lbs), thus being slightly bulkier.
Actually, at first, we thought that the lid has a plastic protection wrap but after a closer look, we saw that it was actually the surface itself. While it looks cool, the glossy finish will fade soon and won't look glorious at all. In addition to that, you need two hands to open it and you have to be careful when closing it as it might slam down. Fear not, though, as there is a little rubber, surrounding the display, to soften the impact.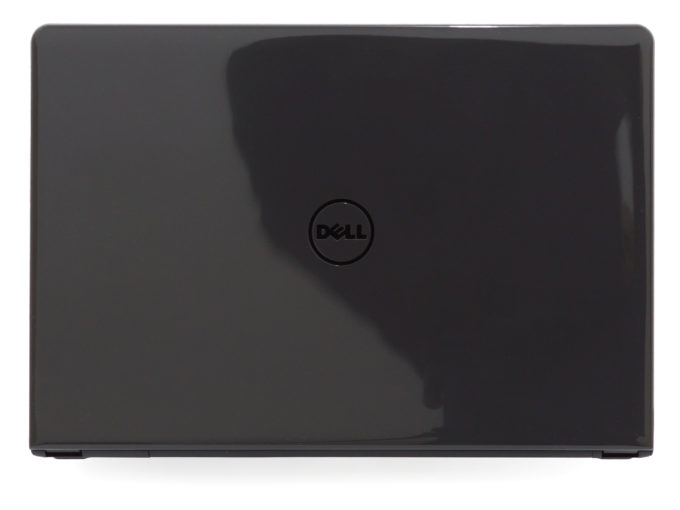 We liked the keyboard's layout and the fact that it's spill resistant and can be removed super easily. However, the typing experience is nothing spectacular as keystrokes are a bit shorter than optimal. In contrast, it is going to suit you well if you like a clicky response. Further below, we find the touchpad which… is not terrible. Yes, it is Windows Precision certified but acceleration is relatively sluggish and buttons are not easily distinguishable from one another.
Lastly, the I/O panel features only the essentials. On the left, there is the charging plug, RJ-45, an HDMI port, as well as two USB 3.0 Type-A ports. Right in the middle of this pack, you can see the exhaust vents for the cooling fan. On the other side, Dell has put the optical drive, a USB 2.0 Type-A port, a 3.5 mm audio combo jack and an SD card reader.
Disassembly and maintenance
Getting inside the Dell Inspiron 15 3576 is not the easiest job. There are a few steps you need to go through in order to be able to upgrade the device. First of all – you have to take the 42Wh battery out. It uses a "hotshoe" type of connection, so you just slide the switch and pull it away from the device.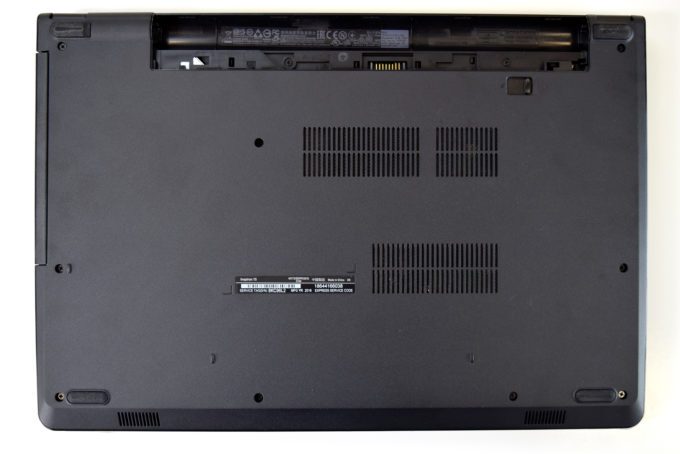 The next step is to remove the keyboard which is only held by a couple of clips. Prior to removing it from the laptop, make sure to cautiously remove the ribbon cable. Those cables are extremely fragile and the slightest bend may break them. After that, you have to unscrew all of the five marked screws and disconnect the other ribbon cable, which connects the optical drive to the motherboard.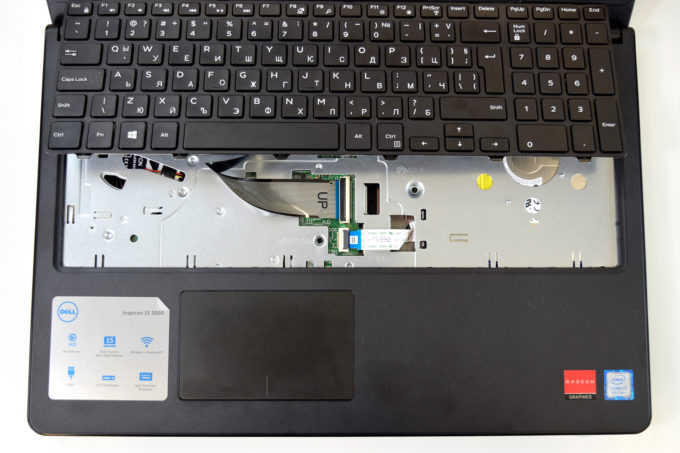 When you disconnect it turn the device upside down and remove all the screws you see. Hint – there are two in the battery compartment. Next, you have to remove the optical drive and other three screws that are revealed beneath it. Finally, pry the bottom panel off the body and now you can see the Inspiron 15 3576's guts in all their glory.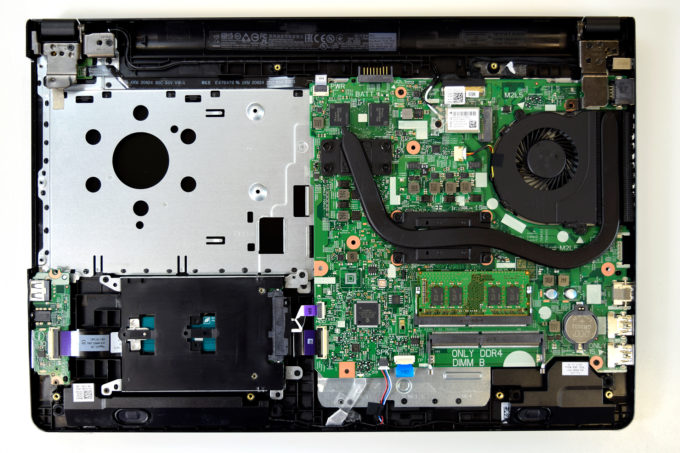 Here you can see the cooling solution, consisting of a fat heat pipe that drives the heat away from both CPU and GPU. The heat is then dissipated from the heatsink by the medium-sized fan.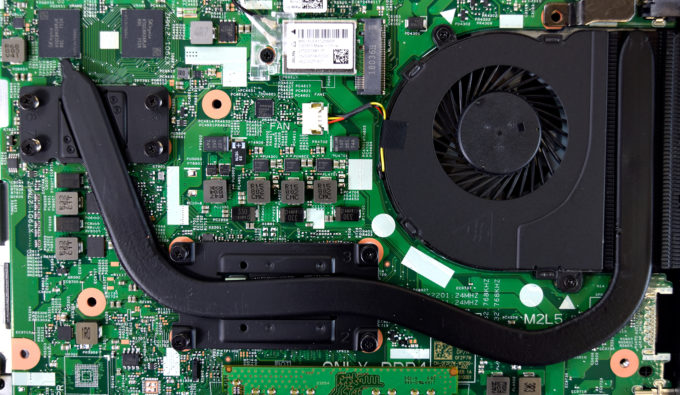 Inspiron 15 3576 supports up to 32GB of DDR4 memory via two RAM DIMMs.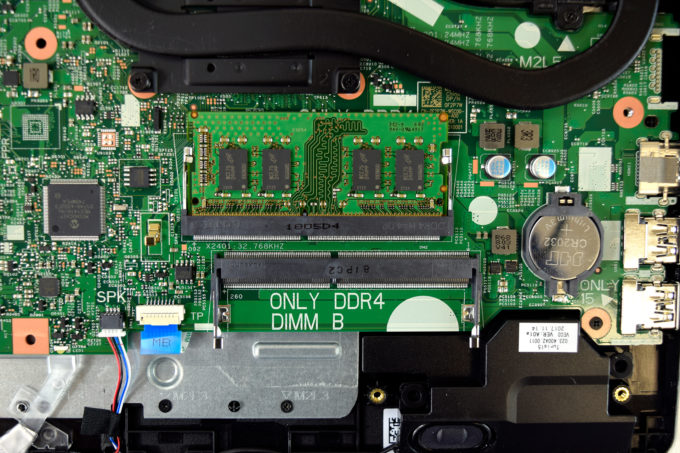 In the images below you can see the storage device. Dell has implemented an interesting solution, using an M.2 SSD by connecting it via a SATA adapter. As always, keep in mind that storage devices are region dependent. Our particular unit features a 256GB Toshiba KSG60ZMV256G SATA SSD.
Display quality
Dell Inspiron 15 3576 in the configuration we tested is equipped with a Full HD TN panel with a model number AUO B156HTN03.8. It has a diagonal of 15.6 inches and a resolution of 1920 x 1080p, leading to a pixel pitch of 0.18 x 0.18 mm and a pixel density of 142 ppi, thus making it appear as "Retina" when viewed from at least 60 cm.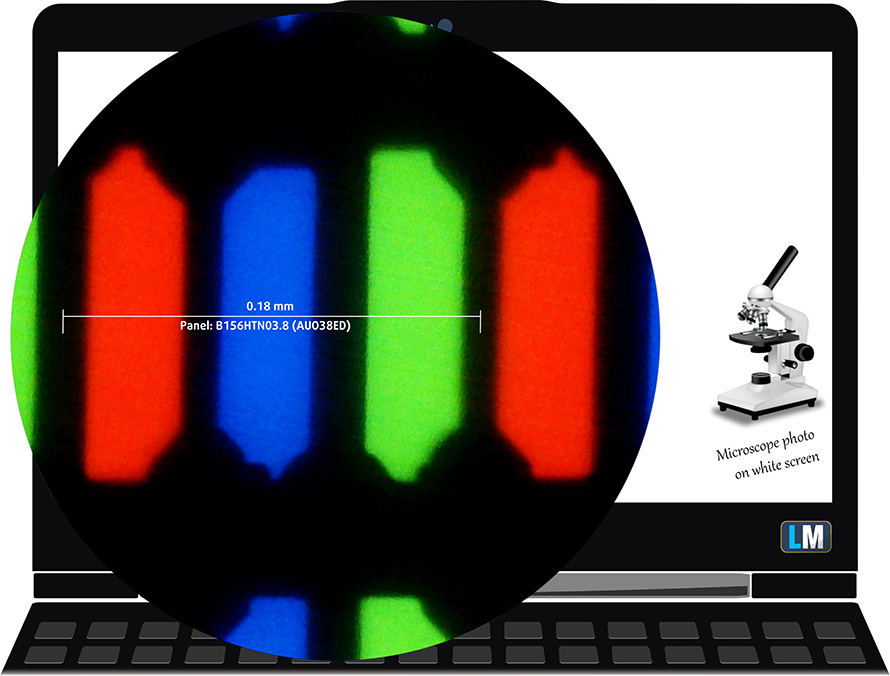 Due to the TN nature of the screen, viewing angles are uncomfortable.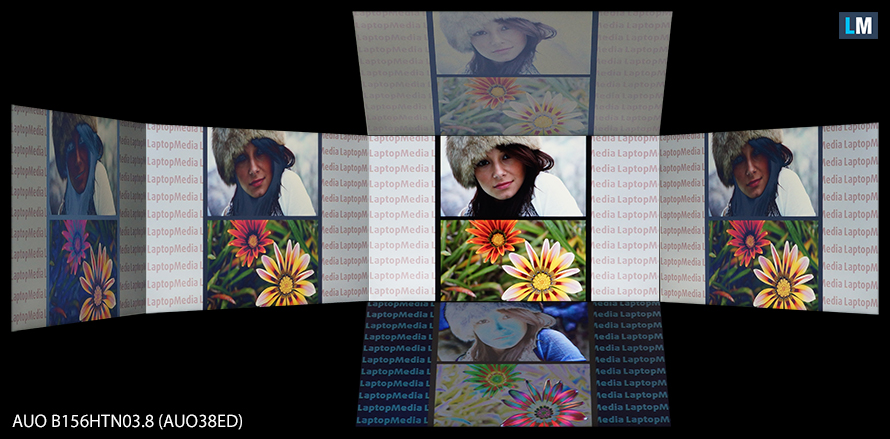 We measured a peak brightness of 268 nits in the center of the screen and 263 nits as an average across the surface with 11% maximum deviation. The optimal correlated color temperature in sRGB is 6500K. This laptop goes slightly colder at 6890K on a white screen. However, things worsen along the grey scale as temperature goes up to 12000K, which is a cold, bluish light. You can see how values change at 142 nits or in other words – 50% brightness.
Values above 4.0 are unwanted and should not be present. The contrast ratio is mediocre – 320:1.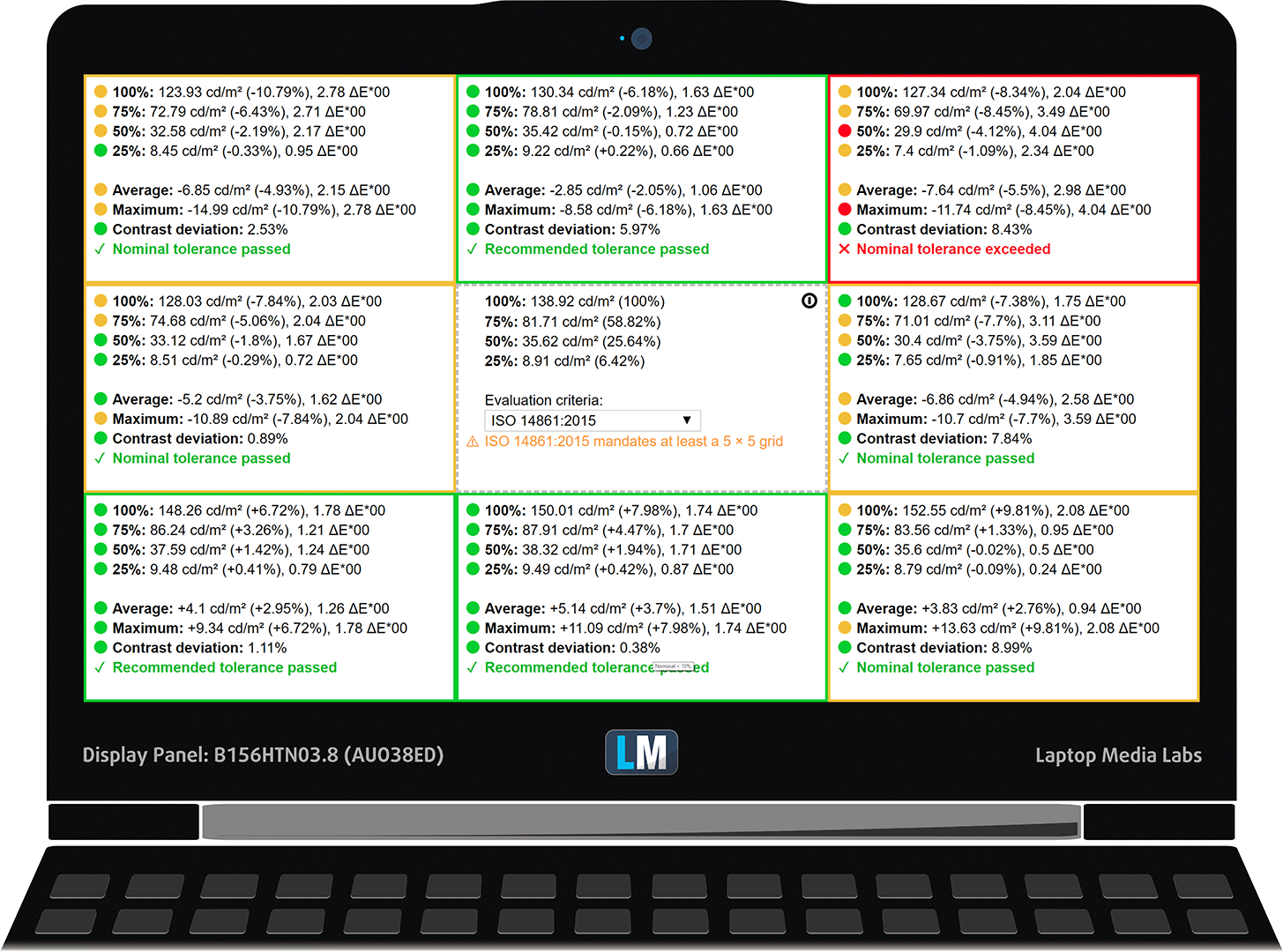 Color reproduction
To make sure we are on the same page, we would like to give you a little introduction to the sRGB color gamut and the Adobe RGB. To start, there's the CIE 1976 Uniform Chromaticity Diagram that represents the visible specter of colors by the human eye, giving you a better perception of the color gamut coverage and the color accuracy.
Inside the black triangle, you will see the standard color gamut (sRGB) that is being used by millions of people in HDTV and on the web. As for the Adobe RGB, this is used in professional cameras, monitors etc for printing. Basically, colors inside the black triangle are used by everyone and this is the essential part of the color quality and color accuracy of a mainstream notebook.
Still, we've included other color spaces like the famous DCI-P3 standard used by movie studios, as well as the digital UHD Rec.2020 standard. Rec.2020, however, is still a thing of the future and it's difficult for today's displays to cover that well. We've also included the so-called Michael Pointer gamut, or Pointer's gamut, which represents the colors that naturally occur around us every day.
Dell Inspiron 15 3576's screen covers only 51% of the colors found on the Internet.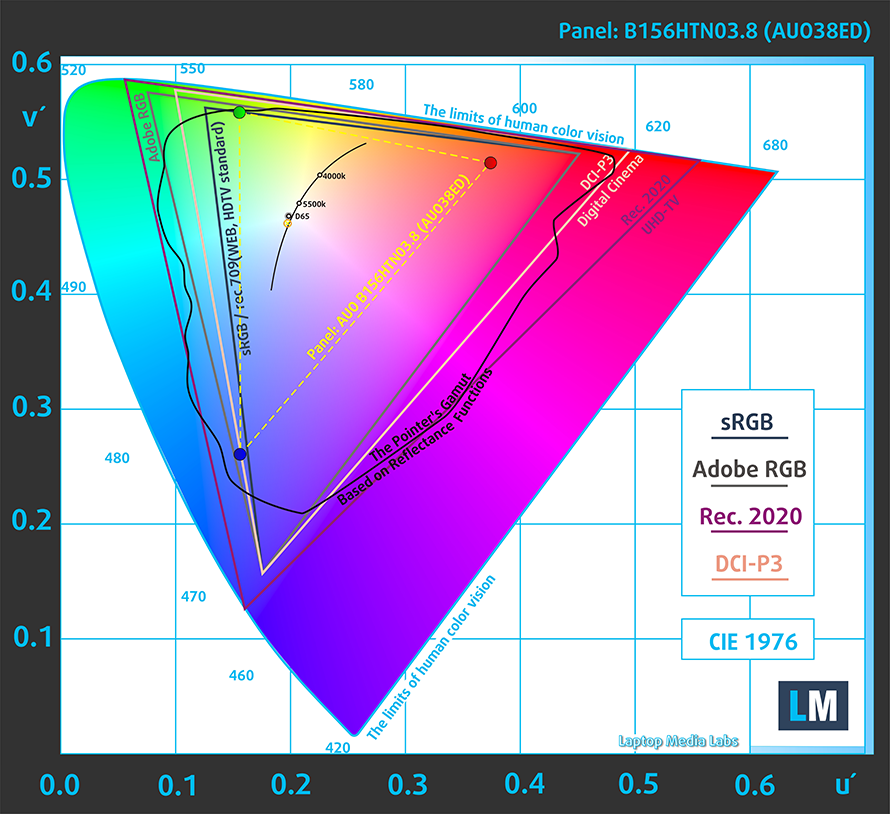 We tested the accuracy of the display with 24 commonly used colors like light and dark human skin, blue sky, green grass, orange etc. You can check out the results at factory condition and also, with the "Design and Gaming" profile.
The next figure shows how well the display is able to reproduce really dark parts of an image, which is essential when watching movies or playing games in low ambient light.
The left side of the image represents the display with stock settings, while the right one is with the "Gaming and Web Design" profile activated. On the horizontal axis, you will find the grayscale and on the vertical axis – the luminance of the display. In the two graphs below you can easily check for yourself how your display handles the darkest nuances but keep in mind that this also depends on the settings of your current display, the calibration, the viewing angle and the surrounding light conditions.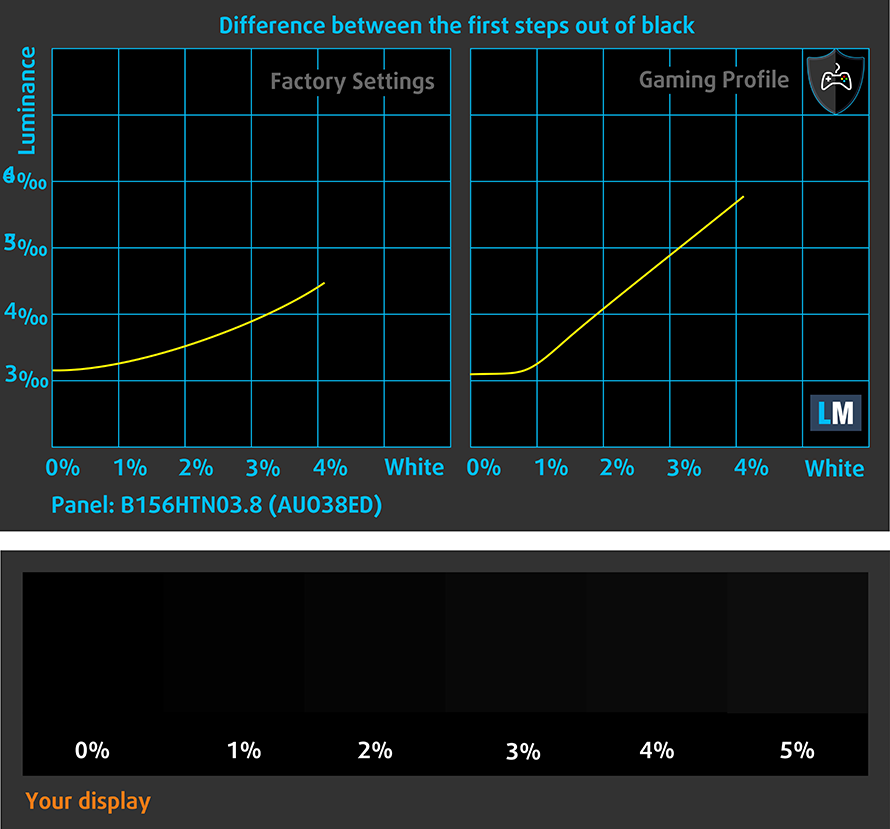 Response time (Gaming capabilities)
We test the reaction time of the pixels with the usual "black-to-white" and "white-to-black" method from 10% to 90% and reverse.
We recorded Fall Time + Rise Time = 15 ms.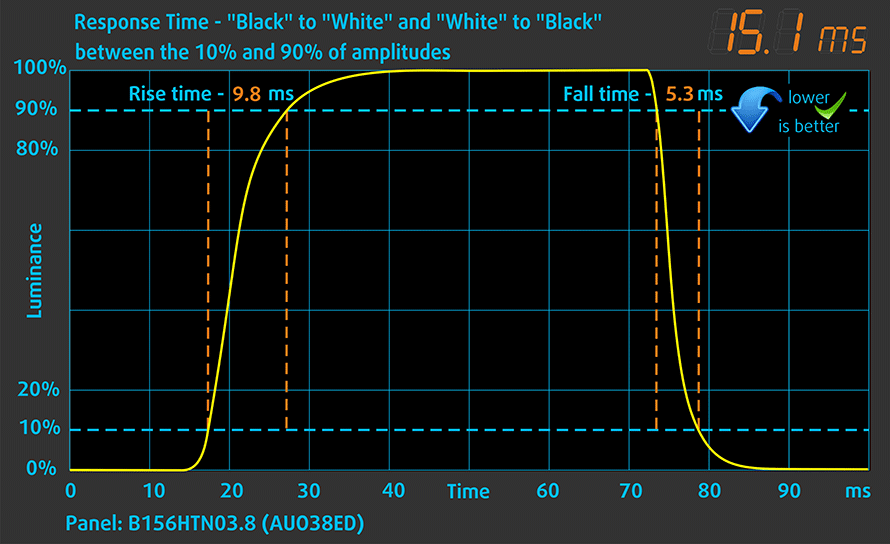 PWM (Screen flickering)
Pulse-width modulation (PWM) is an easy way to control monitor brightness. When you lower the brightness, the light intensity of the backlight is not lowered, but instead turned off and on by the electronics with a frequency indistinguishable to the human eye. In these light impulses, the light/no-light time ratio varies, while brightness remains unchanged, which is harmful to your eyes. You can read more about that in our dedicated article on PWM.
Thankfully, the light emitted from Inspiron 15 3576's backlight does not use PWM for adjusting its screen brightness. This means the display is comfortable to use for extended periods of time in this aspect.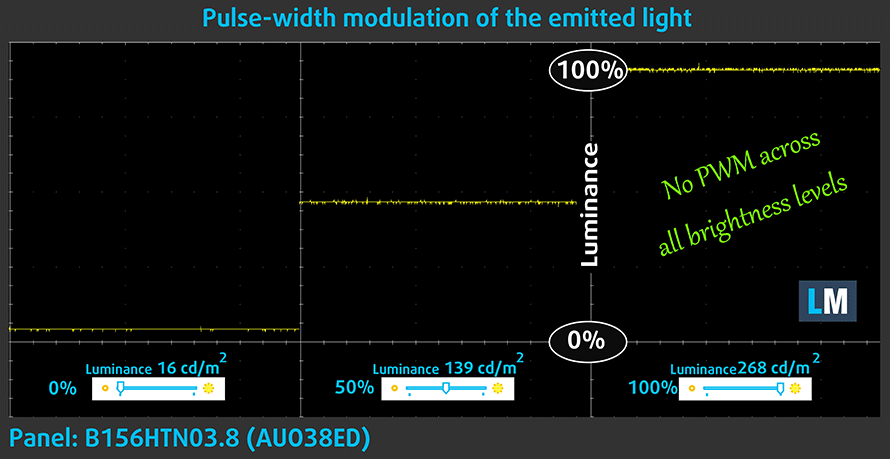 Blue light emissions
Installing of our Health-Guard profile not only eliminates PWM but also reduces the harmful Blue Light emissions while keeping the colors of the screen perceptually accurate. If you're not familiar with the Blue light, the TL;DR version is – emissions that negatively affect your eyes, skin and your whole body. You can find more information about that in our dedicated article on Blue Light.

Conclusion
In a nutshell, Dell Inspiron 15 3576's display is not the best one in the market. To list some positives, we can say that it has a relatively fast panel which doesn't use PWM for brightness adjustment. However, it has the typical traits of a budget TN panel such as poor viewing angles and color reproduction, and moreover color temperature and accuracy. Of course, the last two can be corrected by our profiles.

Buy our profiles
Since our profiles are tailored for each individual display model, this article and its respective profile package is meant for Dell Inspiron 15 3576 configurations with 15.6″ AUO B156HTN03.8 (Full HD, 1920 x 1080) TN screen and the laptop can be found at: Buy from Amazon.com (#CommissionsEarned)
*Should you have problems with downloading the purchased file, try using a different browser to open the link you'll receive via e-mail. If the download target is a .php file instead of an archive, change the file extension to .zip or contact us at bg.laptopmedia@gmail.com.
Read more about the profiles HERE.
Sound
Despite, sounding quiet and muffled, Inspiron 15 3576's speakers are free of significant deviations throughout the whole frequency specter.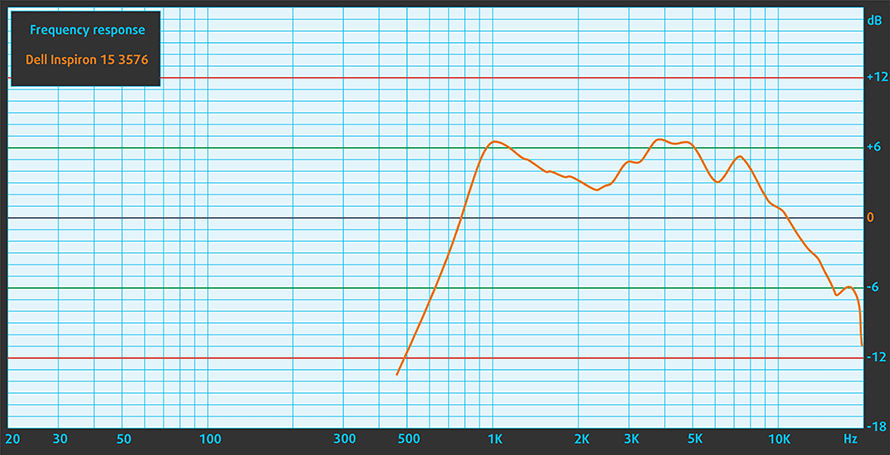 Drivers
You can find all drivers and utilities for Dell Inspiron 15 3576 here: http://www.dell.com/support/home/in/en/indhs1/product-support/product/inspiron-15-3576-laptop/drivers

Battery
As always, the battery tests were run with Windows power saving setting and Wi-Fi turned on, and the screen brightness adjusted to 120 nits. Inspiron 15 3576 features the same 42Wh battery as its budget version – the 3567. Despite the small battery, you can extract around 7 hours and a half of web browsing. Unfortunately, the image is not that bright with only 4 hours and 10 minutes of video playback. We doubt that you're going to play games away from the plug, however, you can do so for around 3 hours on battery power.
CPU – Intel Core i7-8550U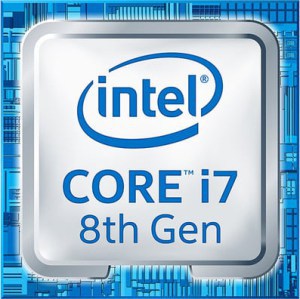 The Intel Core i7-8550U is part of the new 8th Generation Kaby Lake Refresh and it's a direct successor to the Intel Core i7-7500U from the Kaby Lake generation and the Intel Core i7-6500U from the 6th Skylake generation. With the latest alteration to the ULV (ultra-low voltage) processors, Intel doubles the core count from 2 to 4 and retaining the so-called Hyper-Threading technology, keeping the same 14nm manufacturing process and feature the same 15W TDP.
However, due to the core count change, the base frequency of the Core i7-8550U is lowered to only 1.8 GHz while Turbo Boost frequencies remain pretty high – somewhere between 3.7 – 4.0 GHz. This ensures considerably higher multi-core and single-core performance during short workloads before going back to more bearable frequencies considering the 15W TDP but most of the other specs and features remain the same.
The chip also incorporates a newer Intel Gen 9.5 integrated graphics called Intel UHD Graphics 620. The support for Google's VP9 codec and H.265/HEVC Main 10 is still the most notable feature of the iGPU. Intel claims that the new UHD 620 chips improve the overall power consumption compared to the previous one.
You can browse through our top CPUs ranking: http://laptopmedia.com/top-laptop-cpu-ranking/
Dell Inspiron 15 3576 CPU variants
Here you can see an approximate comparison between the CPUs that can be found in the Dell Inspiron 15 3576 models on the market. This way you can decide for yourself which Dell Inspiron 15 3576 model is the best bang for your buck.
Note: The chart shows the cheapest different CPU configurations so you should check what the other specifications of these laptops are by clicking on the laptop's name / CPU.
GPU – AMD Radeon 520 (2GB DDR5)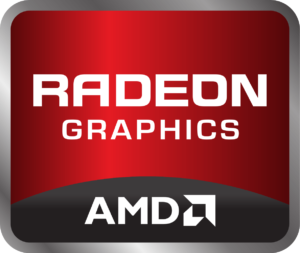 Radeon 520 is AMD's entry-level dedicated graphics card, based on the 2014 28nm Polaris technology. It features 5 CUs, 4 ROPs, 20 Texture Unites and 320 Stream processors. This card can run on a maximum of 1030 MHz, reaching 660 GFLOPs. In addition to that, Radeon 520 is sold with a maximum of 2GB of DDR5 memory with a 64-bit interface and a memory bandwidth of 48 GB/s.
This places it on par with Intel's HD 620 and UHD 620 integrated GPUs with the sole advantage of having dedicated memory. Radeon 520 does not support 4K in any format. However, it supports the most common technologies such as DirectX 12, OpenGL 4.5, the Vulkan API and more.
You can browse through our top GPUs ranking: http://laptopmedia.com/top-laptop-graphics-ranking/
Dell Inspiron 15 3576 GPU variants
Here you can see an approximate comparison between the GPUs that can be found in the Dell Inspiron 15 3576 models on the market. This way you can decide for yourself which Dell Inspiron 15 3576 model is the best bang for your buck.
Note: The chart shows the cheapest different GPU configurations so you should check what the other specifications of these laptops are by clicking on the laptop's name / GPU.
Storage performance
Dell Inspiron 15 3576 in the configuration we tested features a 256GB Toshiba KSG60ZMV256G SATA SSD. What is strange is that it is placed inside of a tray with an adapter from an M.2 to a SATA connector. However, in your region, Dell might choose a different drive. Our unit was able to reach 543.7 MB/s Read and 361.9 MB/s Write speeds which is common for this type of SSD.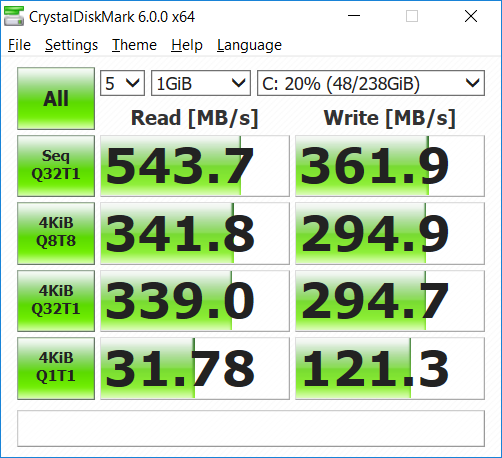 Gaming tests
Obviously, the Radeon 520 is not a gaming beast. Its performance is similar to the HD Graphics 620, which makes the use of it in this device somewhat meaningless. However, you can play low-end titles in 768p and very low eye candy with reasonable frame rates. Also, expect nasty drops in fps in extreme conditions like fierce battles for example.





Temperatures
The temperature tests go this way. We use Prime95 and FurMark to torture the CPU and the GPU respectively. This won't give real-life representation but with our methodology, we try to give you the most optimal results.
The first values from the test are from the 30th second of running the Prime95 stress test, which simulates a heavy task run on your computer (usually lighter tasks take from a part of the second up to a couple of seconds). Next, we take the ones from the 2nd-minute mark, which imitates a very heavy task, run on the CPU. The last values we give you are the ones at the end of the test, which is 15 minutes, simulating the CPU load when rendering a video, for example.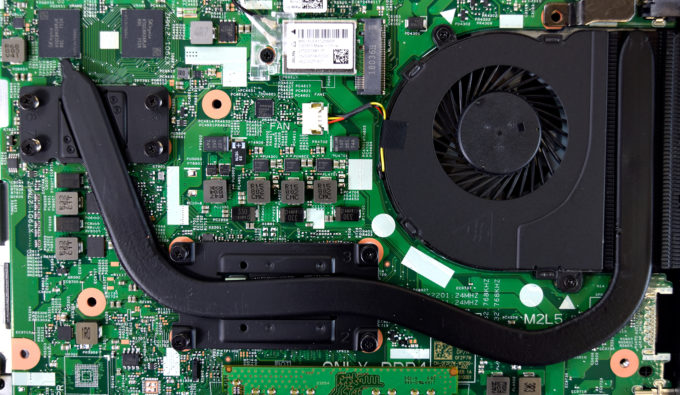 Inspiron 15 3576's CPU has a base frequency of 1.8 GHz and a turbo one of 4.0 GHz. Our unit idled at 42C and started the stress test at 3.2 GHz. After a while, it settled at 2.9 GHz before dropping down to 2.0 GHz around the 22nd second. At this time the Core i7-8550U reached a scorching 98C and fell down to 74C.
However, the clock speeds went back up to 2.6 GHz while the temperature climbed to almost 90C – both values are rarely seen on a device of this class.
Impressively, the CPU maintained the 2.6 GHz until the end of the session with temperatures fluctuating between 90 and 95C.
Most of its direct competitors settle with values around 2.1 GHz and temperatures 20C lower but as it seems, Dell has something else on their mind.
Despite the high internal temperatures, Inspiron 15 3576's surface remained relatively cool with the hottest spot being in middle left part of the keyboard. This speaks of good insulation between the interior and the exterior.
Verdict
Dell Inspiron 3576 is a good try by the huge company to make an affordable device with the greatest chip on the ULV market. Whether you are going to buy it or not totally depends on what you are actually after in a laptop. If you only need a fast CPU and seamless working experience, this is the perfect device for you. However, if you are even a little picky, you'll find Inspiron 15 3576 hard to like.
Starting with the terrible screen, you have to sacrifice a lot of colors and embrace the fact that you have to look straight at the display to see anything. Its poor contrast ratio isn't helping either. However, there is always light at the end of the tunnel as Inspiron 15 3576's panel does not use PWM to adjust its screen brightness at all so it is comfortable to use in this regard. In addition to that, you can up its color game with our Gaming and Web design profile which vastly improves color accuracy.
We also found the battery to be too small to get you adequate onscreen time. However, it is still better than its direct competitor – Lenovo V330. Moreover, the Inspiron was able to achieve better results in raw benchmarks, although lacking speed in the storage compartment. This is mainly because the Lenovo provides an NVMe option while Dell has not installed an M.2 connector to their device and you have to settle with SATA speeds.
Another thing we can complain about is the GPU this device uses. While you can take advantage of it if you are rendering videos, because it can ease the CPU it is completely useless otherwise. In some games, it performs worse than the onboard UHD 620 and taking into consideration that it's connected to the same heat pipe makes it an even worse option.
Unfortunately, we can't recommend this laptop, as there are a lot of other devices in this price range that would suit you better. The performance increase is just not worth it if you don't get some essentials like an IPS panel (there is not even an option for this here) and better battery life. Acer Swift 3 goes at around the same price with a slightly slower Core i5-8250U but offers more in terms of usability.