Microsoft Surface Pro X review – Windows on ARM needs a bit more time to be perfect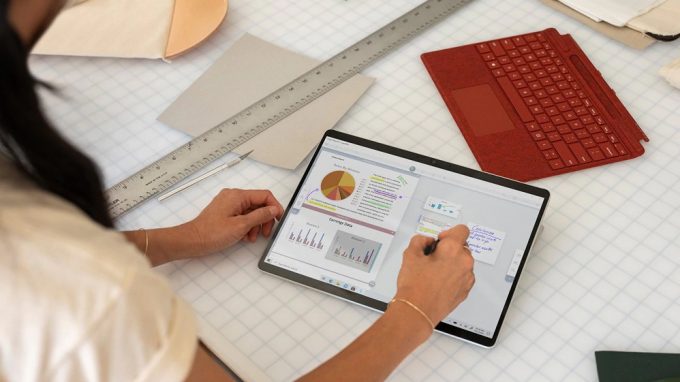 Not long ago we managed to snatch a Surface Pro 7 for review, and we were baffled by the versatility this tablet offered. Without a doubt, its strongest ace was the Ice Lake processor inside, which meant you can run pretty much every app on Windows. Now, we have the Surface Pro X, which has a pretty euphonious name but is an inferior device, compared to the Surface Pro 7.
One of the main reasons why is the ARM architecture it uses. This means that 64-bit programs are pretty much out of the question. However, the Microsoft SQ1 CPU is based on the Snapdragon 8sx and features a higher clock (3.00 GHz, compared to 2.84 GHz for the latter). It includes 8 cores, 4 of which are Kryo 495 Gold (ARM Cortex-A76), and 4 more Kryo 495 Silver units (ARM Cortex-A55).
As for the graphics card, it comes with the SoC, and it is the Adreno 685, which should deliver better performance than most of the ARM smartphones out there. And on top of this, Microsoft gives you a 13-inch "PixelSense" display with 2880×1920 resolution, 3:2 aspect ratio, and Pen support. So, the Pro moniker should imply that this tablet should be a tool for artists and designers, to say the least.
You can check the prices and configurations in our Specs System: https://laptopmedia.com/series/microsoft-surface-pro-x/
Contents
Specs Sheet
LG LP129WT1122684 (LGD0555)
HDD/SSD
up to 512GB SSD
OS
Windows 11 Home, Windows 10 Home, Windows 10 Pro
Dimensions
287 x 208 x 7.3 mm (11.30" x 8.19" x 0.29")
2x USB Type-C
3.2 Gen 2 (10 Gbps)
Web camera
5.0MP Front-Facing + 10.0MP Rear-Facing
Microphone
Dual far-field Studio Mics
Speakers
2x 2W, Dolby Audio
What's in the box?
Inside the pretty premium package, we found a 65W power brick with its proprietary connector and a USB Type-A plug for charging another device.
Design and construction
When it comes to the quality of build, this device definitely justifies its premium price tag. Anodized aluminum on the back with a glass cover on top of the display. Interestingly, the top part of the tablet is plastic, which is where the Wi-Fi and LTE antennas are located.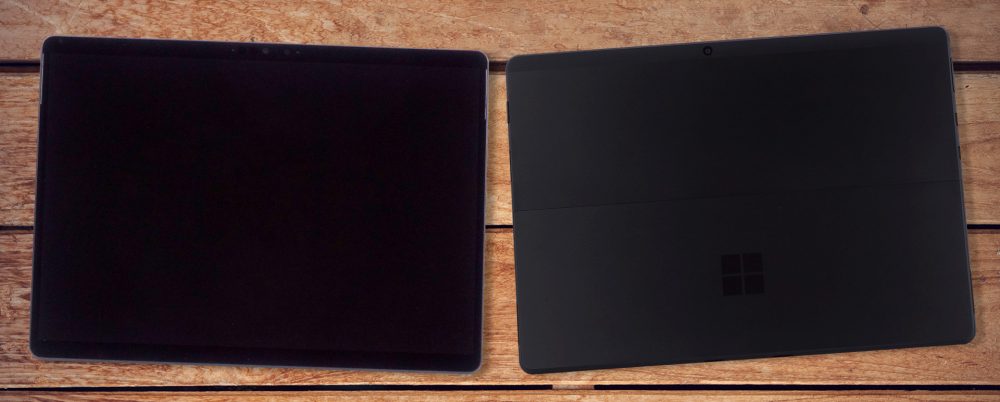 In terms of measurements, we are talking about a 7.3mm thin profile, which makes it look incredibly fragile. As of the weight, the Surface Pro X stops the scales at 774 grams. And while the structure is pretty rigid, we found it very slippery, so you might be wanting to pair it with a dedicated keyboard, which will make it far easier to handle. Also, there are a couple of speakers placed on either side of the display.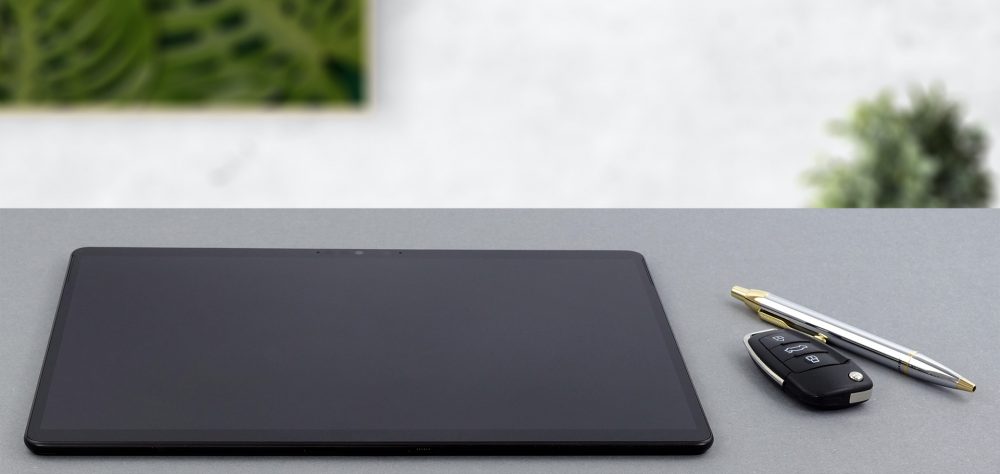 Next, we have the hinge. You can pop it open by gripping it with your fingers, thanks to the two cutouts on each side. It lets you position the Surface Pro X in pretty much every angle from around 80-degrees, down to 10. Thanks to being a bit too stiff, you can use it effortlessly with a Surface Pen, without worrying it will move and ruin your work.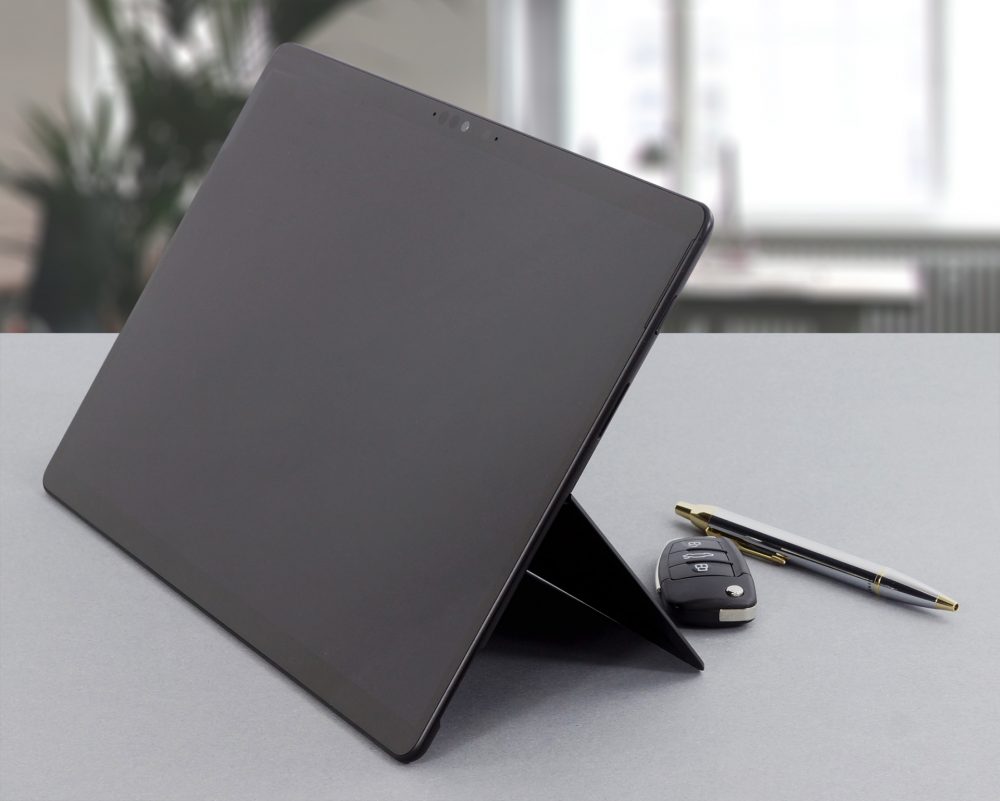 Ports
Well, sadly, the port selection is pretty limited, but once again – this is more of a tablet device. You get two USB Type-C ports on the left, where you can also find the volume rocker. Then, on the right, you got the power plug, as well as the Power button. And on the bottom, you have the Surface keyboard port.
Display quality
Microsoft Surface Pro X is equipped with a touchscreen IPS panel, LG Phillips LP129 WT112684 (LGD0555). Its diagonal is 13-inch (33cm), and the resolution – 2880 x 1920p. Additionally, the screen ratio is 3:2, the pixel density – 266 ppi, their pitch – 0.095 х 0.095 mm. The screen can be considered Retina when viewed from at least 33 cm (from this distance, the average human eye can't see the individual pixels).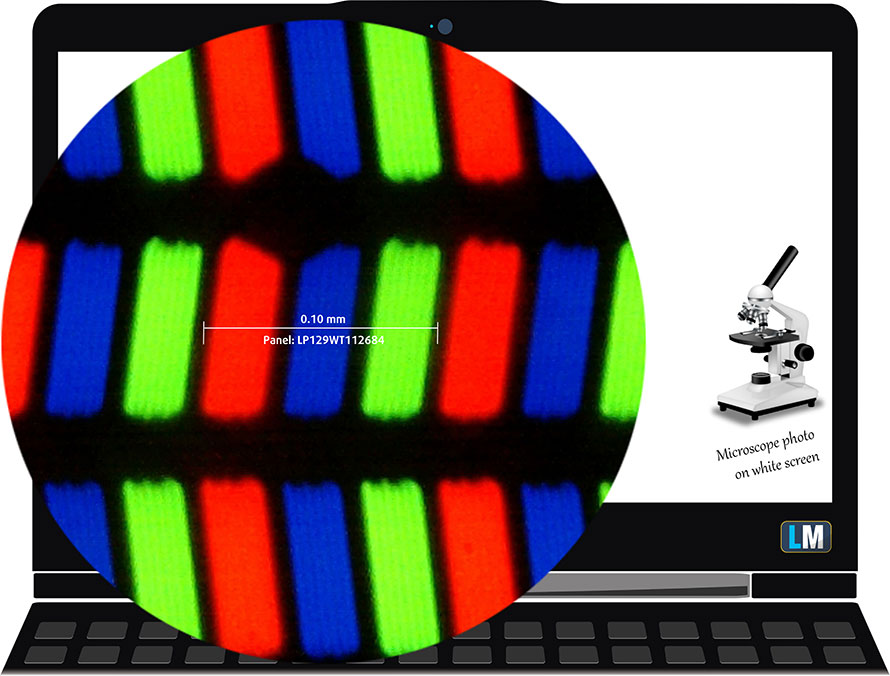 Viewing angles are comfortable. We offer images at different angles to evaluate the quality.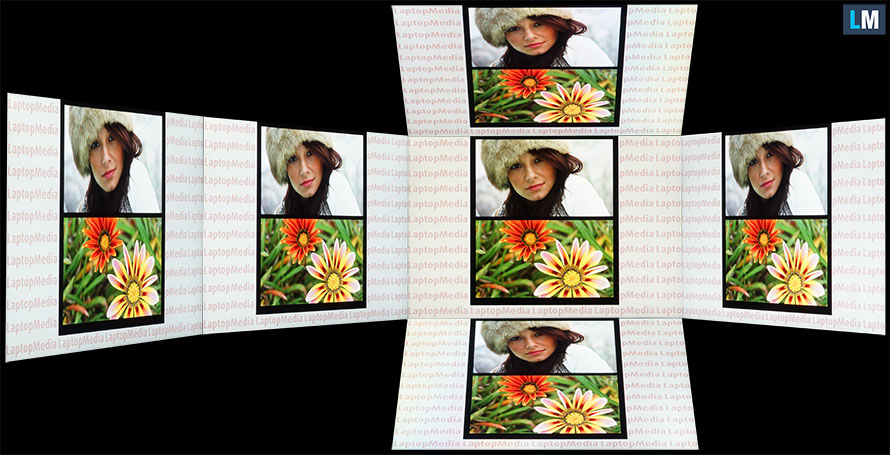 The maximum measured brightness is 450 nits (cd/m2) in the middle of the screen and 448 nits (cd/m2) average across the surface with a maximum deviation of 3%. The Correlated Color Temperature on a white screen and at maximum brightness is 6500K – matching the 6500K temperature for sRGB.
In the illustration below you can see how the display performs from a uniformity perspective. The illustration below shows how matters are for operational brightness levels (approximately 140 nits) – in this particular case at 59% Brightness (White level = 141 cd/m2, Black level = 0.10 cd/m2).
Values of dE2000 over 4.0 should not occur, and this parameter is one of the first you should check if you intend to use the laptop for color-sensitive work (a maximum tolerance of 2.0 ). The contrast ratio is good – 1360:1.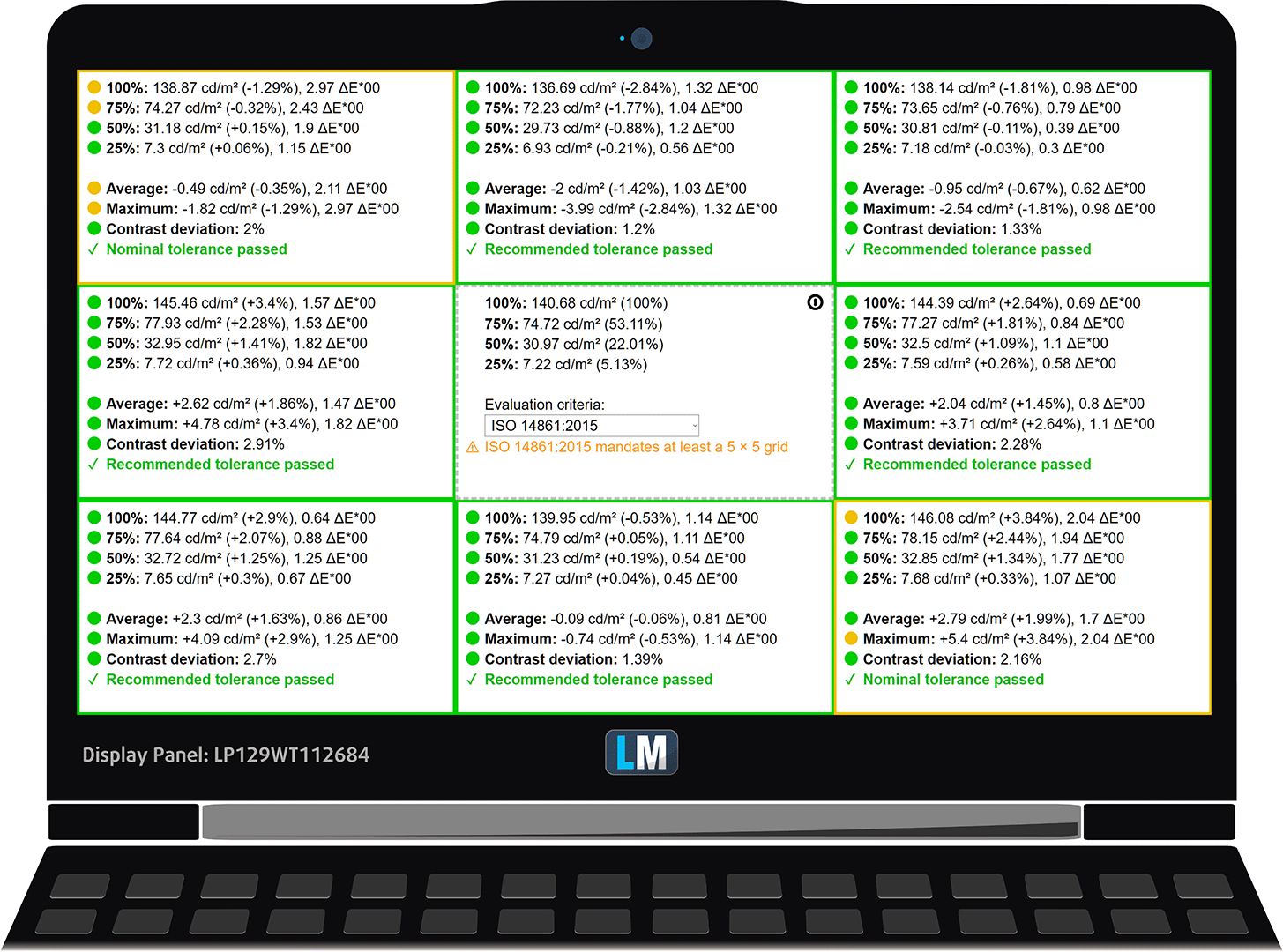 To make sure we are on the same page, we would like to give you a little introduction to the sRGB color gamut and the Adobe RGB. To start, there's the CIE 1976 Uniform Chromaticity Diagram that represents the visible specter of colors by the human eye, giving you a better perception of the color gamut coverage and the color accuracy.
Inside the black triangle, you will see the standard color gamut (sRGB) that is being used by millions of people in HDTV and on the web. As for the Adobe RGB, this is used in professional cameras, monitors, etc for printing. Basically, colors inside the black triangle are used by everyone and this is the essential part of the color quality and color accuracy of a mainstream notebook.
Still, we've included other color spaces like the famous DCI-P3 standard used by movie studios, as well as the digital UHD Rec.2020 standard. Rec.2020, however, is still a thing of the future and it's difficult for today's displays to cover that well. We've also included the so-called Michael Pointer gamut, or Pointer's gamut, which represents the colors that naturally occur around us every day.
The yellow dotted line shows Microsoft Surface Pro X's color gamut coverage.
Its display covers 93% of the sRGB/ITU-R BT.709 (web/HDTV standard) in CIE1976.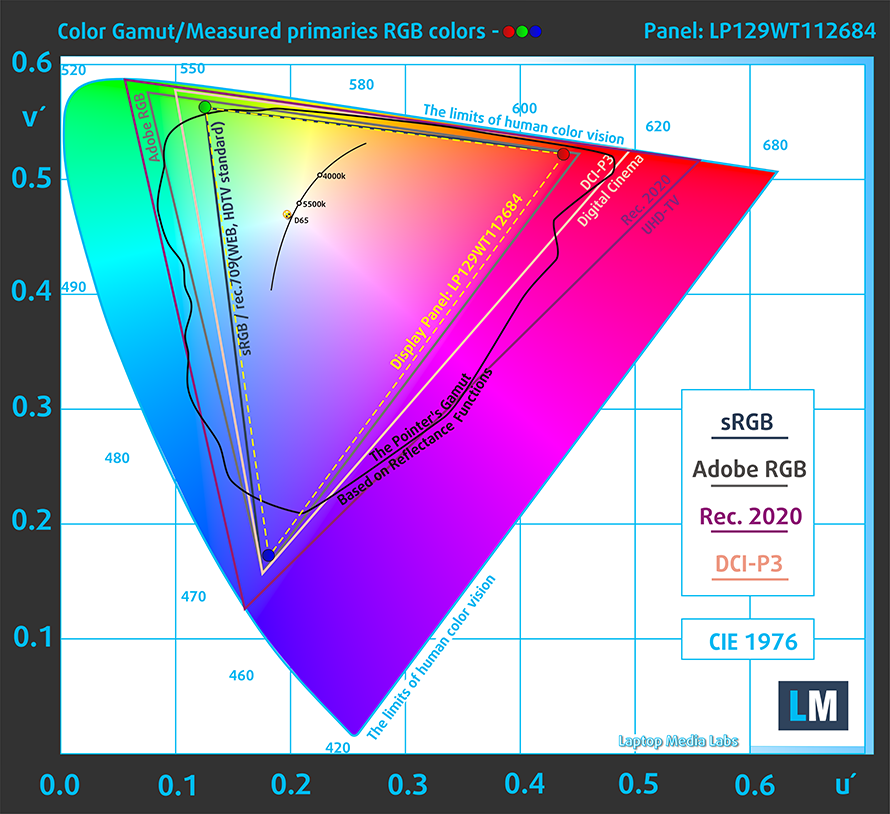 Our "Design and Gaming" profile delivers optimal color temperature (6500K) at 140 cd/m2 luminance and sRGB gamma mode.
We tested the accuracy of the display with 24 commonly used colors like light and dark human skin, blue sky, green grass, orange, etc, against the sRGB standard.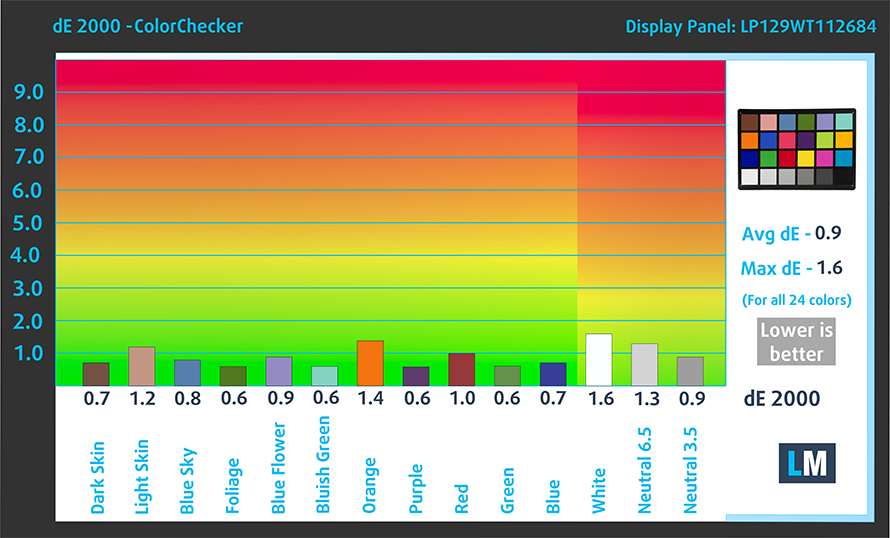 Response time (Gaming capabilities)
We test the reaction time of the pixels with the usual "black-to-white" and "white-to-black" method from 10% to 90% and vice versa.
We recorded Fall Time + Rise Time = 24 ms.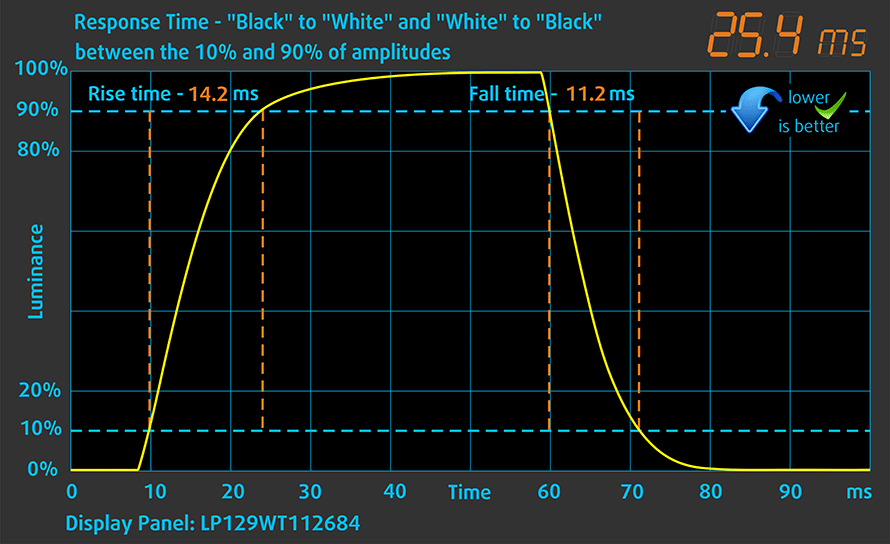 PWM (Screen flickering)
Pulse-width modulation (PWM) is an easy way to control monitor brightness. When you lower the brightness, the light intensity of the backlight is not lowered, but instead turned off and on by the electronics with a frequency indistinguishable to the human eye. In these light impulses, the light/no-light time ratio varies, while brightness remains unchanged, which is harmful to your eyes. You can read more about that in our dedicated article on PWM.
Microsoft Surface Pro X's backlight does flicker up until 130 nits. This reduces the negative effect, but the flickers have a very low frequency, which is an unacceptable option if you work in a poorly lit environment.

Conclusion
Microsoft Surface Pro X's touchscreen IPS panel has a very high resolution, comfortable viewing angles, good contrast ratio, and relatively high color coverage (93% of the sRGB gamut). Moreover, its color accuracy is great by default, which will definitely make people, who value pristine color representation happy. On the downside, we detected low-frequency PWM below 130 nits, which is pretty bad, if you work in late hours, or need to lower the screen brightness.
Sound
Microsoft Surface Pro X's speakers produce a loud and clear sound with decent quality. Its low, mid, and high tones are clear of deviations.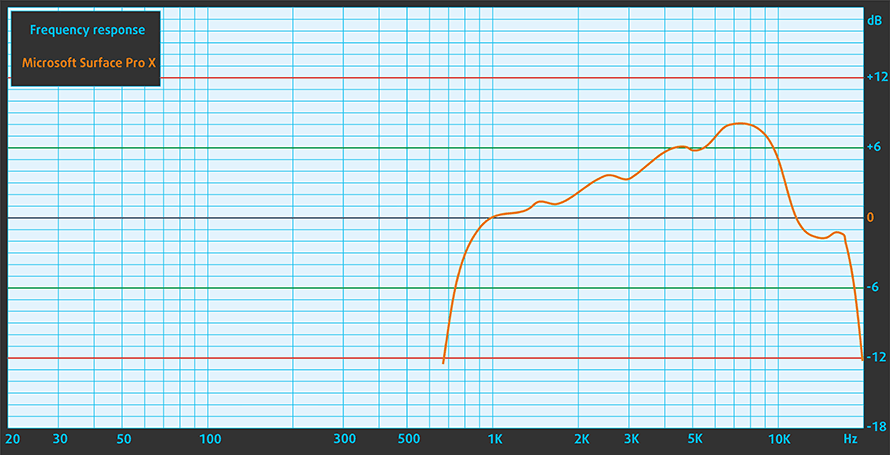 Drivers
Since this product comes directly from Microsoft, you will rely mainly on Windows updates.
Battery
Now, we conduct the battery tests with Windows Better performance setting turned on, screen brightness adjusted to 120 nits, and all other programs turned off except for the one we are testing the notebook with. This device's 39Wh battery lasts 8 hours and 58 minutes of Web browsing and 9 hours and 52 minutes of video playback.
CPU options
Our unit was equipped with the Microsoft SQ1 chip, which includes four Cortex-A76 cores and four Cortex-A55. The maximum frequency is 3.00 GHz, and it has high efficiency, thanks to the 7nm manufacturing process.
| CPU Benchmarks | single/multi Geekbench 5 | Octane V2 | Mozilla Kraken 1.1 |
| --- | --- | --- | --- |
| Microsoft Surface Pro X | 750/2871 | 23039 | 2864.3 ms |
| Acer Chromebook Spin 11 (CP311-2H) | 378/1281 | 15505 | 2457.7 ms |
| Acer Chromebook Spin 11 (CP311-3H) | -/- | 9875 | 3895.0 ms |
GPU options
As of the graphics card, this SoC features the Qualcomm Adreno 685.
| GPU benchmarks | 3DMark Night Raid | Unigine Heaven 3 | Unigine Heaven 4 |
| --- | --- | --- | --- |
| Microsoft Surface Pro X | 7904 | 258 | 240 |
Interestingly, we got very similar results to Intel's UHD Graphics 620, when it comes to the Unigine tests.
Verdict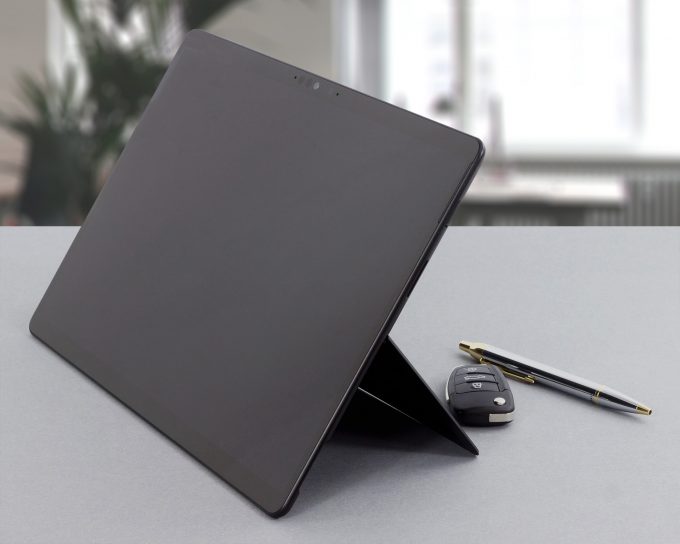 After a day with this device, we were convinced that this is more of a tablet, that can behave as a laptop, than the other way around. Its ARM processor barely opens 64-bit programs, and the lack of genuine ports makes it less versatile. On the bright side, however, the Surface Pro X features an NVMe SSD drive, and its memory comes in two options – 8GB and 16GB of LPDDRx RAM.
It also features two cameras, one of which is a 10MP rear-facing unit that is capable of 4K recording, while the other is a 5MP device, which shoots 1080p videos and has Windows Hello certification, thanks to its IR face recognition sensors.
Of course, one of the most important features of this device is its display. And we were more than satisfied with what we saw. Microsoft Surface Pro X's touchscreen IPS panel has a very high resolution, comfortable viewing angles, good contrast ratio, and relatively high color coverage (93% of the sRGB gamut). Moreover, its color accuracy is great by default, which will definitely make people, who value pristine color representation happy. On the downside, we detected low-frequency PWM below 130 nits, which is pretty bad, if you work in late hours, or need to lower the screen brightness.
Now, Microsoft is promising up to 15 hours of "typical device usage". We don't really know what they call typical, but with continuous Web browsing, we were barely able to get 9 hours of screen on time. And while playing videos, resulting in a killed battery after 8 minutes shy of 10 hours, it is still way off the 15 hours, shown on Microsoft's Web page.
So, before getting this machine, you should be aware that 3D work with full-blown programs is not yet supported. On the other side, according to Microsoft, there are more and more apps being released and transitioned to work with the ARM architecture. Plus, the new SQ2 processor should deliver better computing and graphics performance, while boasting the same efficiency. Sadly, it has the competition of the Apple iPad Pro, which happens to be one of the best devices for art people, and at a price tag starting at $799, the Surface Pro X should have delivered more in terms of software integration.
Pros
Covers 93% of the sRGB gamut (Chi Mei P130ZFA-BA1) and has a great color accuracy
Thin, light, and premium design
Very good build quality
High maximum brightness (450 nits)
IR face recognition and LTE support
Cons
Very limited I/O
Memory is soldered to the motherboard
Windows is not very well suited for ARM integration in 2020
You can check the prices and configurations in our Specs System: https://laptopmedia.com/series/microsoft-surface-pro-x/