MSI Raider GE78 HX (13VX) review – one of the best gaming devices comes at a high price
Temperatures and comfort, Battery Life
Max CPU load
In this test we use 100% on the CPU cores, monitoring their frequencies and chip temperature. The first column shows a computer's reaction to a short load (2-10 seconds), the second column simulates a serious task (between 15 and 30 seconds), and the third column is a good indicator of how good the laptop is for long loads such as video rendering.

Average P-core frequency; Average E-core frequency; CPU temp.; Package Power
| Intel Core i9-13950HX (55W TDP) | 0:02 – 0:10 sec | 0:15 – 0:30 sec | 10:00 – 15:00 min |
| --- | --- | --- | --- |
| MSI Raider GE78 HX (13VX) | 4.29 GHz @ 2.44 GHz @ 84°C @ 181W | 3.98 GHz @ 2.36 GHz @ 86°C @ 153W | 3.70 GHz @ 2.25 GHz @ 87°C @ 128W |
Due to the absurd amount of cores, this processor performs amazingly. Its P-cores clock really high, while the E-cores are a bit more laid back. We were super impressed by the 181W power target for short loads.
Real-life gaming
| NVIDIA GeForce RTX 4080 | GPU frequency/ Core temp (after 2 min) | GPU frequency/ Core temp (after 30 min) |
| --- | --- | --- |
| MSI Raider GE78 HX (13VX) | 2418 MHz @ 74°C @ 173W | 2415 MHz @ 76°C @ 173W |
It's good to know that the Raider GE78 HX (13VX) doesn't have issues cooling down the RTX 4080, and nearing its 175W TGP limit.
Comfort during full load
The disadvantage here is that the laptop is really loud when you play games. Of course, we used the High Performance preset, so it can deliver the highest performance possible. In terms of temperature, the externals are pretty well insulated from the insides.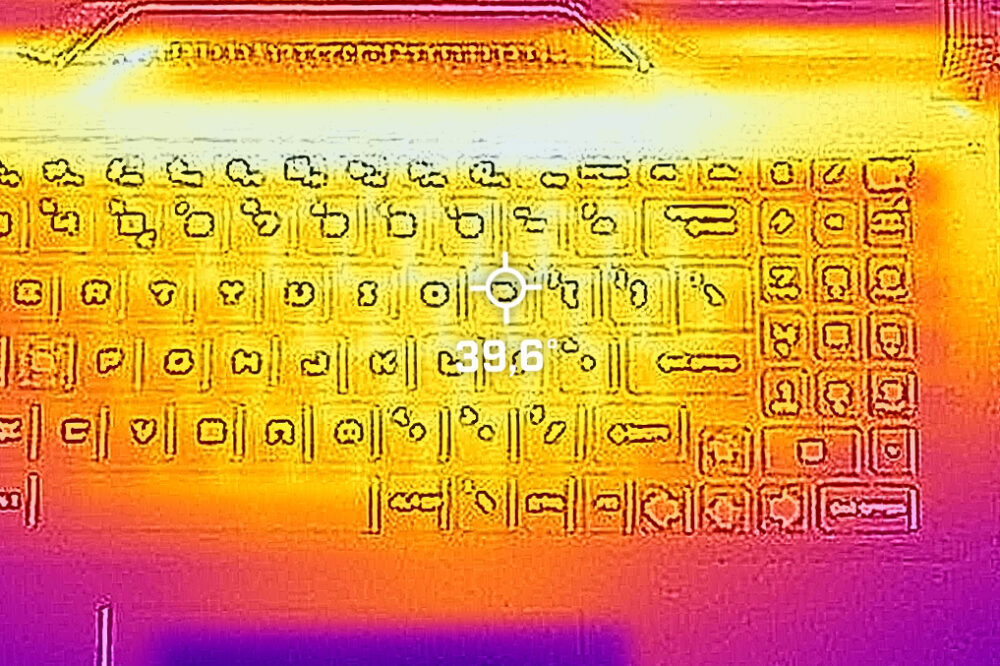 Battery
Now, we conduct the battery tests with the Windows Better performance setting turned on, screen brightness adjusted to 120 nits and all other programs turned off except for the one we are testing the notebook with. This device's 99.99Wh battery lasts for 7 hours and 55 minutes of Web browsing, or 5 hours and 28 minutes of video playback.
In order to simulate real-life conditions, we used our own script for automatic web browsing through over 70 websites.
For every test like this, we use the same video in HD.