AMD Ryzen 5 3500U vs Intel Core i5-8250U – AMD comes narrowly ahead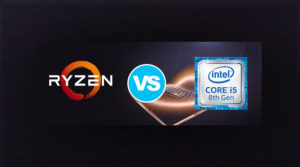 This is a comparison between two Ultra-low voltage laptop processors. Actually, one of them is one of the most popular choices from recent years, both because of its brilliant performance per watt ratio and because it is cheaper than its Core i7-8550U counterpart. However, with the release of the latest Ryzen laptop CPUs, it should be quiet interesting to put them side by side.
Visit our Top Laptop CPU Ranking to check these two and many more CPUs.

Specs overview
Let's start with the Red company's competitor – it features a 12nm manufacturing process and a 64-bit interface. It comprises four cores and eight threads, which is exactly the same amount of units as the Core i5-8250U. Speaking of which it is built on a 14nm FinFET architecture. It lacks behind the Ryzen 5 3500U in terms of the clock speeds with 2.10 GHz vs 1.60 GHz Base frequency and 3.70 GHz vs 3.40 GHz maximum Boost. On the other side, the Core i5-8250 is equipped with more Cache – 6MB vs 4MB. They are both able to support memory with a maximum speed of 2400 MHz.
On the GPU side, the Ryzen 5 3500U houses an AMD Radeon RX Vega 8, while the Core i5-8250U is equipped with an Intel UHD Graphics 620.
You can check out the full specs of the AMD Ryzen 5 3500U and the Intel Core i5-8250U.

Benchmarks
For the purpose of this test we've used two generations of the same device – the Lenovo Ideapad 530S and the Ideapad S540, respectively. This shows a minor difference in favor of the Ryzen 5 3500U.
Results are from the Cinebench 20 CPU test (the higher the score, the better)
Results are from our Photoshop benchmark test (the lower the score, the better)
Conclusion
As we saw, the superior processor in terms of pure power is the AMD Ryzen 5 3500U. Even though it was by a tiny margin, it was able to outperform the Core i5-8250U, which is already a well-optimized CPU.
All laptops equipped with the AMD Ryzen 5 3500U
All laptops equipped with the Intel Core i5-8250U