[Comparison] AMD Ryzen 3 4300U vs Intel Core i5-9300H – less consumption vs more power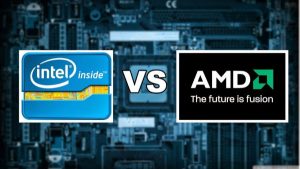 The two giants of the CPU world – AMD and Intel are always competing when it comes to who is the leader of innovations and advancements. Today we have the recently released AMD Ryzen 3 4300U versus the Intel Core i5-9300H.
In this comparison, we are going to see how the low power using Ryzen compares against the mid-level Core i5-9300H. This comparison will be quite different because these CPUs are very different in nature due to their dissimilarity in power consumption and specifications.
More detailed specs here: AMD Ryzen 3 4300U / Intel Core i5-9300H

Specs
The AMD Ryzen 3 4300U has 4 cores and 4 threads while the Core i5-9300H has 4 cores and 8 threads. This means that the Core i5-9300H will have an advantage in multi-core processes because of the hyperthreading. The base frequency for the Ryzen 3 4300U is 2.70 GHz and maxes out at 3.70 GHz. For the Core i5-9300H, the base frequency stays at 2.40 GHz and it caps out at 4.10 GHz. Additionally, it has double the cache of its opponent at 8MB. Furthermore, the Intel CPU consumes three times more power than its AMD counterpart. This means that you can expect better battery life and a lower-capacity cooling solution.
| | AMD Ryzen 3 4300U | Intel Core i5-9300H |
| --- | --- | --- |
| Cores / Threads | 4 / 4 | 4 / 8 |
| Base / Max frequency | 2.70 – 3.70 GHz | 2.40 – 4.10 GHz |
| Cache | 4 MB Cache | 8 MB Cache |
| TDP / up / down | 15W / 25W / 10W | 45W / 50W / 35W |
| Memory support | DDR4-3200, LPDDR4-4266 | DDR4-2666, LPDDR3-2133 |
| Integrated GPU | AMD Radeon RX Vega 5 | Intel UHD Graphics 630 |
Benchmarks CPU
For our first benchmark, we can see that in terms of 3D rendering the Intel processor does 25% better than its AMD counterpart. In the next benchmark which is focused on Photoshop image manipulation, we can see that the difference is a lot less notable with 7% in favor of the Core i5-9300H.
Results are from the Cinebench 20 CPU test (the higher the score, the better)
Results are from our Photoshop benchmark test (the lower the score, the better)
Gaming Capabilities



Conclusion
In conclusion, despite the power difference the AMD Ryzen 3 4300U does 42% in the GPU department but gets surpassed by the Intel Core i5-9300H in CPU intensive tasks. This is quite predictable because of the low energy consumption of the Ryzen 3 4300U. However, Ryzen 3 does a very commendable job for its specs and power consumption and it is an option that is worth considering if you are not doing many CPU intensive tasks. What is more, if you are considering getting the AMD option keep in mind that you will also have better battery life.

All laptops with AMD Ryzen 3 4300U:
All laptops with Intel Core i5-9300H: