GTX 1050 Ti Battle: HP Omen 15 vs Lenovo Legion Y520 – two entry-level gaming machines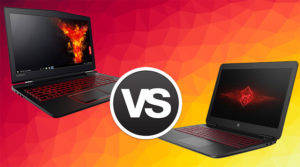 Time for another comparison, this time returning to the budget gaming class. With last year's introduction of Pascal graphics cards and Kaby Lake processors, we are one step closer to the dream of having a budget portable gaming system. Some manufacturers like Lenovo show us that the dream is true with notebooks like the Legion Y520 which is one of the best budget gaming device on the market at the moment. But other OEMs are trying not to be left behind. For instance, HP's answer to the budget gaming dream is the Omen 15.
We are about to see if the extra bucks spent on the Omen are worth it.
HP Omen 15 (GTX 1050 Ti): Full review / Buy from Amazon.com (#CommissionsEarned)
Lenovo Legion Y520 (GTX 1050 Ti): Full review / Buy from Amazon.com (#CommissionsEarned)

Contents
Design and construction
Both models are completely made out of plastic which isn't anything surprising for a budget device. However, plastic does not necessarily mean bad quality. The Y520 feels very solid. The lid bends very little even when you apply some force to it but the finish attracts some fingerprints. Sadly, the costlier Omen 15 doesn't offer such rigidness. The lid can be easily bent which results in the appearance of ripples on the LCD screen. We should note that the hinges very good – they are stable and allow us to open the lid with only one hand. What we like in the Omen 15 is its dimensions – it is only 24 mm thick and weighs 2.19 kg which is quite portable for a gaming notebook. The Y520 is still fairly light and thin but not as much as its competitor – it has a 25.8 mm profile and weighs 2.5 kg.
Both models feature all the essential connectivity options. The Omen 15 gives us two USB 3.0 ports and one USB 2.0 port. You also get an HDMI, RJ-45 and SD card reader. Unfortunately, there is no USB Type-C port which is starting to become a must in 2017. It is also a bit odd why the is a USB 2.0 instead of another USB 3.0 port. However, all the ports are evenly distributed on both sides which makes it convenient.  The Y520 features the same port configuration but offers us one useful USB Type-C port. One thing we could note is that many of the ports are on the right side which may obstruct normal usage of an external mouse if you have a few things connected at once.
Moving to the interior we definitely say that we are more pleasant with the Y520. It offers an accurate and responsive touchpad with dedicated left and right buttons. They share one key cap so the center is very sturdy but the ends are kind of loose. The keyboard is excellent for a budget device. It offers a long key travel – Lenovo says it's 1.7 mm. The arrow keys are big which is an advantage for some gamers. Things are not the same for the Omen 15. Its touchpad is not very responsive and does not provide a smooth experience. The keyboard is good for typing but not for gaming. The layout of the arrow keys will not satisfy the gamers that use them – left and right are full sized but the up and down keys share one key space (look at the photos).
Display
The display isn't a strong feature of either of the notebooks. They provide sub-par quality but that is acceptable for budget devices. HP Omen 15 is equipped with an LG Philips LGD0532 panel while the Y520 uses an LG Philips again but with a model number LP156WF6-SPK3. Both panels are IPS with Full HD (1920 x 1080p) resolution and 0.18 x 0.18 mm pixel pitch.
Viewing angles are excellent on both models. Brightness levels are fairly similar and about average – maximum of 252 cd/m2 in the middle for the Omen 15 and 268 cd/m2 for the Y520. Color temperature is identical – 6700K which almost aligns with the optimal 6500K. The contrast ratio on the Omen 15 is a bit higher measuring 780:1 while the Y520 – 670:1.
Color reproduction is poor on both models. The Y520 can display only 52% of the colors in the sRGB gamut while the costlier Omen 15 is on par with only 51% coverage. Color accuracy isn't the best but it is rather good considering the budget panels. The average dE (lower is better) of the Omen 15 before calibration is 6.5 and 3.9 after while the Y520 is better before calibration – an average of 4.1 but doesn't improve much after – 4.0.
Both panels use PWM for regulating the screen brightness, however, the frequency used is very high – 20.7 kHz on the Legion Y520 and 21 kHz on the Omen 15 which greatly reduces the harmful impact. It even might not effect some not so sensitive users. However, out custom-tailored Health-Guard profiles can eliminate the PWM and reduce the Blue Light emissions.
Our display profiles
Here at LaptopMedia, we create a set of custom-tailored profiles for every notebook we review. They boost the productivity of display and reduce negative effects such as blue light emissions and PWM. You can read more about them here.
Buy our profiles from here:
HP Omen 15 (GTX 1050 Ti): Profiles
Lenovo Legion Y520 (GTX 1050 Ti): Profiles

Specs sheet comparison
Both notebooks are equipped with the same hardware. The CPU that they are running on is the Intel Core i7-7700HQ (4-core, 2.60 -3.80 GHz, 6MB cache) from the latest 7th generation. The thermal design power of the chip is rather low – 45 W and the maximum operating temperature is 100 degrees Celsius.
More information about Intel Core i7-7700HQ and its position in our Top CPU Ranking you can find HERE.
Both notebooks also feature the same graphics card – the Pascal-based NVIDIA GeForce GTX 1050 Ti with 4 GB of GDDR5 memory. This chip is enough to run most modern games on medium settings of eSports on high with a solid fps.
More information about the GTX 1050 Ti and its place in our Top GPU Ranking you can find HERE.
–
Lenovo Legion Y520
HP Omen 15
CPU
Intel Core i7-7700HQ (4-core, 2.60 -3.80 GHz, 6MB cache)
Intel Core i7-7700HQ (4-core, 2.60 -3.80 GHz, 6MB cache)
RAM
8GB (1x 8096MB) – DDR4, 2400MHz
16GB (2x 8096MB) – DDR4, 2400MHz
GPU
NVIDIA GeForce GTX 1050 Ti (4GB GDDR5)
NVIDIA GeForce GTX 1050 Ti (4GB GDDR5)
HDD/SSD
512GB M.2 PCIe NVMe SSD + 1TB HDD (5400 rpm)
256GB M.2 PCIe NVMe SSD + 1TB HDD (5400 rpm)
Display
15.6-inch Full HD (1920×1080) IPS, matte
15.6-inch Full HD (1920×1080) IPS, matte
Features

2x USB 3.0
1x USB 2.0
1x USB 3.1 Type-C
SD card reader
3.5 mm combo audio jack
HDMI 2.0
RJ-45
keyboard backlight

2x USB 3.0
1x USB 2.0
3.5 mm combo audio jack
RJ-45
HDMI
SD card reader
keyboard backlight

Battery
45Wh
63.3Wh
Profile thickness
25.8 mm (1.01″)
24 mm (0.94″)
Weight
2.5 kg (5.51 lbs)
2.19 kg (4.83 lbs)
Price
Buy from Amazon.com (#CommissionsEarned)
Buy from Amazon.com (#CommissionsEarned)
Battery
The HP Omen 15 has a significantly larger battery with a capacity of 63.3 Wh compared to the 45 Wh unit that is featured in the Y520. The capacity of the battery isn't the only factor that determines the battery life of a device but in our case, both laptops are equipped with the same components, therefore, they have the same power consumption. As you can see from the numbers below the Omen 15 has far better battery life due to the larger unit.
In our Web browsing test, Y520 lasted for 256 minutes (4 hours and 16 minutes) while the Omen 15 more than twice as much – 567 minutes (9 hours and 27 minutes). Similar scenario in our Video playback test – 240 minutes (4 hours) for the Y520 and 403 minutes (6 hours and 43 minutes) for the Omen 15. And finally, in our Gaming test the Y520 scored 86 minutes (1 hour and 26 minutes) while the Omen 15 managed 127 minutes (2 hours and 7 minutes) which is actually impressive.

Performance
Performance is on par, however, in some games, one notebook performs better than the other. For instance, The Omen 15 handles Rise of the Tomb Raider (2016) slightly better than the Y520 but it is the other way around when it comes to Tom Clancy's The Division.




Temperatures
We start off with our CPU stress test where we put 100% load for a period of time. The Y520 maintained a high Turbo frequency of 3.4 GHz thought the whole time but temperatures were higher than the usual – around 90 °C. It's a different story for the Omen 15. The clock speed dropped significantly lower – around 2.7-2.8 GHz but the temperatures were also quite cool for a 100% load – around 65 °C.
When we added the GPU stress test as well things did not look good for the Y520. The notebook experienced severe CPU throttling. The clock speed started to vary from as low as 800 MHz to 3.0 GHz while the temperatures became extremely high around 100 °C which is the maximum operating temperature of the processor. However, the GPU ran at maximum frequency with a rather normal temperature of around 74 °C. The Omen 15, on the other hand, did not experience such thermal throttling. The CPU's frequency dropped with just 100 MHz. However, the temperatures were close to 100 °C which as we already mentioned is very high. The GPU did not throttle as well but ran at a higher temperature than the Y520s – 84 °C.
Despite the high internal temperatures, surface temperatures remained cool and comfortable on both devices. Palm rest areas were under 30 °C and the hottest areas did not exceed 45 °C. The Omen 15 had slightly lower surface temperatures.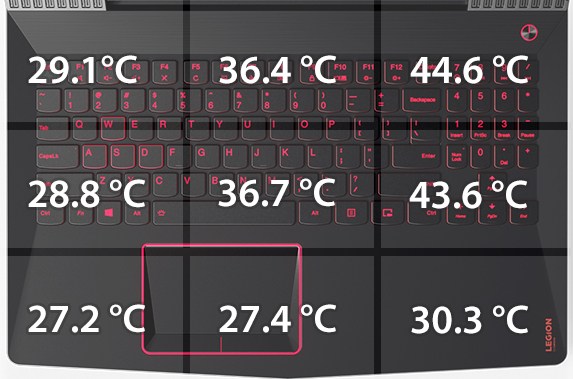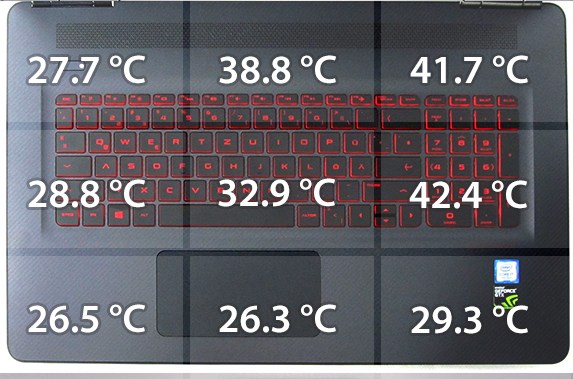 Verdict
Lenovo Legion Y520 and HP Omen 15 are two good budget devices. Which one is better depends on what you are looking for. They are branded as gaming notebooks so if you are buying one of them to game on then we would recommend the Y520 because of the better touchpad and keyboard. The Y520 can also be boasted about the addition of a USB Type-C port which is a must in 2017. It is also more affordable which is a huge bonus when you are on a budget.
On the other hand, the Omen 15, although branded as a gaming notebook, would make a great everyday laptop. It is lighter and thinner so if you want to carry it everywhere this would be a selling point. Its biggest advantage over the Y520 and most other budget notebooks is the splendid battery life – it even beats some notebook that does not offer a dedicated graphics card. However, the price is a bit higher and we would like to see better build and screen quality.
In the end, you won't go wrong no matter which device you choose you just have to pick your preferences in advance.
HP Omen 15 (GTX 1050 Ti): Full review / Buy from Amazon.com (#CommissionsEarned)
Lenovo Legion Y520 (GTX 1050 Ti): Full review / Buy from Amazon.com (#CommissionsEarned)
Why choose Lenovo Legion Y520?
USB Type-C
more affordable
overall better build quality
better touchpad and keyboard
Why choose HP Omen 15?
significantly better battery life
thinner and lighter
more reliable cooling system