Intel Core i5-9300H vs Intel Core i5-8300H/8400H – 9th Gen vs 8th Gen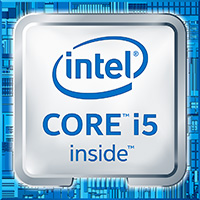 As Intel has brought their new 9th Generation processors into the spotlight, we should see how big of an improvement they are, compared to the last-years offering. Since, the 8th Gen Core i5 has presented a pretty big improvement over its predecessor by introducing hyperthreading, which essentially made it equal to the 7th Gen Core i7-7700HQ, we don't expect anything like this now. Essentially, the change here lays in the clock speeds. Take a look.
Visit our Top Laptop CPU Ranking to check these two and many more CPUs.

Specs overview
Both CPUs use Intel's FCBGA1440 socket and have the same 42 x 28 mm package size. This, essentially, means it would be extremely easy for manufacturers to upgrade to the newer processors. Additionally, they have a 45W TDP, four cores, and eight threads, the same 8MB of Cache and are utilizing the Intel UHD Graphics 630, although the Core i5-9300H can reach 1050 MHz on the iGPU, while the Core i5-8300H maxes out at 1000 MHz.
Their differences, however, start with the clock speeds – the 9th Gen contender goes a full 100 MHz in both Base and Turbo frequencies than its opponent – 2.40 – 4.10 GHz versus 2.30 – 4.00 GHz of the Core i5-8300H. Moreover, the Core i5-9300H supports up to 128 GB of DDR4 memory @ 2666 MHz, whereas the Core i5-8300H can "only" go up to 64GB of the same type and speed.
You can check out the full specs of the Intel Core i5-9300H and the Intel Core i5-8300H.

Benchmarks
In Cinebench R15 we see a very slight advantage of the Core i5-9300H.
Results are from the Cinebench 20 CPU test (the higher the score, the better)
Results are from our Photoshop benchmark test (the lower the score, the better)
Conclusion
Apparently, the Core i5-9300H is ever so slightly in fron of the Core i5-8300H/8400H of the yester generation. However, we don't see the difference to be sufficient enough to justify an upgrade. Especially, when you add the variable of the system cooling. This means that with some devices, there won't be any difference, whatsoever, but in the perfect scenario – these 100 MHz more the Core i5-9300H has in its pocket should offer the smallest of improvements, indeed.
All laptops equipped with the Intel Core i5-9300H
All laptops equipped with the Intel Core i5-8300H