[Preliminary] Apple M1 vs Intel Core i7-10750H – Apple have created a contender that is better than the i7-10750H by up to 46%!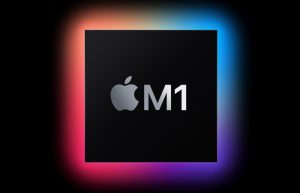 Apple surprised the world when they announced that the new Mac devices won't use Intel processors. We talked about the disadvantages that this brings in another article which you can check out here. This new Apple M1 chip had its benchmark scores released and boy oh boy, are they intriguing, to say the least. That's why we decided to compare this new M1 CPU to the already popular Intel Core i7-10750H.
More info about Apple M1:
https://laptopmedia.com/processor/apple-m1/
More info about the Intel Core i7-10750H:
https://laptopmedia.com/processor/intel-core-i7-10750h/
This comparison is preliminary and it will be updated when we have more tests available.

Specifications
All that we know right now as far as specifications are concerned the new M1 features 8 ARM cores, that use the big.LITTLE architecture. Basically, there are 4 power-efficient cores that handle background processes and other low resource tasks, and 4 high-power cores that kick in when the device is under a big load. As for the Core i7, it has 6 cores and 12 threads and a boost clock speed of 5.00GHz.
CPU benchmarks
As you can see in the results below, the people over at Apple clearly know what they are doing when it comes to engineering processors, since the Apple M1 absolutely crushes the Core i7-10750H in both Single-core and Multi-core tests. In the Single-core test, we see a whopping 46% performance gain and a 34% increase in the Multi-core test.
Geekbench 5
Single-core
Multi-core
Apple M1 CPU
1687 (

+46%

)
7433 (

+34%

)
Intel Core i7-10750H
1153
5548
Conclusion
Apple's engineers have once again proven that they know how to build chips, and this CPU is a beast to put it simply. These performance gains are huge and we can't wait to test this new M1 CPU ourselves. We will have to wait and see what Intel and AMD will do about it.
Here are all configurations featuring Apple M1 in our Specs System:
…and all configurations with Intel Core i7-10750H: