[Video] 9 reasons (not) to buy Dell Inspiron 13 5379!
If you are looking for a decent convertible powered by the latest 8th generation Intel Core processors, this article is the right one for you as we are going to evaluate the pros and cons of the Dell Inspiron 13 5379.

All Dell Inspiron 13 5379 configurations
4 reasons to buy Dell Inspiron 13 5379
1. Stable base
The bottom of the device sports a plastic plate creating a solid feel. In addition, the interior is again made of plastic but feels very robust – when you press it you won't notice any bending.
2. Good input devices
The laptop offers a quite good keyboard which although has slightly short key travel, comes with clicky feedback. The touchpad also doesn't disappoint with its light mouse clicks and responsive surface.

3. Full utilization of the new generation Intel CPUs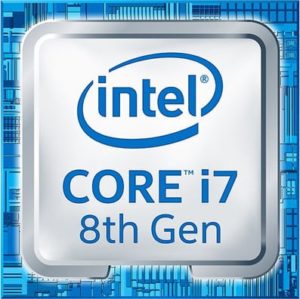 As we already mentioned, the Dell Inspiron 13 5379 sports the latest 8th generation Intel Core processors and the good news is that it also manages to make the most of the CPU it is powered by.
4. Decent battery life
The 13-inch Inspiron 5379 managed to score fairly decent scores on the battery tests we have conducted. For instance, you will be able to browse the Web for 467 minutes (7 hours and 47 minutes) away from the plug.

5 reasons NOT to buy Dell Inspiron 13 5379
1. Flimsy and bouncy lid
When we tried twisting the lid, it felt slightly bouncy and the screen was quite flexible for the most part.
2. Color-deficient display (low sRGB coverage) with low brightness
The Dell Inspiron 13 5379 accommodates a rather budget IPS panel with limited sRGB color space, while the maximum brightness won't be sufficient for outdoor use which is definitely a problem for a 13-inch convertible.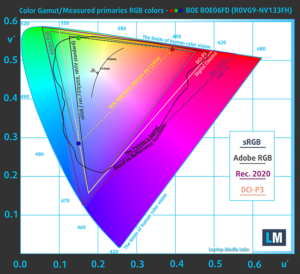 3. The panel uses aggressive PWM (our Health-Guard profile eliminates it)
Another significant con of this laptop is that it uses aggressive PWM from 0 to 99% brightness which is likely to cause eye strain after extended use. Our suggestion is to use the notebook at 100% brightness or go for our custom Health-Guard profile which eliminates PWM.

4. Outdated design with sharp corners, hefty chassis, thick screen bezels
The notebook falls short to other competitors in the same price category in terms of design as it features a quite hefty 1.6 kg construction, sharp corners that make the device uncomfortable to be used in tablet mode, and also thick screen bezels.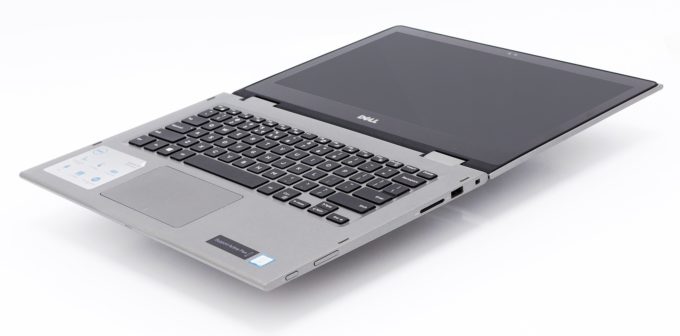 5. No USB-C connector and no M.2 SSD slot
The device feels like we have gone back to 2015 as there are some crucial features missing such as a USB-C port and M.2 SSD slot.

The best competitors
There are quite a few nice alternatives to Dell Inspiron 13 5379 that fall in the same price range – Lenovo Yoga 720 (13-inch), Lenovo Yoga 520 (Flex 5), ASUS VivoBook F510.
You can read the full review of Dell Inspiron 13 5379 over HERE.

All Dell Inspiron 13 5379 configurations