Acer announced Chromebook 15, Swift 5, Spin 5, Switch 7 Black Edition and more – all you need to know about their latest models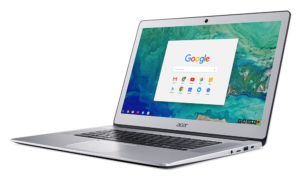 Earlier today we notified you of the Acer event at IFA 2017 in Berlin that was streamed. Well, now we can have a quick look at all the new goodies the Taiwanese company has prepared for us. Among them we see chromebooks, ultrabooks, desktop configurations and all-in-ones. Sounds great, doesn't it? Now let us take get to the point.
For starters, there is the new Acer Chromebook 15 which, as one might guess, is a 15.6-inch laptop that boasts pretty decent battery life of up to 12 hours of work. Additionally, there will be a version with a touch screen. Furthermore, this is a very lightweight companion – only 1.72 kg! Also, this bad boy will sport dual-core Intel Celeron processors or quad-core Intel Pentium processors in addition to 32 GB or 64 GB of eMMC internal storage, and 4 GB or 8 GB of RAM. This hardware will use passive cooling – no fans, in other words. Software-wise, the OS here is Android. It is expected to appear some time in October and to sell for approximately 499 EUR (starting price).
If you happen to show interest, you could check all currently available Acer products here: http://amzn.to/2wRVxbz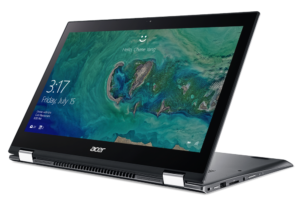 Moving on, to the ultrabook department, we have Acer Swift 5, Spin 5 and Switch 7 Black Edition. All of them sport 8th gen Intel Core processors and Windows Hello. The Swift 5 is super lightweight (tipping the scale at just 1 kg) because of the magnesium-lithium alloy it uses for several parts in its construction. This device is said to be the lightest 14-inch laptop. You may also wish to know that it has 8 hours of battery life – pretty nice, isn't it? The price we can expect is 1099 EUR.
Acer Spin 5, on the other hand, comes in two versions – a 13-inch one and a 15-inch one. What we know about them is that they will also boast a long battery life (up to 13 hours) and will rely on a discrete graphics card – NVIDIA GeForce GTX 1050. Also, the maximum amount of RAM you will be able to use here is up to 16GB DDR4. Additionally, this bad boy will make you happy with a Dolby Audio system. Its starting price is expected to be 899 EUR.
And as for the Switch 7 Black Edition, this will be the first hybrid with a discrete graphics processor in the world! We are talking about the NVIDIA GeForce MX150 GPU which will be paired with an 8th generation Intel Core i7 processor. In the same fashion of the above devices, this one will impress you with its weight which is less than 1.15 kg. What's more, you will be delighted by the image quality provided by a 13.5-inch IPS display with a resolution of 2256 x 1504 p. Furthermore, it can be used with a Wacom EMR stylus with incredible preciseness – 4096 sensitivity levels. Its expected price is 1999 EUR.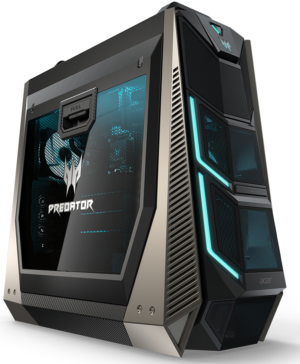 And now, it's time for us to jump over to the world of desktop machines with the Acer Predator Orion 9000. That sounds like something out of this world, doesn't it? Well, this Predator truly is something to be hyped about because it will feature an 18-core Intel Core i9 Extreme Edition processor. Just take a sec and think about it. Okay, it can also be paired with up to 4 Radeon RX Vega GPUs because it has four PCIe x16 slots. However, if you are a fan of the "green" company, you could also go for a configuration with two NVIDIA GeForce GTX 1080Ti graphics cards in SLI mode.
This machine also impresses us with extremely fancy design – not only does it have a side window with the cool Predator logo and inscription on it, but the entire case is covered with LED stripes and has two handles on top for easy transportation.
To cool all these demanding hardware, you will be able to integrate liquid cooling and IceTunnel 2.0 from Acer. The latter provides a separate airflow tunnel for different parts of your system.
As for prices and availability, this bad boy is expected to hit the shelves in Europe in November. If you would like to have this alien spacecraft at home, you will have to prepare 1999 EUR.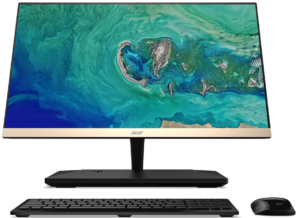 And now, last but not of least importance, we saw the Acer Aspire S24 – an elegant all-in-one solution which is also expected to arrive in November with a price starting from 999 EUR. It is a 23.8-inch device for which the manufacturer claims to be the world's thinnest – with a profile thickness of just 5.97 mm. Apart from its attractive design, which you may see in the picture on the right, this all-in-one will also feature an 8th generation Intel Core processor and to make things even sweeter, the manufacturer allows you to order this computer with up to 256 GB of SSD storage or a 2 TB HDD.
Which of these products are you most interested in? Tell us in the comments below and we will do our best to find out more and test them for you.
Until then you could check all currently available Acer products here: http://amzn.to/2wRVxbz