Acer Aspire 5 (A517-51G) vs Aspire 7 (A717-71G) – what are the differences?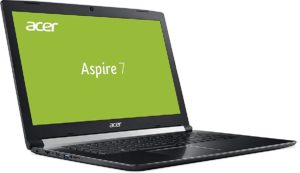 This time the focus of our article are two premium laptops by Acer – we are talking about Acer Aspire 5 (A517-51G) and Aspire 7 (A717-71G).
Starting off with hardware options, the Aspire 7 configurations feature 7th generation Intel Core processors (standard voltage) which translates into higher energy consumption and more power. On the other hand, the Aspire 5 is powered by 8th generation Intel Core CPUs (ULV). Usually, the ULV processors have lower energy consumption prolonging battery life in this way but they are also less powerful. However, thanks to their improved architecture called Kaby Lake Refresh the 8th generation ULV CPUs have equal or even greater power compared to the standard voltage ones so at this moment, it is more beneficial to go for an 8th generation ULV one at least until the 8th generation standard voltage processors are released.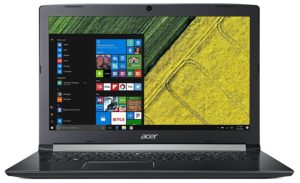 As for the memory capacity, the Acer 7 comes with up to 8GB of DDR4-2400 RAM compared to up to 12GB of DDR4-2133 RAM in Acer 5. In addition, both laptops feature 17.3-inch Full HD (1920 x 1080) IPS configurations, however the former also sports a Full HD (1920 x 1080) TN panel, while the latter – an HD+ (1600 x 900) TN one. What's more, the overall dimensions are almost identical – 28.25 mm thickness and 3.04 kg weight compared to 28 mm and 2.9 kg. We would also like to note that both the interior and the lid of Aspire 7 are metal, while the Aspire 5 has metal interior but the lid is plastic. And finally – the connectivity options are also similar except that the Aspire 7 lacks an optical drive.

Specs sheet
Series
OS
CPU

Intel Core i7-8550U
Intel Core i5-8250U

Intel Core i7-7700HQ
Intel Core i5-7300HQ

RAM

up to 12GB of DDR4-2133 RAM

up to 8 GB of DDR4-2400 RAM

Internal storage

M.2 PCIe NVMe SSD slot (2280)

PCIe NVMe M.2 slot (2280, M-key)

GPU

NVIDIA GeForce MX150 (2GB GDDR5)
Intel UHD Graphics 620

NVIDIA GeForce GTX 1060 (6GB GDDR5)
NVIDIA GeForce GTX 1050 Ti (4GB GDDR5)
NVIDIA GeForce GTX 1050 (2GB GDDR5)

Display

17.3", Full HD (1920 x 1080), IPS
17.3", HD+ (1600 x 900), TN

17.3", Full HD (1920 x 1080), IPS
17.3", Full HD (1920 x 1080), TN

Connectivity
Wi-Fi 802.11ac
802.11a/b/g/n/ac, Bluetooth 4.0
Features

1x 3.0 USB Type-A
2x 2.0 USB Type-A
1x 3.0 USB Type-C
HDMI
SD card reader
audio jack
optical drive

1x USB 3.0 Type-C
1x USB 3.0 Type-A
2x USB 2.0 Type-A
HDMI
SD card reader
audio jack

Battery
Weight
2.9 kg (6.4 lbs)
3.04 kg (6.7 lbs)
All Acer Aspire 5 (A517-51G) configurations
All Aspire 7 (A717-71G) configurations