Acer Nitro 5 vs Acer Aspire VX 15 (VX5-591G) – what are the differences?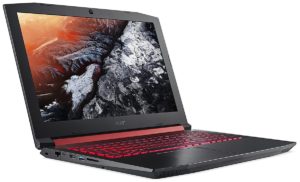 We have already posted detailed reviews of the two premium notebooks Acer Nitro 5 and Acer Aspire VX 15 (VX5-591G), however, we thought you would be interested to find out how they differ from each other if you are hesitating between these two options.
Starting off with hardware, both laptops are powered by up to 7th generation Intel Core processors but Acer Nitro 5 also comes with AMD FX-9830P. In addition, while the two of them sport NVIDIA GeForce GTX 1050 Ti (4GB GDDR5) and NVIDIA GeForce GTX 1050 (4GB GDDR5) GPUs, Acer Nitro 5 once again features one more option – namely AMD Radeon RX 550 (Laptop) (4GB GDDR5). However, there is no difference in terms of memory capacity – up to 16GB of DDR4-2133 RAM.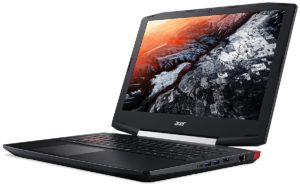 As for display options, a 15.6-inch Full HD (1920 x 1080) IPS panel is the similarity between the two laptops but Acer Aspire VX 15 (VX5-591G) also accommodates a 15.6-inch Full HD (1920 x 1080) TN one. In addition, the differences in the overall dimensions are minor as Acer Nitro 5 is just 1 mm thinner and 20 grams lighter than its rival – 27 mm and 2.48 kg (5.5 lbs) vs 28 mm and 2.50 kg (5.5 lbs).
Although slightly bulkier, Acer Aspire VX 15 (VX5-591G) is equipped with a battery that has a larger capacity of 52Wh. And finally – the connectivity options are almost the same except for the USB 3.0 Type-A in Nitro 5 vs USB 2.0 Type-A in VX 15 (VX5-591G).

Specs sheet
Series

Acer Aspire VX 15 (VX5-591G)

OS
CPU

Intel Core i7-7700HQ
Intel Core i5-7300HQ
AMD FX-9830P 

Intel Core i7-7700HQ
Intel Core i5-7300HQ

RAM

up to 16GB of DDR4-2133 RAM

up to 16GB of DDR4-2133 RAM

Internal storage
GPU

NVIDIA GeForce GTX 1050 Ti (4GB GDDR5)
NVIDIA GeForce GTX 1050 (4GB GDDR5)
AMD Radeon RX 550 (Laptop) (4GB GDDR5)

NVIDIA GeForce GTX 1050 Ti (4GB GDDR5)
NVIDIA GeForce GTX 1050 (4GB GDDR5)

Display

15.6", Full HD (1920 x 1080), IPS

15.6", Full HD (1920 x 1080), TN
15.6", Full HD (1920 x 1080), IPS

Connectivity
Wi-Fi 802.11ac, Bluetooth 4.1
802.11ac, Bluetooth 4.0
Features

2x USB 2.0 Type-A
1x USB 3.0 Type-A
1x USB 3.0 Type-C
HDMI
SD card reader
Security Lock slot
Dual Fans (+CoolBoost)

2x USB 3.0 Type-A
1x USB 2.0 Type-A
1x USB 3.0 Type-C
HDMI
SD card reader
Security Lock slot

Battery
Weight
2.48 kg (5.5 lbs)
2.50 kg (5.5 lbs)
All Acer Nitro 5 configurations
All Acer Aspire VX 15 (VX5-591G) configurations