Acer Predator X27 preview – 4K, 144Hz, HDR10, Quantum Dot and G-Sync
Acer has announced that they are releasing a new flagship gaming monitor, the Acer Predator X27. As the naming convention might suggest, it is a 27-inch monitor of the "Predator" brand. The Predator products aim to bring you the biggest competitive advantage over your peers in any gaming situation. How? By attempting to tick every box a hardcore gamer might be on the lookout for.
This monitor is not out yet, but you can click on this link for availability and prices.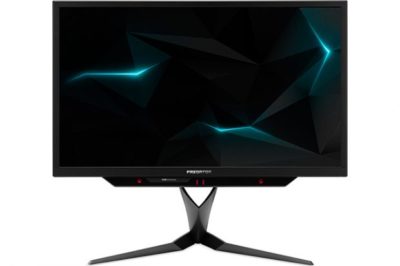 And the new Predator X27 just might have it all covered. Whether you're looking for ultra-fast 144Hz refresh rates, 4K UHD resolution, a wide color gamut, local dimming backlighting in the name of NVIDIA's ULMB (Ultra Low Motion Blur), or even support for HDR content, it's all in there. It also supports NVIDIA's G-Sync variable refresh rate technology. If you want smooth gameplay with the compatible graphics cards, this new monitor might just be the one for you. However, don't hold your breath, the company has not yet issued neither a release date nor a price. And the price tag is likely to be on the high end of the spectrum, so keep a watch out for any bargains when it's out sometime this year.
The X27 has managed to find a great balance between image quality and speed, being the very first 4K monitor with HDR support running at 144Hz (with a 4ms response time). The AU Optronics M270QAN02.2 AHVA panel the X27 is based on has you covered on brightness as well. The new Predator is rated to hit 1,000 nits. Courtesy of its "quantum dot" technology, allowing for 384 individually controlled LED zones to be present on the panel. More on this a bit later. For comparison, most other monitors offer a brightness level ranging between 250 and 350 nits. Noteworthy advantages of the quantum dot technology are that it promises deeper blacks and better colors.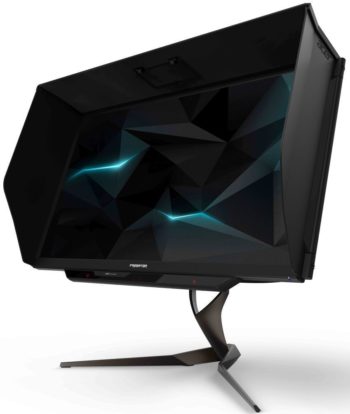 Going further into the spec sheet, we have support for both HDR10 and 96% of the DCI-P3 cinema-standard color gamut (25% wider color range than sRGB) making those promises for more realistic colors much easier to believe. The viewing angles are the standard for AHVA panels 178 degrees by 178 degrees. To drive the monitor, as a minimum, you would need a 10-series NVIDIA graphics card with a DisplayPort 1.4 connector. And even that is not enough bandwidth for 144Hz 4K and HDR, so the X27 is using 4:2:2 chroma subsampling in order to compress the image down when you're using the full 144Hz refresh rate it comes with. There are 2 DisplayPort 1.4 inputs and also an HDMI 2.0 port, however when using that you are limited to 4K@60Hz. And lastly, it features Tobii eye-tracking technology.
Earlier, we promised you a bit of extra information on the individually controlled led zones, so here's a curious tidbit. Because the panel comes with full-array local dimming (otherwise knows as FALD), a technology present in very few Samsung high-end TV's, the risk of receiving a monitor with any white uniformity issues is next to none. In terms of Quality Control, we expect that there will be very few issues with this Acer. The only thing to look out for are dead pixels and… dust getting in the way.
On the matter of looks, the X27 looks pretty mean and lean, however, looks are pretty subjective and what one like another may frown at. But one thing is for sure when this new monitor is released, it will be unlike anything else on the market, both in looks and from a technological standpoint.
Diagonal
27″
Resolution
Response time
4ms
Refresh rate
144 Hz
Features

HDR10
Quantum Dot Technology
Full-array Local Dimming
Ultra Low Motion Blur
Tobii Eye-tracking

Ports

HDMI 2.0
DisplayPort 1.4 (2x)

Panel type
AHVA
Adaptive Sync technology
G-SYNC