Alienware Aurora R5 preview – the more affordable variant of the Area 51 gets a serious update with the latest GTX 1000-series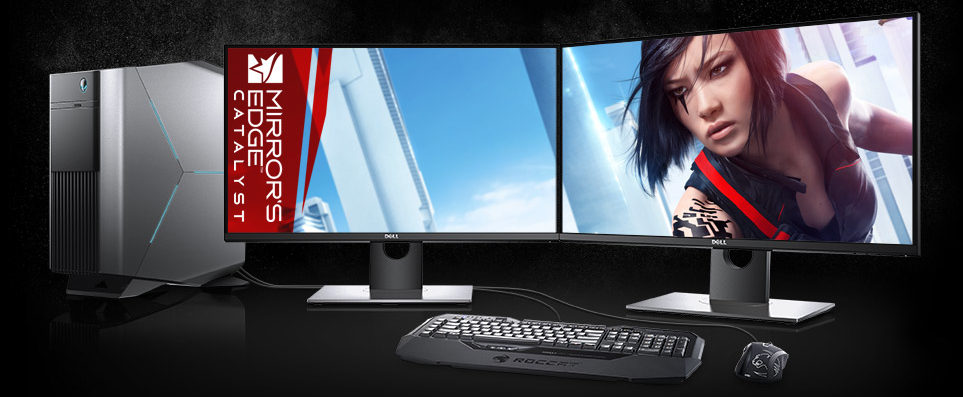 The Alienware brand has always been offering pricey high-end hardware but in return, you get one of the best possible multimedia and gaming experience. However, if you are a fan of the brand but don't have enough cash to own the luxurious Area 51 for your main desktop driver, the Aurora R5 is still a good way to own an Alienware-branded machine without breaking the bank.
You can find some of the available configurations here: http://amzn.to/2dbFdI2
Packing the latest hardware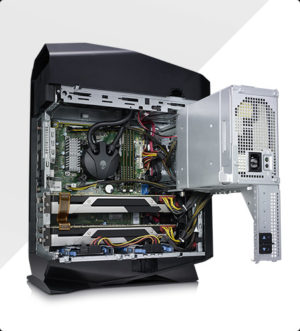 First, let's get the obvious out of the way. The machine comes in a huge variety of hardware options all of which are part of the latest generation NVIDIA and Intel chips. The CPU options include the Core i7-6700 and 6700K, the Core i5-6400 and 6600K, and the Core i3-6100. The silicon gets paired with up to 64GB of DDR4 RAM running at 2133MHz or up to 16GB dual-channel DDR4 at 2400 MHz. Head of the graphics department are the NVIDIA 900-series for a while now but now Alienware offers the Pascal 1000-series as well. Almost all of the 900-series are offered – from GTX 950 all the way up to 980 Ti but as far as the Pascal GPUs go, they are limited to the 1070 and 1080. It's important to note that all GPU configurations can be ordered with a dual-GPU setup with SLI support. That's probably the reason the GTX 1060 is left out – it doesn't support SLI.
And what about storage configurations? The system can be upped to 2TB of HDD running alongside an M.2 PCIe NVMe SSD for ultra-fast data transfers.
Innovative design for easy maintenance and stylish looks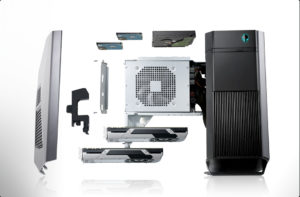 But all that hardware can be purchased in by yourself for less money. So what's so special about the Aurora R5? Well, the innovative case. It's designed to be maintained and upgraded super easy and fast without the need of any tools. The PSU swings out of the chassis giving you full access to the internals and the lid on the chassis is easily removable. All of this without sacrificing efficiency and reduced noise under load in order to keep things as quiet as possible. Not to mention that the hardware can be liquid-cooled thanks to the specially designed chassis.
Moreover, the machine offers a customizable AlienFX LED lighting thanks to the included software – Alienware Command Center 4.6. And as far as connectivity options are concerned, the chassis is equipped with 7x USB 3.0, 6x USB 2.0, 2x 3.5 mm for microphone and a headset, 1x USB-C Gen 2 and 1x USB-A Gen 2 (up to 10Gbps), DisplayPort, LAN and of course all the needed jacks for your home surround system.
Specs sheet
CPU
Intel Core i7-6700/6700K / Intel Core i5-6400/6600K / Intel Core i3-6100
RAM
up to 64GB DDR4-2133 or 16GB dual-channel DDR4-2400
GPU
NVIDIA GeForce GTX 900-series (950, 960, 970, 980, 980 Ti) / NVIDIA GeForce GTX 1000-series (1070 and 1080) / SLI configurations are optional
HDD/SSD
up to 2TB HDD + M.2 PCIe NVMe SSD
Chipset
Intel Z170
Form factor
MicroATX dual-graphics motherboard
Optical drive
Tray-loading DVD Burner / Tray-loading Blu-ray Reader
Power supply
Alienware 460W / Alienware 850W for multi-GPU configs
Features

Front:
1x Headphone 1/8″ Port
1x Microphone 1/8″ Port
4x SuperSpeed USB 3.0 (two are enabled for charging)
Rear:
1x SPDIF Digital Output (TOSLINK)
1x SPDIF Digital Output (Coax)
6x Hi-Speed USB 2.0
1x SuperSpeed 10Gbps USB 3.1 Type-A
1x SuperSpeed 10Gbps USB 3.1 Type-C
3x SuperSpeed USB 3.0
1x RJ-45 Killer Networks e2400 Gigabit Ethernet Port
1x Full Size DisplayPort
1x Audio-In / Microphone
1x Front L/R surround line-out
1x Side L/R surround
1x Rear L/R surround
1x Center/subwoofer LFE surround
1x Line-in

Dimensions
Height: 472.52mm (18.6″) | 2. Depth: 360.5mm (14.19″) | 3. Width: 212mm (8.35″) |
Weight
Average Weight: 14.819 kg (32.67 lbs.)