ASUS ROG G701VI preview – GeForce GTX 1080, Full HD 120Hz display and unlocked Core i7-6820HK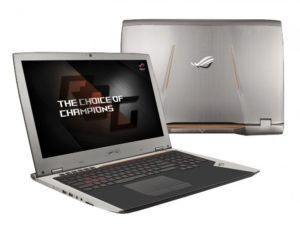 Since the market is now flooded with GTX 1060 and 1070-powered notebooks, it's quite logical that the GTX 1080 gaming laptops will start appearing. Today we are starting with the small introduction of ASUS' flagship ROG G701VI, which what it takes to run the latest games on full settings without compromise. It also adds some essential features that haven't been seen on a laptop up until now.
The notebook is available for purchase here: http://amzn.to/2egdrZF
The latest overclockable Skylake CPU and GeForce GTX 1080 in a fairly portable package
The notebook has all the firepower to drive the latest games at maximum settings without breaking a sweat. The CPU options are only two, but they are more than enough. The Core i7-6700HQ will be enough for most gamers but the Core i7-6820HK takes it up a notch for the enthusiast with unlocked multiplier for overclocking. The CPU is paired with up to 64GB of DDR4-2400 RAM using four slots and, of course, the graphically-intensive tasks are taken care by the NVIDIA GeForce GTX 1080 with 8GB of GDDR5X VRAM. So basically, the notebook will chew up and spit whatever you throw at it.

What's interesting, the storage configuration includes only M.2 PCIe NVMe SSD options and no 2.5-inch HDD. However, there are two M.2 slots so you can configure it with plenty of storage, although this will be pricier than usual. But if storage isn't a priority, the motherboard allows for RAID 0 configurations using the PCIe NVMe standard instead of the SATA interface. This will allow for blazingly fast read/write speeds. And the best part is that the G701VI isn't as heavy and bulky as you'd think it is. In fact, ASUS brags about it being the thinnest GTX 1080-powered machine on the market measuring at 33-35 mm height and tipping the scale at 3.8 kg. Just for the record, the currently available ROG G752 configurations weigh around 4.3 kg.
Immersive gaming experience on a first of its kind 120 Hz Full HD display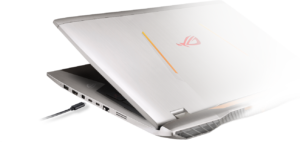 Rumors have gone around about ASUS working on a 120 Hz laptop display for quite some time now and we are happy it turned out to be true. The G701VI features a TN panel with ultra-fast 120 Hz refresh rate and supports NVIDIA's G-Sync technology so if you are playing a game and there's a performance dip, you won't feel the annoying stuttering and tearing effect on the screen. The 120 Hz refresh rate will also come in handy to gamers who play fast-paced games like first-person shooters and racing games. The only drawback would probably be the absence of 4K UHD option or at least Full HD IPS panel with 75 Hz refresh rate. For this price tag, the broader display selection would have been appreciated.
Anyway, the notebook also comes with other cool features, which we've already seen in previous models. We are referring to the anti-ghosting 30-key rollover keyboard so all your inputs will be recorded during gaming. There's also that ESS Sabre headphone DAC for improved sound quality reaching 384Hz/32bit sound output. And last, but not least, the notebook comes not only with HDMI and mini DisplayPort but also offers the much-needed (for some users) USB-C Thunderbolt 3 standard for connecting an additional external display or just take advantage of the 40Gbps bandwidth. Oh, and there's another USB-C 3.1 connector as well.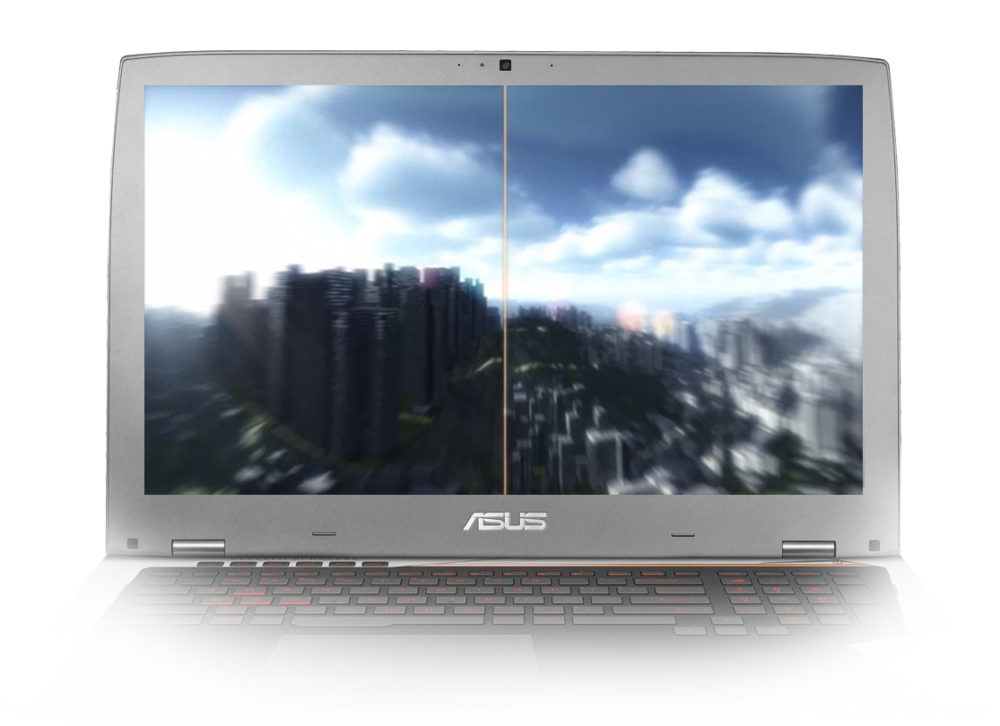 Specs sheet
The specs provided below may differ depending on your region
CPU
Intel Core i7-6700HQ (4-core, 2.60 – 3.50 GHz, 6MB cache) / Intel Core i7-6820HK (4-core, 2.70 – 3.60 GHz, 8MB cache)
RAM
up to 64GB – DDR4, 2400MHz
GPU
NVIDIA GeForce GTX 1080 (8GB GDDR5X)
HDD/SSD
512GB M.2 PCIe NVMe SSD (supports RAID 0 using NVMe)
Display
17.3-inch (43.94 cm) – 1920×1080 (Full HD) 120 Hz, TN, matte + G-Sync
Optical drive
Blu-ray writer
Connectivity
–
Features

1 x USB 3.1 TYPE C port(s)
3x USB 3.0 port(s)
1x RJ45 LAN Jack for LAN insert
1x HDMI
1x mini Display Port
1x Thunderbolt port
1x SD card reader
1x AC adapter plug

Battery
6-cell 93Wh Lithium-Ion batttery
Thickness
33-35 mm (1.3 – 1.38″)
Weight
3.8 kg (8.38 lbs)