CHUWI Hi10 Pro – cheap and cheerful ultrabook / tablet hybrid

During the last several days we witnessed the announcement of some really premium and expensive devices. However, not everyone can afford them, and it is for this reason that we continue to publish articles with some more budget-friendly offers every now and then. This time we are looking at a 2-in-1 device – the CHUWI Hi10 Pro. It's a 10.1-inch tablet that can be attached to a magnetic keyboard and be used as an ultrabook.
If you want to learn more about prices and availability, you can use this link.
Among the most notable features of this device are a quad-core Intel Cherry Trail Z8300 processor, dual OS – Windows 10 + Android 5.1, a 1920 x 1200 p IPS display, and Intel HD Graphics Gen8 GPU. What's more, you are also presented with 4 GB of RAM for smooth multitasking, and 64 GB of eMMC storage.

Design
Although this tablet is an affordable device, its design is pretty stylish. The back cover is gray and on it you can find some product inscriptions and along with the model name there is also an Intel logo, reminding us of the CPU manufacturer. Additionally, there is also a rear 2.0MP camera, which may not be that great but is still good to have. Taking a look at the silversih sides, we can notice that they are slightly chamfered, which contributes to the attractive design.
The left-hand side is where all the connectivity options are located, and the top side holds the Power button and volume controls. As we mentioned, you can use an external keyboard by connecting it to the bottom side where the contact points are located. We must note that the offer above does not include a keyboard or a stylus, so if you consider purchasing these devices you can use the following links:
– Here you can buy the Keyboard.
– Here you can buy the Stylus.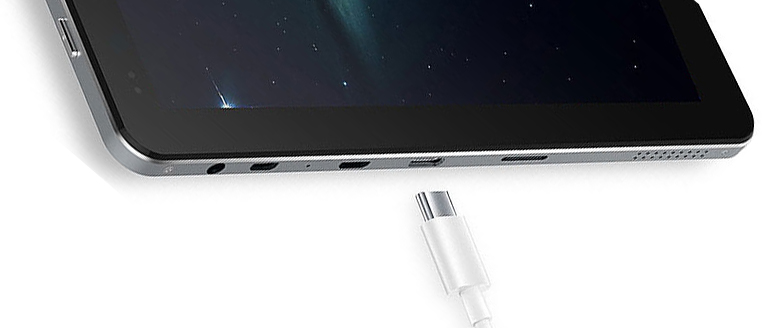 As far as the front side is concerned, the most notable feature is the 1920 x 1200 p IPS display, which ensures good viewing angles and saturated colors. Above the display there is also a 2MP front-facing camera for video calls.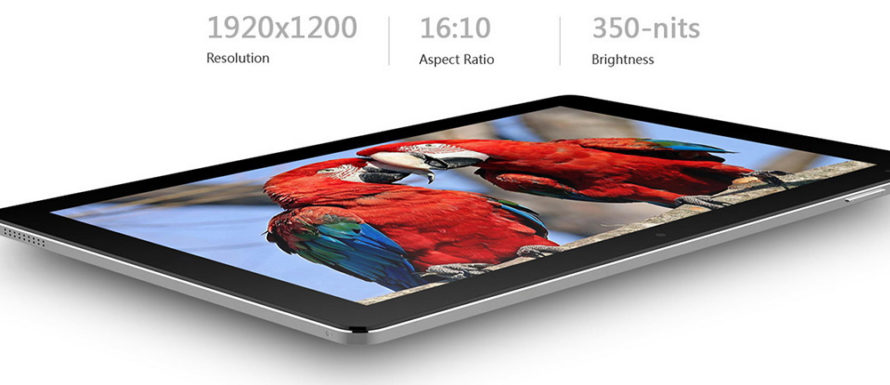 Hardware & Software
Now, these are two of the main selling points. This 2-in-1 device boasts a quad-core CPU Intel Cherry Trail Z8300 (1.44GHz – 1.84GHz), which is good enough for your office work and everyday tasks. Additionally, you are presented with 4 GB of RAM and this will ensure smooth multitasking. The device also sports 64 GB of eMMC storage (expandable via a microSD card slot) and Intel HD Graphics Gen8 GPU.

Another noteworthy aspect of this machine is the fact that you won't need to worry about installing an OS – you are presented with not one but two operating systems. You can avail of both Windows 10 and Android 5.1.  If you want to know more about the features of this device, as well as its price and availability, you can click HERE.

Specs Sheet
OS
Windows 10 + Android 5.1
CPU
Intel Cherry Trail Z8300 (4-core 1.44 GHz – 1.84GHz)
RAM
4 GB
Internal storage
64 GB (eMMC)
GPU
Intel HD Graphics Gen 8
Display
10.1-inch (1920 x 1200 p) IPS display
Connectivity
Wi-Fi 802.11b/g/n, Bluetooth 4.0
Cameras
 2MP (front); 2MP (rear)
Features

microSD card slot, supports up to 128 GB
microUSB slot
USB type-C
HDMI
integrated microphone
integrated loudspeaker
3.5 mm headphones jack
keyboard docking station and stylus

Battery
6500 mAh
Dimensions
26.18 x 16.73 x 0.85 cm
Weight
0.562 kg
Gearbest is running a flash sale with great promotions – check it out here: GEARBEST Flash Sale