14-inch ultra-light notebook with Windows 10, Full HD screen and 4GB RAM for $299 – DAYSKY N141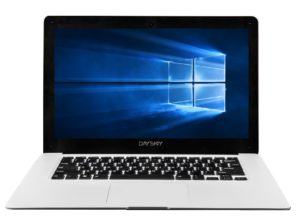 Christmas is at our doorstep and it's probably almost too late for buying presents. Don't worry though, there are some offers that you can go for and present to your dear ones as a gift for New Year's Eve. That's why we are writing this article – to talk about a really budget solution which is currently on sale at the GearBest online store.
We are talking about the DAYSKY N141 – a 14-inch laptop which comes with a Full HD display, quad core Intel Cherry Trail processor and 4GB of RAM.
If you happen to show interest in this budget laptop, you can use this link to purchase or check availability.
Let us now have a quick look at what this boy has to offer.

Design
Yes, as we said, this is an affordable notebook which is currently offered for $299.99. At this price we can't expect any wonders but still the device is good-looking with its simplistic design language. It somehow reminds one of a MacBook model. Below you can find a couple of photos of the white version which is currently in stock.

The lid carries nothing but the manufacturer's logo, however, when you open it, you will notice a 14-inch Full HD display which means very good image detail. On top of it, there is a small front-facing webcam for video calls. You may also wish to know that the bottom has a small niche which helps you open the lid.
DAYSKY N141 is very thin (only 1,90 cm) but its sides still have incorporated a couple of ports – there are two USB ports, a TF card slot, 3.5mm audio jack as well as a mini HDMI port.

Hardware and Software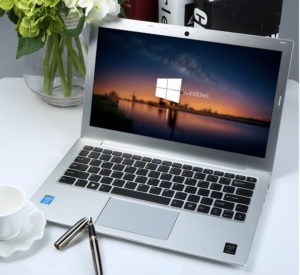 Now this part may be more interesting to some of you. As you may guess from the price tag, we are not dealing with the latest and greatest laptop. Still, the hardware components it is equipped with will be more than enough for your everyday or business tasks.
One of the main merits of this device is that it comes with a pre-installed Windwos 10 Home OS (64-bit) which is great because you won't have to purchase an OS and install it yourself.
DAYSKY N141 relies on the quad core Intel Cherry Trail X5 Z8350 (1.44GHz – 1.92GHz) processor for its performance. This chip is accompanied by the integrated Intel HD Graphics 400 graphics card. Of course, this combo is not meant for gaming but you could still play your favorite movies and songs on it, while browsing or chatting with friends. In addition to these, you will also be presented with 4GB of DDR3 RAM and 64GB of eMMC storage. Yes, it will not have that much space for storing large files or photos but you can always use USB drives or microSD cards.
If you happen to show interest in this budget laptop, you can use this link to purchase or check availability.

Specs sheet
OS
Microsoft Windows 10 Home OS 64-bit
CPU
Quad-core Intel Cherry Trail X5 Z8350 (1.44GHz – 1.92GHz)
RAM
4GB DDR3
Storage
64GB eMMC
GPU
Intel HD Graphics 400
Display
14.1-inch screen (1920 x 1080 p)
Connectivity
802.11a/b/g, WLAN, Bluetooth 4.0
Cameras
0.3MP front camera
Features

TF card up to 128GB (not included)
Mini HDMI
DC Jack
3.5mm audio jack
2x USB slots

Battery
8000mAh
Dimensions
35.00 x 23.50 x 1.90 cm
Weight
1.400 kg
Gearbest is running a flash sale with great promotions – check it out here: GEARBEST Flash Sale