Dell Precision 17 7770 – Top 5 Pros and Cons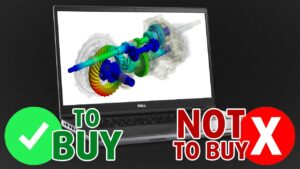 A big workstation is meant for big projects, with the Dell Precision 17 7770 being equipped to handle the toughest work possible, thanks to 12th Gen Alder Lake HX-series processors as well as a plethora of graphics cards to choose from, both with RTX A-series professional GPUs as well as an RTX 3080 Ti, which can pump out impressive results in productivity workloads, especially when paired with Studio drivers. The laptop is full of goodies, some of which we won't be able to mention here, but our in-depth review goes all in, so check it out for complete coverage of the Dell Precision 17 7770.
For now, today we're presenting you with LaptopMedia's top 5 picks about the Dell Precision 17 7770.
Dell Precision 17 7770: Full Specs / In-depth Review
4 reasons to BUY the Dell Precision 17 7770
1. Upgradeability
Workstations are often paired with amazing upgradeability, with the Dell Precision 17 offering up to 128GB of DDR5 memory, thanks to their new CAMM module, which supports more RAM, but is a tad more difficult to access, due to having to deal with screws. If you want the more traditional SODIMM option, you can get an adapter, since then you'd be able to add ECC memory, which has its advantages.
In terms of storage, there are four M.2 PCIe x4 slots for Gen 4 SSDs. One of them is accessible without even opening the laptop, thanks to a service door on the bottom.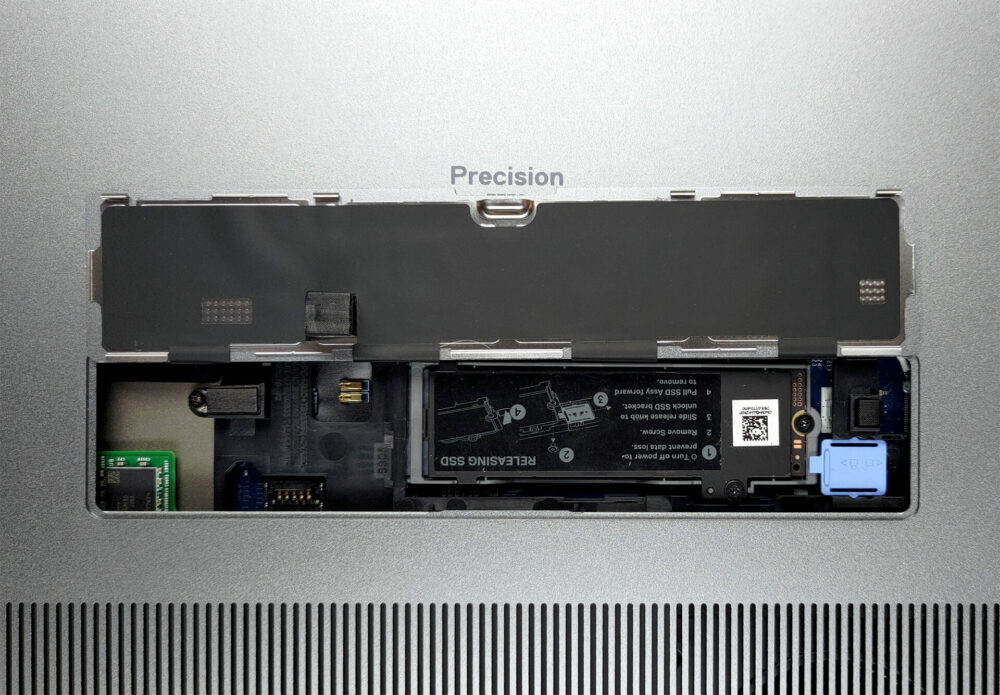 Here is our detailed teardown video, which shows how to upgrade the Dell Precision 17 7770.
2. Display quality
The laptop offers two display options, with a Full HD IPS panel and a 4K UHD 120Hz IPS panel. We tested the former, which comes with excellent viewing angles, and a peak brightness of well over 500 nits, maxing out at 526 nits. It also covers 100% of the sRGB gamut, as well as 99% of the DCI-P3 gamut. Through the Dell Premiere Color app, you can switch between the two depending on what work you're doing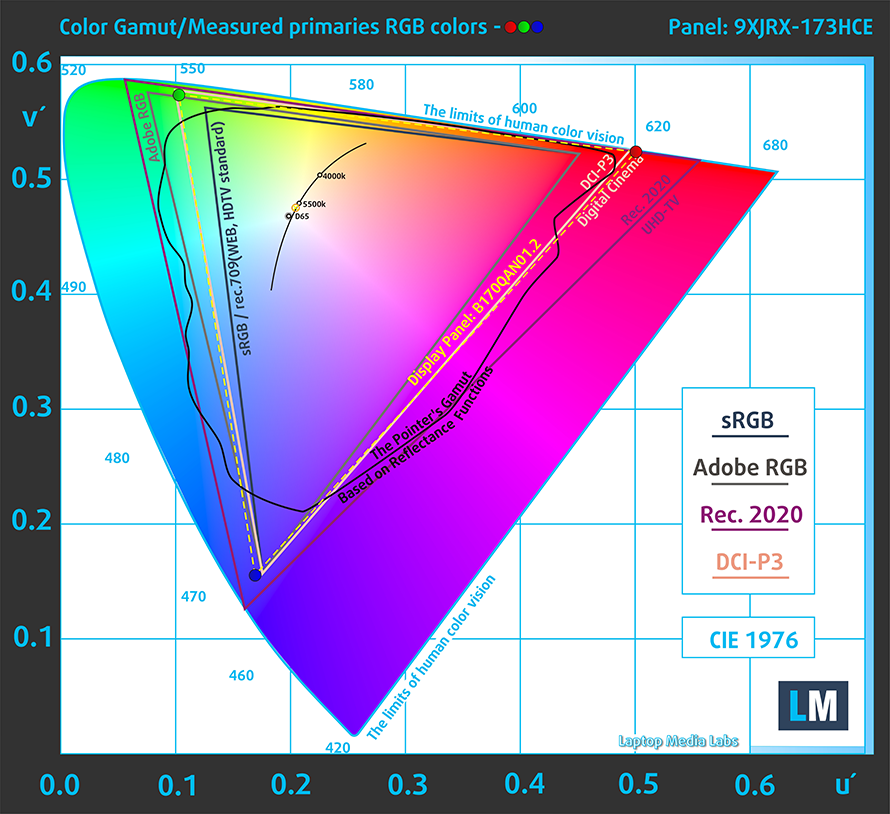 Color accuracy is the best when paired with our Design and Gaming profile, as well as adjusting the color gamut to DCI-P3. With that setup, we get a dE value of 0.7, which is an exceptional result. With the stock settings, you get a dE value of 3.0. Here are the results of our test with the stock settings (left) and with our profile applied (right).
Buy our profiles
Since our profiles are tailored for each individual display model, this article and its respective profile package are meant for Dell Precision 17 7770 configurations with 17.3″ Innolux 9XJRX-173HCE (CMN1777) (1920×1080) IPS.
*Should you have problems with downloading the purchased file, try using a different browser to open the link you'll receive via e-mail. If the download target is a .php file instead of an archive, change the file extension to .zip or contact us at [email protected]
Read more about the profiles HERE.
In addition to receiving efficient and health-friendly profiles, by buying LaptopMedia's products you also support the development of our labs, where we test devices in order to produce the most objective reviews possible.
3. I/O
The Precision 17 brings a pretty complete port selection, which includes two USB Type-A 3.2 (Gen. 1) ports, two Thunderbolt 4 ports, one USB Type-C 3.2 (Gen. 2) port, a LAN port, an HDMI 2.1 port, a 3.5 mm audio jack, and an SD card reader. There's also an optional SmartCard reader, which can be used for extra security.
4. Battery life
We were really surprised by the 93Wh battery pack, which lasts for 13 hours and 6 minutes of Web browsing, or 10 hours and 22 minutes of video playback. With these results, you can surely get a day's worth of work without needing a charger. On the other hand, if you constantly put the laptop through its paces you might want to bring the 240W power adapter with you. Now, we conduct the battery tests with the Windows Better performance setting turned on, screen brightness adjusted to 120 nits and all other programs turned off except for the one we are testing the notebook with.

1 reason NOT to buy the Dell Precision 17 7770
1. Cooling
The cooling solution of the laptop consists of two heat pipes and two fans.

Max CPU load
| Intel Core i7-12850HX (55W TDP) | 0:02 – 0:10 sec | 0:15 – 0:30 sec | 10:00 – 15:00 min |
| --- | --- | --- | --- |
| Dell Precision 17 7770 | 3.18 GHz @ 2.29 GHz @ 89°C @ 101W | 2.82 GHz @ 2.06 GHz @ 90°C @ 90W | 2.77 GHz @ 1.91 GHz @ 82°C @ 85W |
| Dell Precision 16 7670 | 3.46 GHz @ 2.88 GHz @ 94°C @ 131W | 3.01 GHz @ 2.66 GHz @ 92°C @ 109W | 2.49 GHz @ 2.17 GHz @ 78°C @ 72W |
Ultimately, compared to the smaller Precision 16, we get worse short to medium-load performance, as the smaller device delivers higher clock speeds and wattage, while the Precision 17 gets better long-run performance.

Real-life gaming
| NVIDIA RTX A3000 | GPU frequency/ Core temp (after 2 min) | GPU frequency/ Core temp (after 30 min) | GPU frequency/ Core temp (Max Fan) |
| --- | --- | --- | --- |
| Dell Precision 17 7770 | 1578 MHz @ 83°C @ 114W | 1568 MHz @ 84°C @ 115W | – |
| HP ZBook Studio G9 | 1405 MHz @ 63°C @ 80W | 1404 MHz @ 64°C @ 80W | – |
| ASUS ProArt Studiobook 16 OLED (W7600) | 1578 MHz @ 78°C @ 103W | 1589 MHz @ 79°C @ 105W | – |
The Precision 17 is so far the second-best laptop that we've tested with the NVIDIA RTX A3000, offering high clock speeds and high wattages. What's interesting to see is that the ProArt Studiobook 16 OLED offers similar if not slightly higher clock speeds, while running at less wattage and at lower temperatures.

Gaming comfort
In terms of comfort, the two fans do get noisy, however, they're not on gaming laptop levels. As you can see, the keyboard gets warm as well, with a hotspot of 48.7°C. We also felt hot air coming through the keys, meaning that Dell is using it as an exhaust vent. Usually, its the other way around, as fans cold air through the board, cooling it in the process.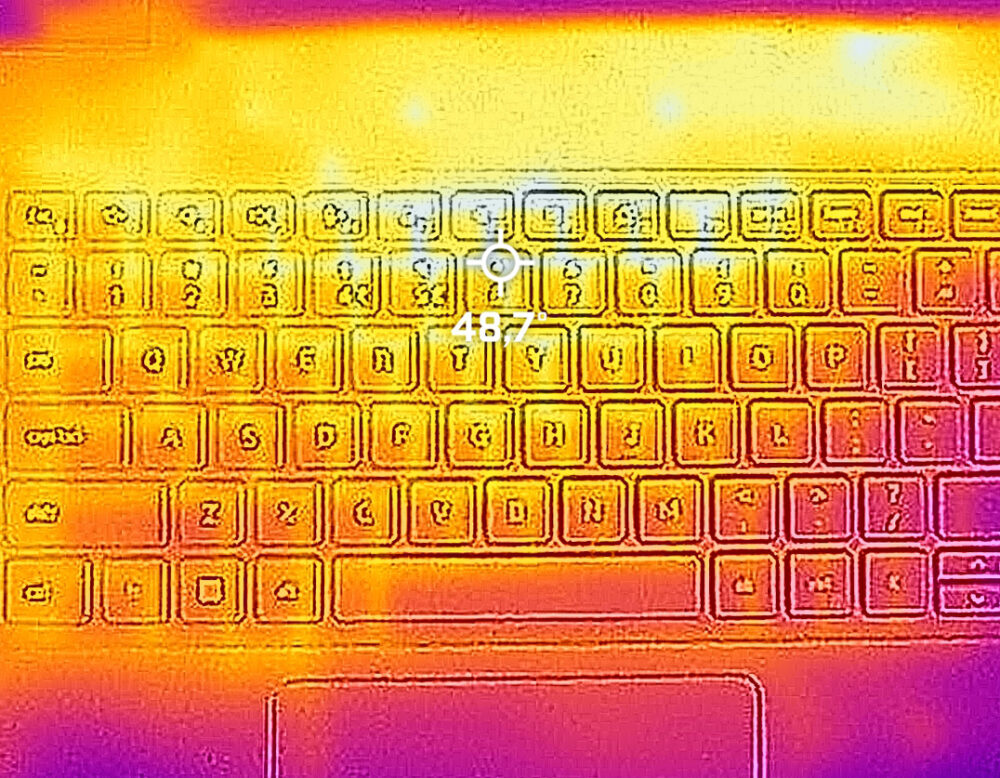 All Dell Precision 17 7770 configurations: