Dell's Precision 15 3520 takes the 5th place in our battery life rankings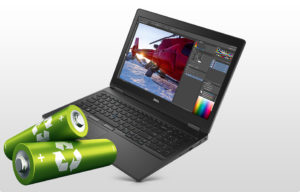 Quite surprisingly, Dell's Precision 15 3520 scored excellently in our battery tests and even made it to the top 5 in our battery rankings. Why are we surprised by that fact, you may ask?
You can find the available configurations and their prices here: http://amzn.to/2rcztTi
Well, for starters, this is a 15-inch laptop with an IPS panel meaning a lot of energy will be drawn by the display. Also, the Intel Core i5-7440HQ that's running under the hood has a high TDP of 45W – another energy-consuming component. Yet, the Precision 15 3520 is still one of the most enduring 15-inch laptops we've tested so far mainly because of the huge 68Wh unit, which helped the notebook score 700 minutes (11 hours and 40 minutes) on our web browsing and 478 minutes (7 hours and 58 minutes) on our video playback tests. Pretty impressive, isn't it?
If you are interested, you can also read the full review here.