Gaming with NVIDIA GeForce GTX 1650 – benchmarks, gameplay videos and best deals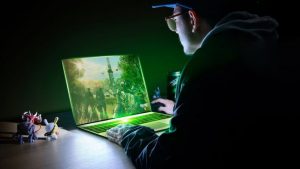 GeForce GTX 1650 is a budget-oriented gaming GPU by NVIDIA targeted at the below-$1000 market. Check out our list with all GTX 1650 laptops on the market. Today we'll show you how it fares against the most popular games.
If you're not interested in GTX 1650 specifically but you're looking for the best Laptop/GPU for a certain game, head to our new Gaming system.
Before the real-life tests, let's see how the GeForce GTX 1650 performs against the most popular GPU in its price range.
Laptops with GTX 1650:
Contents
Benchmarks comparison
As you see in the chart below, GTX 1650 stands between GTX 1050 Ti and GTX 1060, while wiping the floor with GTX 1050. However, the real badass is the GTX 1660 Ti – 64% faster than the GTX 1650!
Of course, the real gaming tests are much more important so scroll down to check out the FPS we've recorded.
Gaming tests
Although GTX 1650 is considered as a mid-range GPU, you can play almost any game at Very High settings without issues.

CS:GO


Gameplay benchmark (1080p, MAX settings)
GTA V


Gameplay benchmark (1080p, Very High settings)
Far Cry 5


Rise of the Tomb Raider


Gameplay benchmark (1080p, Very High settings)
Shadow of the Tomb Raider

Gameplay benchmark (1080p, High settings)
Tom Clancy's Rainbow Six Siege

Tom Clancy's Ghost Recon Wildlands
Gameplay benchmark (1080p, Very High settings)
World of Tanks
Gameplay benchmark (1080p, Ultra settings)
Best Laptop Deals with NVIDIA GeForce GTX 1650
Here are all laptops with NVIDIA GeForce GTX 1650, ordered by price: