How to open the Lenovo Legion Slim 7i / S7 (16″ Intel, Gen 8) – disassembly and upgrade options
1. Remove the Bottom Plate
– First, ensure the laptop is turned off and unplugged from any power source.
– Undo the 8 Phillips-head screws securing the bottom plate.
– Using a plastic pry tool, gently lift and pry the bottom plate off.
Note: The bottom plate comes with two cooling pads on the inside, specifically designed to help cool the SSDs.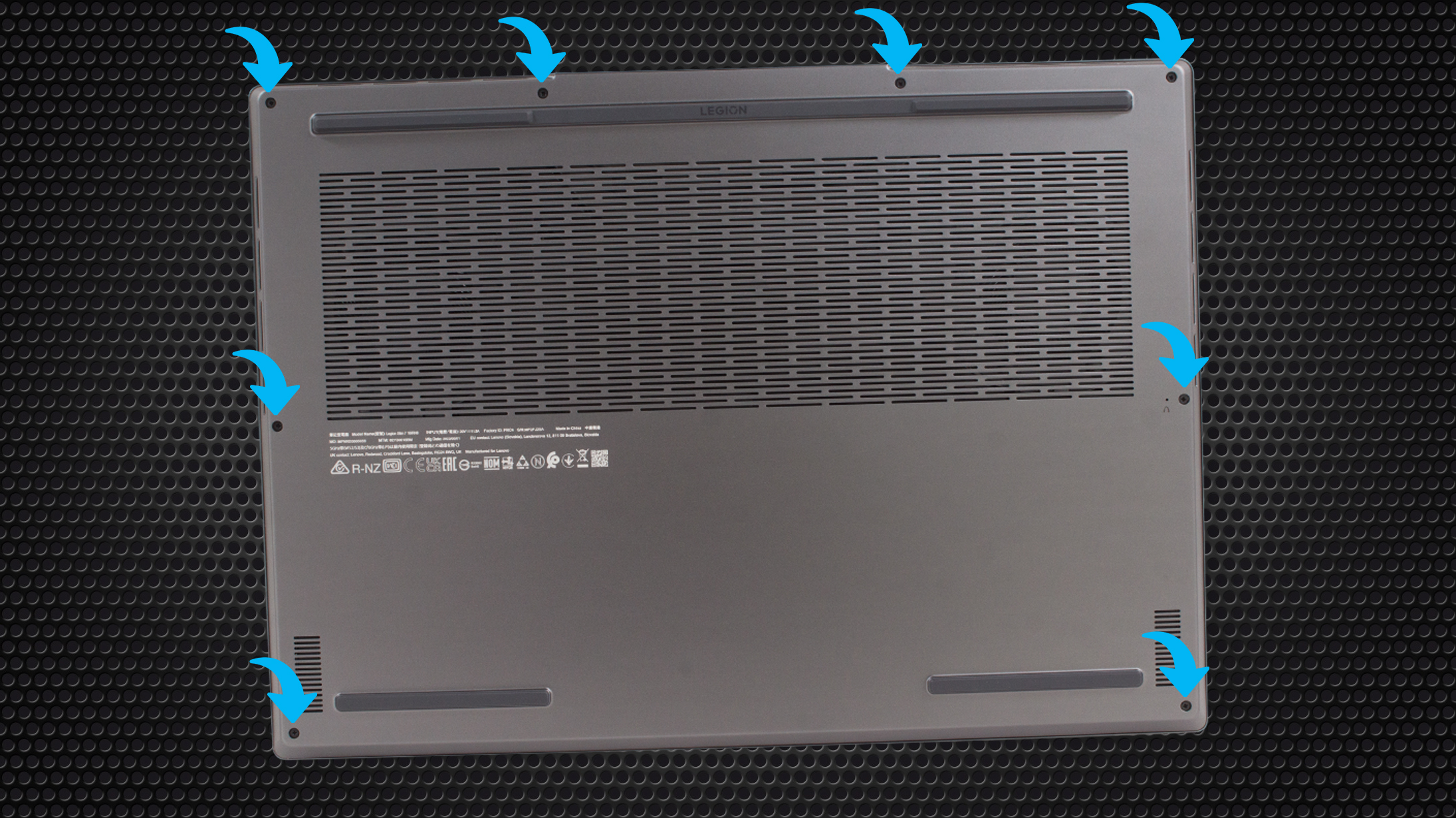 2. Battery Removal
– The laptop features a robust 99.9Wh battery.
– Prior to proceeding with other components, always detach the battery connector from the motherboard for safety.
– To remove the battery, undo the 6 Phillips-head screws securing it to the chassis.
Note: The battery capacity provides up to 9 hours and 5 minutes of web browsing or 7 hours and 9 minutes of video playback. This is impressive given the device's high-resolution display and powerful hardware.

3. Accessing and Upgrading the RAM
– The RAM area is shielded by a metal shroud which enhances cooling due to its thin thermal pad.
– Although 16GB of RAM is soldered directly to the motherboard, there's an additional SODIMM slot available for expansion, allowing for an additional 16GB DDR5-5200MHz module. This means the maximum RAM capacity is 32GB.
Note: While the device might come with a 5600MHz memory stick, it operates at 5200MHz due to processor constraints.
You can buy DDR5 RAM modules here: Buy from Amazon.com (#CommissionsEarned)

4. Upgrading the Storage
– The laptop features two M.2 slots, both compatible with Gen. 4 SSDs.
– Should there be a Lenovo sticker on the preinstalled NVMe's screw, it can be gently removed by pulling on it.
You can buy Gen 4 M.2 SSD modules here: Buy from Amazon.com (#CommissionsEarned)

5. Cooling System Overview
– The device's cooling solution is notably efficient for a slim gaming laptop.
– It consists of two fans and three thick heat pipes. The top two heat pipes are shared between the CPU and GPU, while the third is dedicated to the GPU's memory and VRMs.
Hint: For optimal performance and longevity, it's advisable to routinely clean the fans and replace thermal paste if needed.
To reassemble, follow the steps in reverse order, ensuring all screws are securely tightened and all components are properly connected.

Lenovo Legion Slim 7i / S7 (16" Intel, Gen 8) in-depth review
Lenovo is on a charge with their Slim lineup of gaming devices. We already have a review of the Lenovo Legion Slim 5i Gen 8 (16″ Intel, 2023) which is a surprisingly good not-so-thick gaming laptop with just one con - the GPU TGP is on the low side.Now, it's time to test the bigger sibling - the Lenovo Legion Slim 7i (16" Intel, Gen 8). This is a powerful gaming notebook with a profile under 20 mm and the hardware that is fitted under the hood looks mouthwatering. The laptop can be equipped with powerful Raptor Lake-H CPUs and NVIDIA RTX 4000 GPUs with high TGP values. Yep, once again, t[...]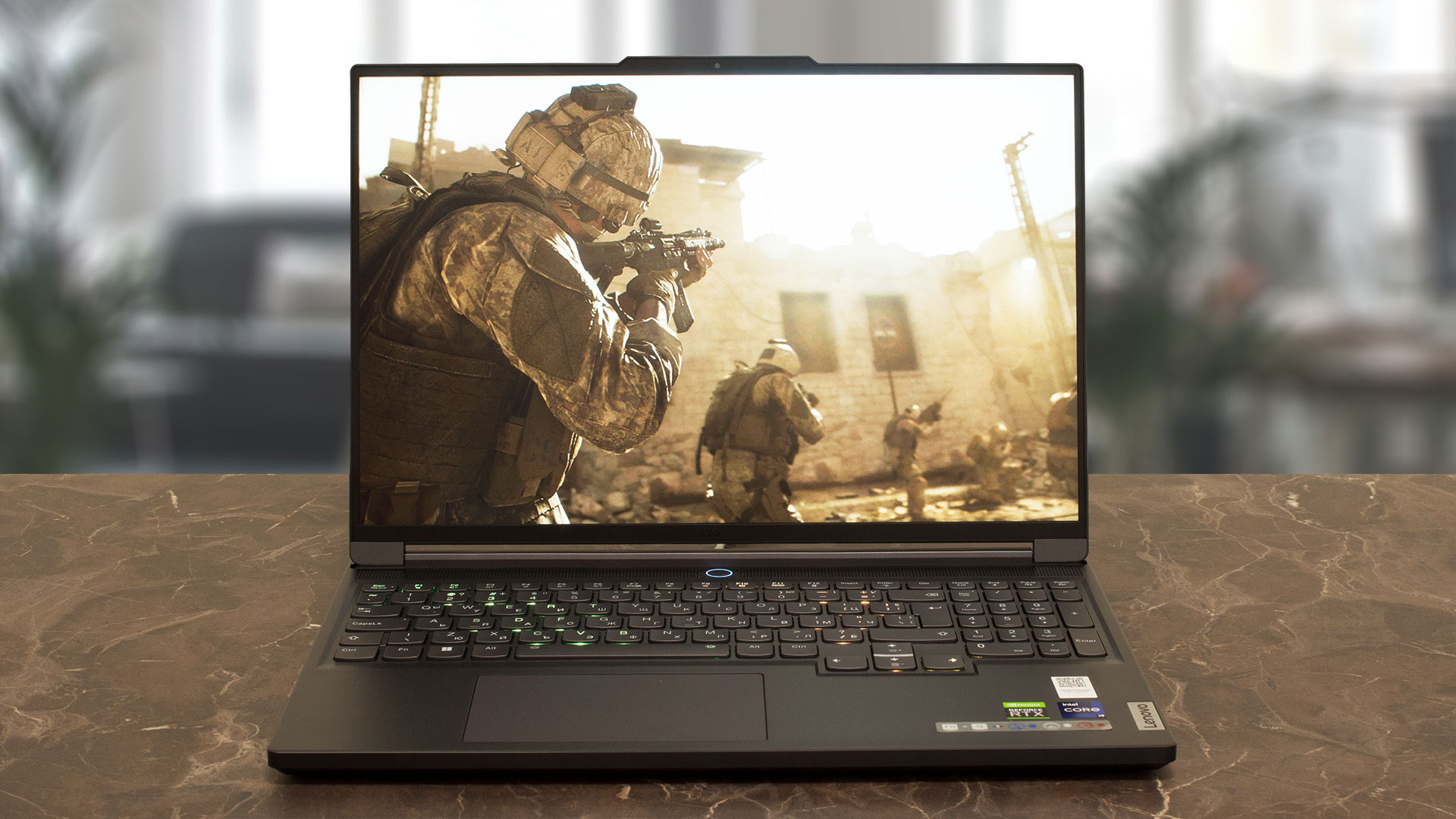 Pros
Great performance
2x M.2 PCIe x4 Gen 4 slots, 1x DDR5 RAM SODIMM slot for dual channel mode
Fast display with quick response times (BOE NE160QDM-NZ3 (BOE0BBE))
Covers 96% of the sRGB color gamut and has accurate color representation with our Design and Gaming profile (BOE NE160QDM-NZ3 (BOE0BBE))
240Hz refresh rate and G-Sync support (BOE NE160QDM-NZ3 (BOE0BBE))
PWM-free (BOE NE160QDM-NZ3 (BOE0BBE))
Compact and light, for a powerful gaming laptop
Great keyboard
Good port selection
The Lenovo Vantage application offers plenty of customization options
Has a MUX switch
Capable cooling solution
High CPU P and E cores frequencies and power limits during any kind of load
The GPU can maintain 115W TGP and ~2500MHz core clock
The WASD area and the palm rest zone are cool enough for comfortable gaming
The touchpad has a smooth glass surface
Cons
The noise levels under load are on the high side