Inside Acer Predator 15 – disassembly, internal photos and upgrade options
Last month we showed you how the new Acer Predator 17 (G9-791) looks on the inside and you've probably already seen its in-depth review as well. Now it's time to turn focus on its small, but not by any means weaker sibling, Acer Predator 15, our first impressions of which we shared yesterday. Just like the 17-incher, Predator 15 takes advantage of all the perks in the 6th generation Intel Skylake processors and NVIDIA's GeForce 9xxM line (up to 980M, of course). In other words, you can expect tremendous performance mixed with energy efficiency.
You can check the current price of Acer Predator 15 here: http://amzn.to/1Ne0RVX
One of the most interesting things here is how the cooling system will manage large CPU and GPU loads – a task that was easily handled by Predator 17, but let's not forget that the latter has a much bigger housing, so we can't make hasty conclusions as to the performance of the 15-inch version. More on in dedicated temperature article. Now we'll just take a look at fan location, heat pipes and air vents. We're going to check of M.2 slot availability (and add the model in our M.2 compatibility list) as well as the Wi-Fi module, RAM slots and the battery type. Let's start by…

1. Removing the service cover
It's pretty easy to access the most commonly serviced components, just by removing the service cover held in place by two little screws (you don't remove them, just unscrew, as they're gripped to the cover). That way you get access to the two RAM slots, two M.2 slots and the 2.5″ HDD/SSD. In our case there are 2x 16GB DDR4 2133 MHz Samsung RAM, 2TB Samsung Spinpoint M9T (5400 RPM) and a Samsung SM951 256GB M.2 PCIe NVMe. As in Predator 17, Predator 15 has one "M" key M.2 2280 and one "B" key M.2 on top of it.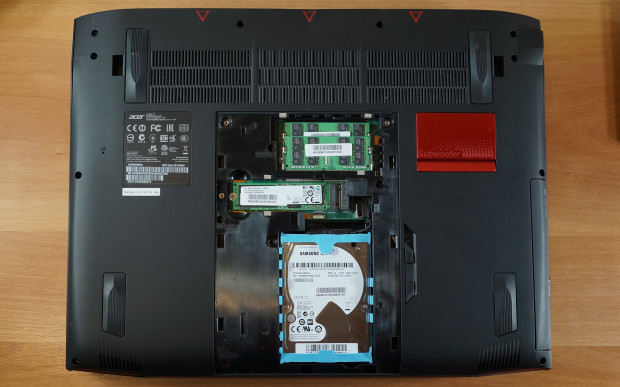 2. Removing the base
If you need access to the cooling system, Wi-Fi module, BIOS battery or something else on the motherboard, you have to remove the whole bottom of the notebook. That can be done by removing all the screws below the service cover as well as these near the sides. You have to remove the optical drive as well, since there are three more screws below it. Then it's an easy task to pry up the bottom casing (which  is pretty rigid, by the way). It seems that Acer has made sure that all of the internals are well protected.
Before making any tweaks, cleaning or anything of that sort, remove the battery connector from its socket so you can be sure that you won't accidentally turn on your Predator when you wouldn't want to (no Predator, no fun).
Here is something that gave us quite a start – when removing the motherboard we stumbled upon two more RAM slots, which in our case are also populated by 2x 16GB DDR4 2133 MHz. 64GB DDR4 RAM in a 15-inch machine. Major yay!
Unlike Predator 17, Predator 15 has "just" two speakers and a subwoofer. A nice piece of news is that the battery is the same and has equal capacity – 6000 mAh.
3. List of hardware found inside
256GB Samsung SM951 M.2 PCIe NVMe (+ one free M.2 "B" key slot)
4x 16GB Samsung M471A2K43BB1-CPB 260 Pin SO-DIMM DDR4 RAM
2TB Samsung Spinpoint M9T ST2000LM003 (5400 RPM)
6000 mAh Sanyo Li-Ion battery (14.8V/88Wh)
802.11ac Killer Wireless-AC 1535
You can check the current price of Acer Predator 15 here: http://amzn.to/1Ne0RVX

Specs sheet
The specs sheet provided below is for this model only and may vary depending on your region or configuration.