Inside Alienware 17 R4 – disassembly, internal photos and upgrade options
The full disassembly of the Alienware 17 R4 is really tricky and time-consuming but that's, of course, if you need to clean the cooling fans, change the battery or change the thermal paste. If you, however, need to do a simple upgrade, opening the bottom piece is quite easy.
You can find some of the available models of the Alienware 17 R4 here: http://amzn.to/2lvLKmj
1. Removing the bottom
This is fairly easy to do and it requires little unscrewing to do. Just remove all the screws and the cover will pop right out.
2. Storage
Once again, the laptop offers a good amount of storage options. The motherboard holds three M.2 PCIe NVMe-enabled SSD slots with one in our unit taken by a Toshiba M.2 PCIe NVMe SSD with 256GB capacity while the 2.5-inch HDD slot is taken by an HGST drive with 1TB capacity. The other two M.2 SSD slots are also PCIe NVMe-enabled but one of them is 2260 while the other supports the standard 2280 sizes.
3. RAM and Wi-Fi card
Usually, we are used to seeing high-end gaming laptops with four RAM slots but interestingly enough, the Alienware R4 holds only two of those and in out case, they are both taken by 8GB DDR4-2666 chips by SK Hynix.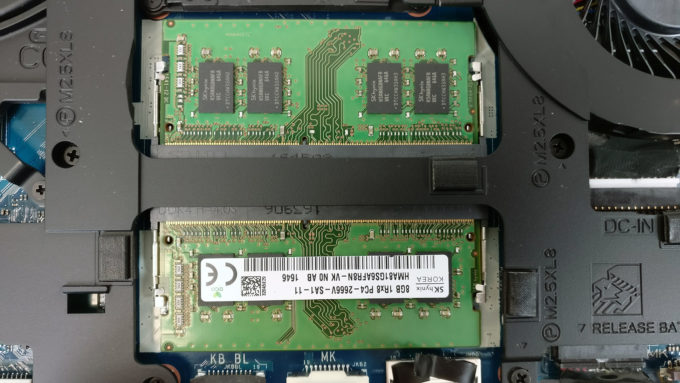 The Wi-Fi card is Killer 1535 and can be found right next to the left cooling fan (with the notebook's bottom facing upwards).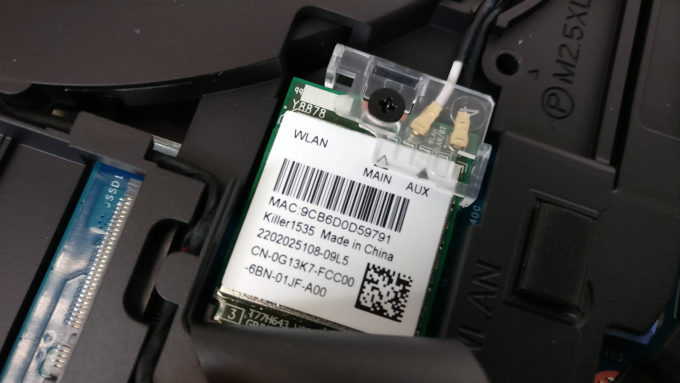 4. Full disassembly
Ready yourself with some patience because this will get tricky. Before doing anything, remove all the screws holding the black plate. Then, unscrew the two bolts holding the back, pull it out gently and remove the rest of the screws. You will see that near the two edges, where the heat pipes end, the Wi-Fi antennas, which go along the LED strips, are held by two screws. Remove them and gently pull the whole black plate.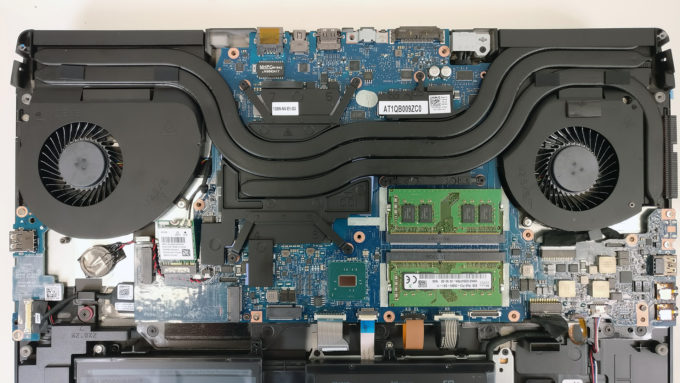 5. Battery
As you can see, it's quite the hassle to get to the battery but we were surprised to see that it's the maximum allowed capacity you can bring on an airplane – 99Wh.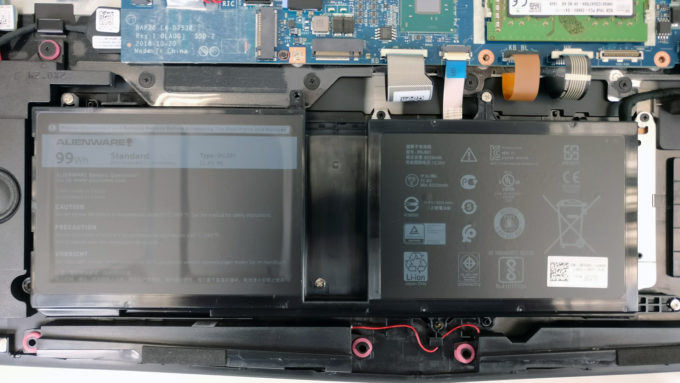 6. Cooling system
The cooling system is neatly designed with two fans and several big heat pipes. The right fan draws cool air from the side vent opening and pushes it towards the left fan, which in turn, pushes the hot air through its own vent opening. However, the rear radiators are responsible for most of the cooling.
You can find some of the available models of the Alienware 17 R4 here: http://amzn.to/2lvLKmj