Inside ASUS ROG GL752VW – disassembly, internal photos and upgrade guide
We are preparing a full review of the new ASUS ROG GL752VW 17-inch gaming notebook and even inside, the laptop is pretty close to its 15-inch sibling. The notebook integrates roughly the same cooling design as the smaller version and also offers the same upgrade options. Here's our disassembly guide and a bit more info on the hardware.
You can check for prices and configurations at the following link: http://amzn.to/1QQfa4H
1. Removing the service lid
The service lid provides easy access to the motherboard battery, RAM chips, 2.5-inch drive and the M.2 SATA SSD. You just need to remove two screws and then pry up the cover.
When removed, you will see one 8GB DDR4-2133 SDRAM chip while the other slot is free for upgrade. There's also a 2.5-inch 1 TB 5400 rpm HDD manufactured by Toshiba that goes along with 256GB M.2 SATA SSD by Micron. It uses B&M edge key connector while the slot supports M key.
2. Removing the whole bottom piece
This is just as easy. Make sure you've unscrewed all the bolts around the chassis and also the two hiding under the service cover. And don't forget to remove the optical drive as there are another three small screws hiding beneath.
Once you're done with the screws, proceed with prying up the keyboard tray with a plastic tool or a credit card. This should do the trick as well and be careful because there are three cables near the front that need to be disconnected as well.

3. Detaching the motherboard
Before flipping the motherboard, disconnect the battery, which is a 4-cell unit rated at 48Wh, and remove the rest of the cables and screws. You will also have access to the Wi-Fi module – Intel Dual Band Wireless-AC 7265.
You can see that the cooling design isn't much different than the one on the GL552VW and the G552VW, which is good. It did a pretty good job keeping the internals and outer chassis cool without causing any thermal throttling.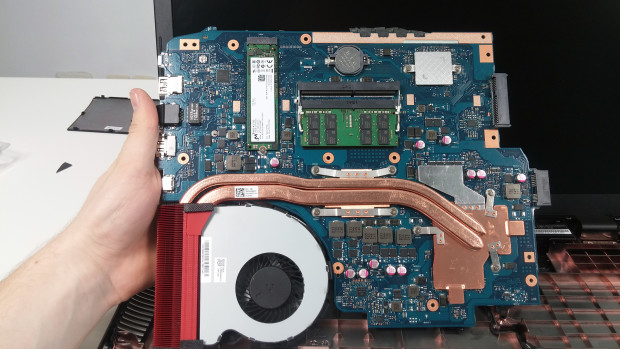 You can check for prices and configurations at the following link: http://amzn.to/1QQfa4H