Inside ASUS ROG Strix GL702VS – disassembly, internal photos and upgrade options
No service lid? Not a problem! The ASUS ROG GL702VS offers easy access to all of the internals even though a dedicated service hatch isn't available. You can easily take the bottom piece off and continue with your spring cleaning or upgrade.
You can find the available GL702VS configurations here: http://amzn.to/2rU2Nku
1. Removing the bottom piece
Just make sure you've removed all the screws around the bottom and then try to gently pry it up. The plate comes off easily.
2. Storage and memory
As expected, the laptop comes with a standard 2.5-inch HDD and an M.2 PCIe NVMe SSD coming in 2280 standard. The mechanical drive is manufactured by Toshiba with 1TB capacity while the M.2 SSD is made by Samsung belonging to the PM961 series.
The motherboard holds two RAM slots each supporting up to 16GB of DDR4-2400. Our unit came with a single 16GB DDR4-2400 chip by Samsung.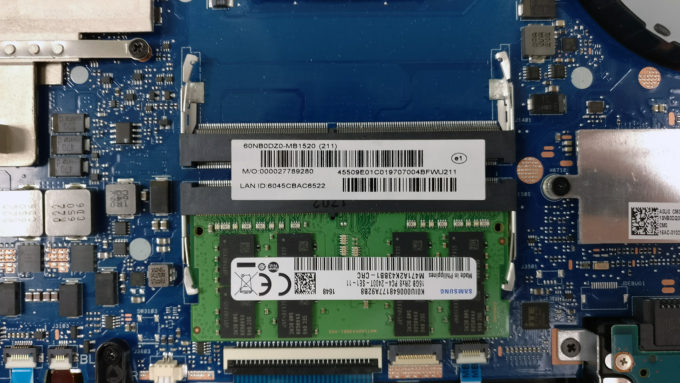 3. Battery and Wi-Fi
The Wi-Fi card can be found right next to one of the cooling fans and it's Intel 8260NGW.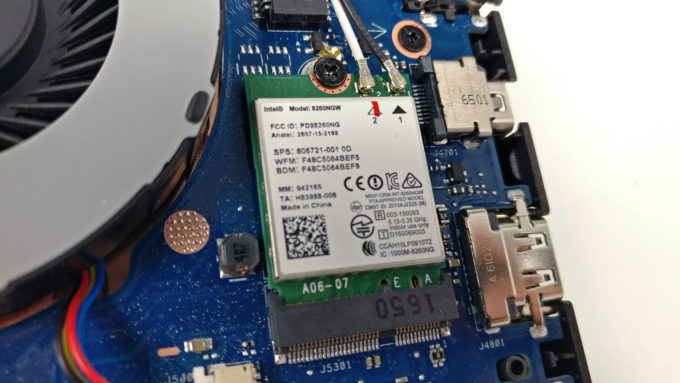 And as for the battery, it's quite big rated at 76Wh and it's placed under the palm rest area.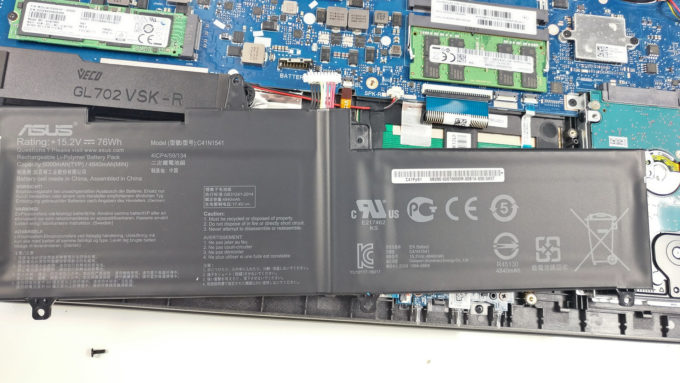 4. Cooling system
Although the cooling system seems massive, the small heatsink of the CPU and the absence of more heat pipes to disperse the heat, the system just can't handle the powerful hardware under heavy workload and we saw significant throttling. Anyway, the cooling design is standard and simple – two separate cooling fans on each side and two big heat pipes going across the CPU and GPU heatsinks.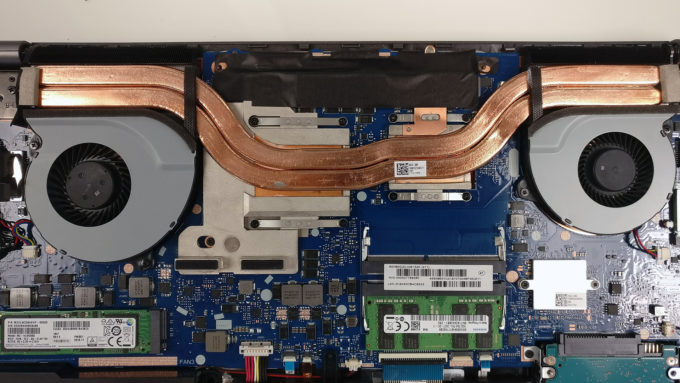 You can find the available GL702VS configurations here: http://amzn.to/2rU2Nku
And here, you can read the full review of the ASUS ROG Strix GL702VS.