Laptop gamers rejoice as NVIDIA puts their RTX 3080 Ti and RTX 3070 Ti on display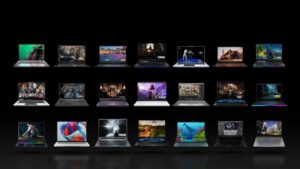 It's once again this time of the year when tech enthusiasts of all kinds get spoiled by companies that announce all kinds of new tech. Today we start our CES 2022 coverage, beginning with NVIDIA and their new additions to the laptop GPU market.
The new RTX 3080 Ti and 3070 Ti are on track for taking the top spots in the Top Laptop Graphics Ranking, bringing more performance to the table. They will be available in more than 160 new or updated devices, some of which will be announced at CES 2022.
Today we are giving you a quick overview of the new RTX 3080 Ti and RTX 3070 Ti.
The new laptops equipped with the RTX 3080 Ti and RTX 3070 Ti will be available for purchase from February 1st with a starting price of $2,499 for the RTX 3080 Ti models and $1,499 for the RTX 3070 Ti models.

Specs table
Starting off with some specs, we see that the new GPUs come with a healthy CUDA cores increase of 21% for the RTX 3080 Ti (over RTX 3080) and 15% for the RTX 3070 Ti (over RTX 3070). On the other hand, the base and boost speeds are now lower. The RTX 3080 Ti however does come with 16GB of GDDR6 memory from the get-go. TGP numbers have been kept the same.
NVIDIA has also given us some "Relative performance" charts, which really don't mean much, but according to a separate statement, the new 3080 Ti laptop GPU will carry more performance than the desktop TITAN RTX, which was launched in 2018 and uses the older Turing architecture, so it's not such an outrageous claim, but still makes for some cheap marketing.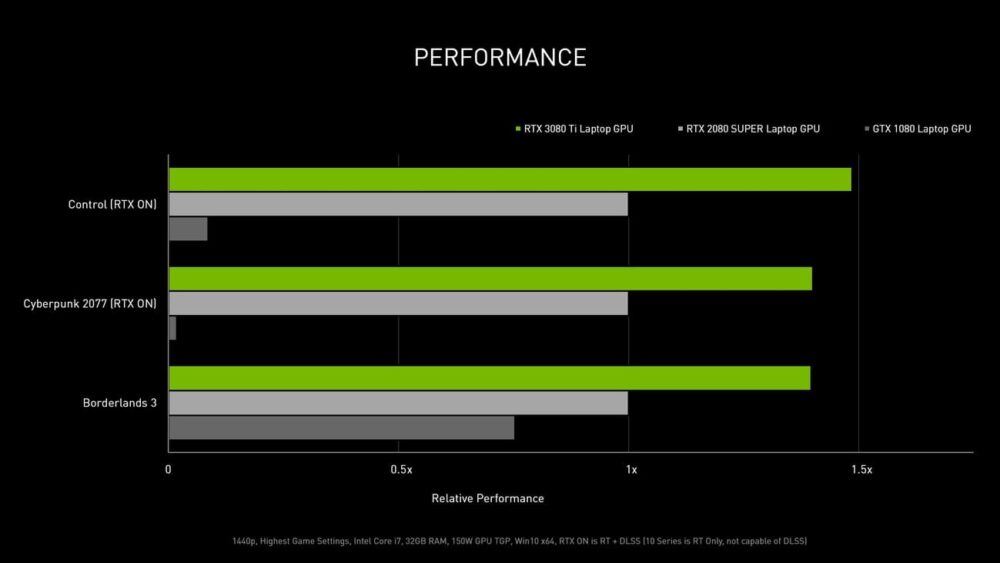 The GPUs come with a CPU optimizer, which can help the processor be more efficient, all of which is done through a proprietary framework. When the CPU is more efficient, more power can be sent to the GPU, thus delivering more GPU performance, while keeping CPU power intact.
Many Creator and Productivity apps like Premiere Pro, Blender, and Matlab can take advantage of the Rapid Core Scaling tech, which allows the GPU to "sense" the needs of the app, giving it as many cores as it needs, and letting some of them rest, which is better for efficiency or can be used to give the working cores more power.
The main enemy of gaming laptops is definitely battery life. Gladly, NVIDIA is doing something to address the issue at hand. Their Battery Boost 2.0 software now uses AI to determine the balance between GPU and CPU power usage. Gaming isn't everything, however, and NVIDIA states that their new GPUs offer significantly higher 3D Rendering performance than the newly available M1 Max MacBook Pro 16.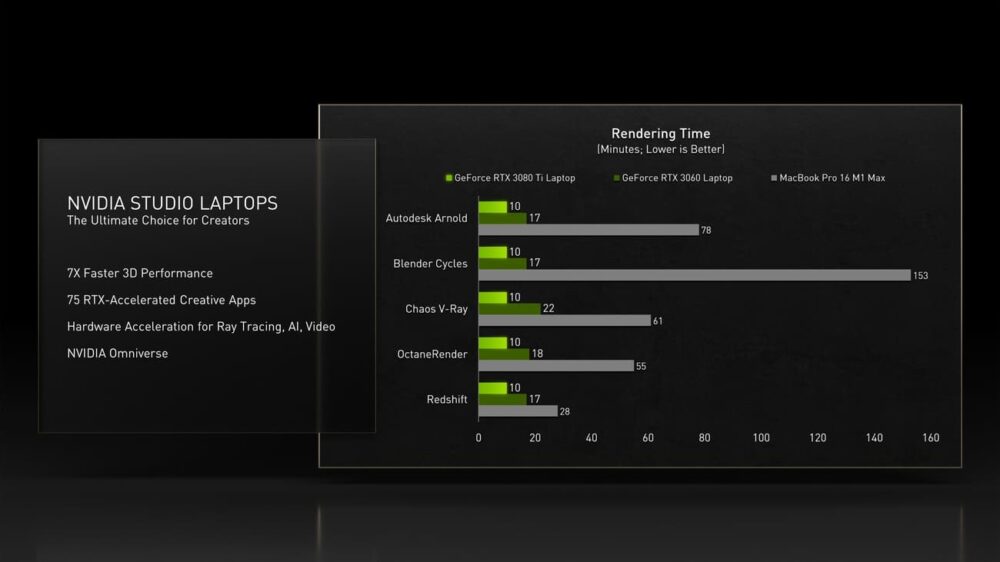 Although you won't be able to get the new Ti versions as of now, you can check out the regular RTX 3080 and RTX 3070 laptops, which are more than capable for gaming, content creation, and more.

All laptops with the NVIDIA GeForce RTX 3080:
All laptops with the NVIDIA GeForce RTX 3070: