Lenovo IdeaPad Gaming 3 (15″, 2022) – Top 5 Pros and Cons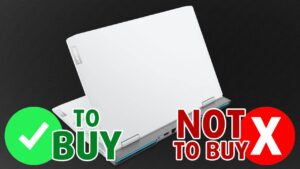 Lenovo and AMD have always gotten along pretty well together, offering pretty good devices, especially when it comes to gaming. The Intel-powered IdeaPad Gaming 3i is a pretty good budget addition, but it has its problems like the low battery life, while the low TGP graphics don't help either when comparing the device to the Nitro 5 (by the way, we did that and you can read all about it HERE).
However, today we have the AMD-powered model, and we know how efficient the 5000H-series chips were, so we'd expect that the 6000H-series is just as efficient, while providing a good increase in performance.
Today we present you with LaptopMedia's top 5 picks about the Lenovo IdeaPad Gaming 3 (15″, 2022).
Lenovo IdeaPad Gaming 3 (15″, 2022): Full Specs / In-depth Review
4 reasons to BUY the Lenovo IdeaPad Gaming 3 (15″, 2022)
1. Battery life
As we thought, the Ryzen 6000H-series makes better use of the 45Wh battery pack, lasting for 6 hours and 19 minutes of Web browsing, or 6 hours and 21 minutes of video playback, which is quite a lot more than the Intel-powered model. Now, we conduct the battery tests with the Windows Better performance setting turned on, screen brightness adjusted to 120 nits, and all other programs turned off except for the one we are testing the notebook with.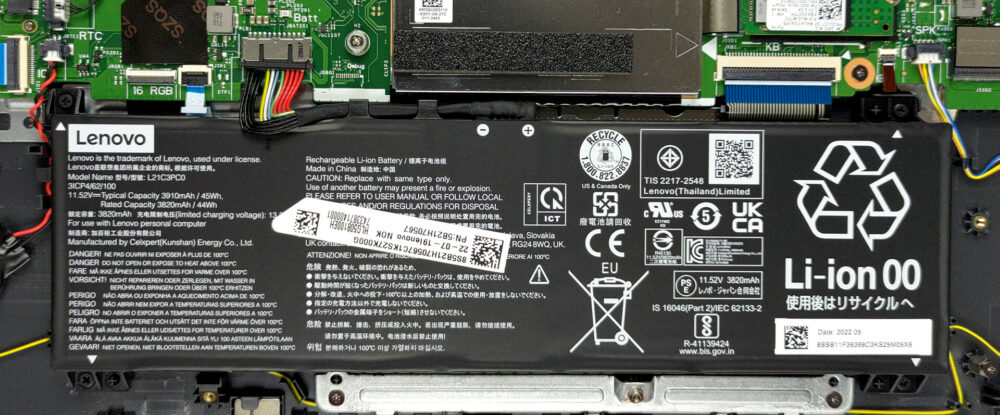 2. Upgradeability
The upgradeability is pretty decent, with two SODIMM slots that fit DDR5 RAM, along with two M.2 slots for storage, with one 80mm slot and one 42mm slot, with only the small one having support for Gen 4 drives.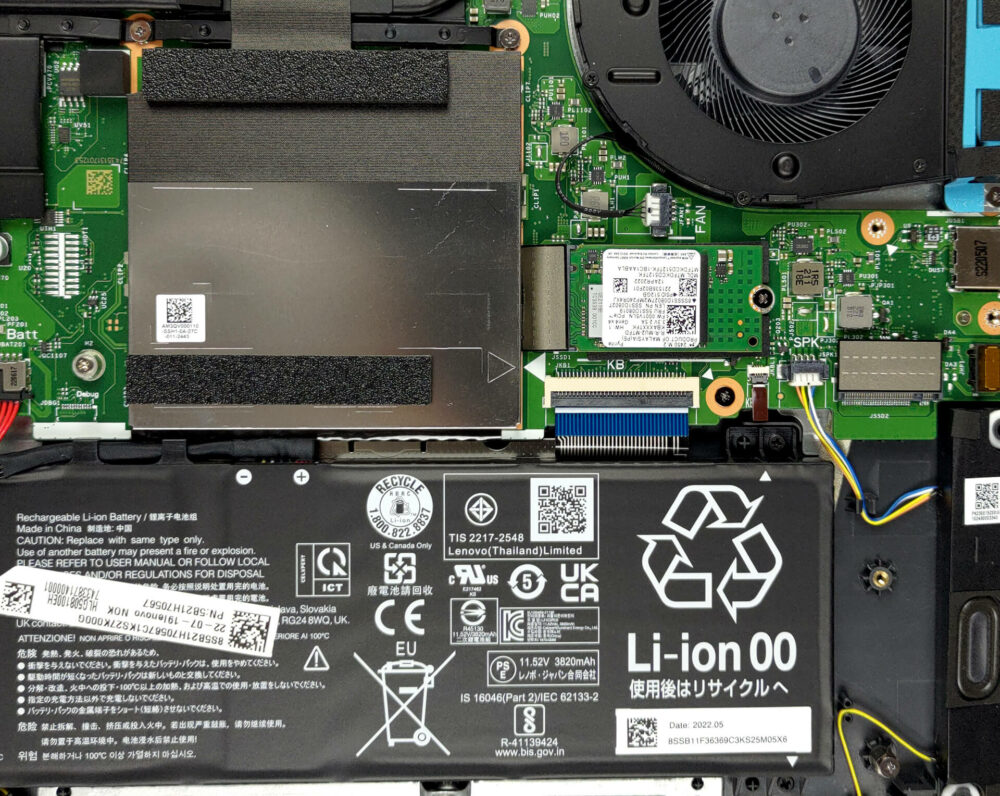 Here is our dedicated teardown video, which shows how to access both the RAM and SSD slots.
3. Input devices
The keyboard on the IdeaPad is still one of the best in the budget category, with long key travel, clicky feedback, and a 4-zone RGB backlight, making it great for gaming and typing. The touchpad is covered in Mylar, with which we're very familiar. It is very smooth, while accuracy and responsiveness are also up there.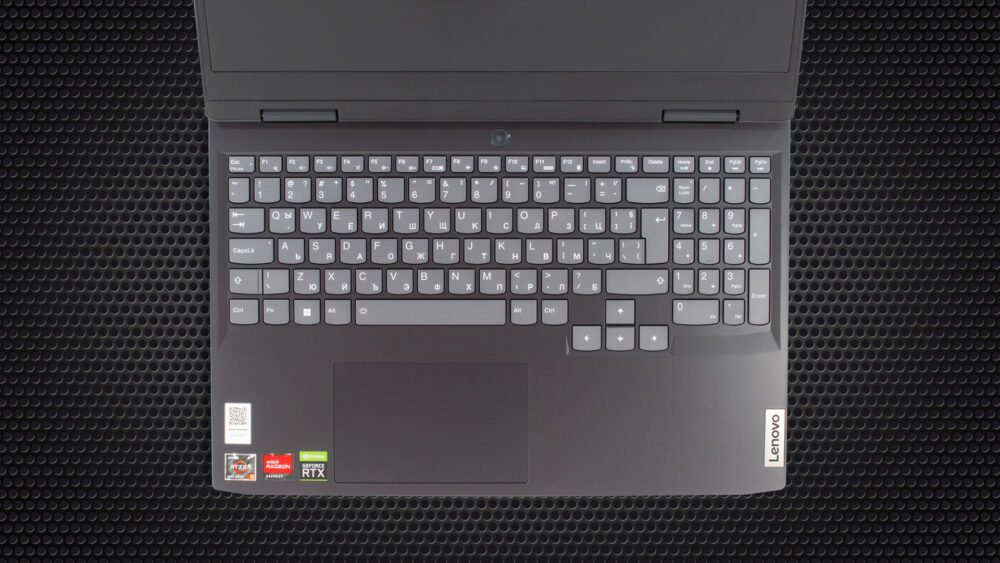 4. Cooling
The cooling setup is excellent, with three heat pipes, two fans, and four heatsinks on the back and the sides. Some parts of it are painted blue, which can be seen from the outside. One of the pipes is shared between the CPU and GPU, with one separate pipe for each of them as well.

Max CPU load
| AMD Ryzen 5 6600H (45W TDP) | 0:02 – 0:10 sec | 0:15 – 0:30 sec | 10:00 – 15:00 min |
| --- | --- | --- | --- |
| Lenovo IdeaPad Gaming 3 (15″, 2022) | 3.94 GHz @ 91°C @ 80W | 3.90 GHz @ 100°C @ 79W | 3.83 GHz @ 100°C @ 74W |
Talk about temps. The Ryzen 5 6600H maintains high clock speeds, but it heats like a furnace, which isn't something we would recommend. Just to be safe, you can switch to a more lenient performance mode.

Real-life gaming
| NVIDIA GeForce RTX 3050 | GPU frequency/ Core temp (after 2 min) | GPU frequency/ Core temp (after 30 min) | GPU frequency/ Core temp (Max Fan) |
| --- | --- | --- | --- |
| Lenovo IdeaPad Gaming 3 (15″, 2022) | 2002 MHz @ 70°C @ 84W | 1985 MHz @ 72°C @ 85W | – |
This is one of the highest-clocking RTX 3050 cards that we've tested, with only the Nitro 5 surpassing it. One more positive is that the temperatures are low, while the GPU reaches its full 85W TGP.

Comfort during full load
The base's hotspot is located on the top part and reaches 42°C, while the noise of the fans is bearable.
1 reason NOT to buy the Lenovo IdeaPad Gaming 3 (15″, 2022)
1. Display quality
The 120Hz FHD IPS display is fine for a budget machine, but if you can spare some change, we would highly recommend upgrading to the 165Hz option, which brings better color gamut coverage and faster response times. Still, the 120Hz option provides comfortable viewing angles and a good contrast ratio. It covers 51% of the sRGB gamut, while accuracy doesn't improve much, even with our Design and Gaming profile.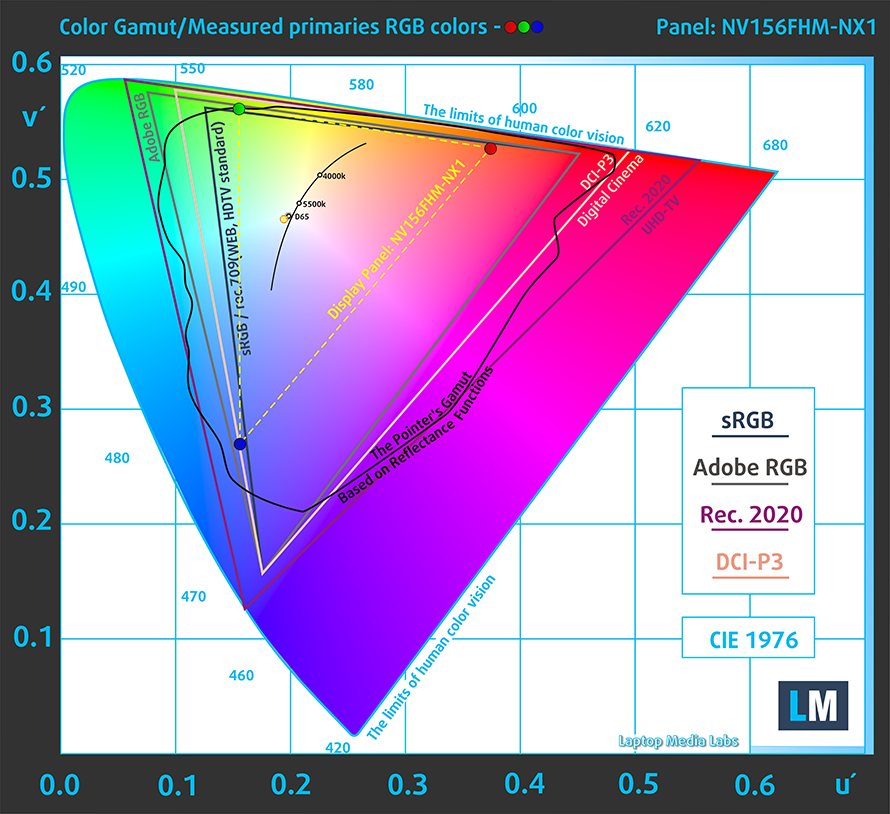 Here are the results of our test with both the stock settings (left) and with our profile applied (right).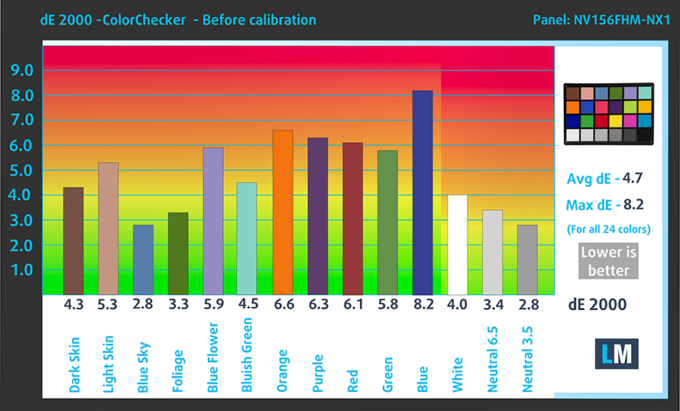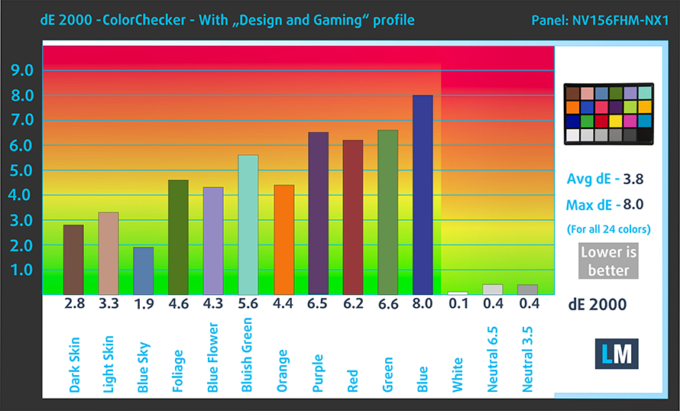 Buy our profiles
Since our profiles are tailored for each individual display model, this article and its respective profile package are meant for Lenovo IdeaPad Gaming 3 (15, 2022) configurations with 15.6″ FHD IPS LEN156FHD (BOE NV156FHM-NX1, BOE0A81).
*Should you have problems with downloading the purchased file, try using a different browser to open the link you'll receive via e-mail. If the download target is a .php file instead of an archive, change the file extension to .zip or contact us at [email protected]
Read more about the profiles HERE.
In addition to receiving efficient and health-friendly profiles, by buying LaptopMedia's products you also support the development of our labs, where we test devices in order to produce the most objective reviews possible.
All Lenovo IdeaPad Gaming 3 (15″, 2022) configurations: