Lenovo Legion Y520 and Legion Y720 – new entry-level gaming laptops with GeForce 1050 Ti / 1060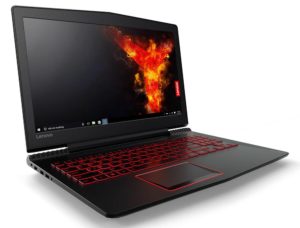 Alright, alright, alright. It seems that 2017 will be more than a good year. Lenovo has kicked it off with two new gaming laptops that seem to be truly worth our while. The renowned company revealed the Legion Y520 and the Legion Y720 which are really attractive although it's not like their design is revolutionary.
If you want to check other Lenovo laptops, you can use this link: http://amzn.to/2iZEedO
Now, let us start with the Legion Y520 which is the more affordable of the two laptops. Firstly, it is a 15.6-inch laptop with a Full HD screen and two Harman loudspeakers (2 Watts) with Dolby Audio Premium. As far as performance goes, you can have up to an Intel Core i7 CPU, up to 16GB of RAM, up to NVIDIA GeForce GTX 1050 Ti as well as up to 2TB of storage. Battery-wise, this bad boy should ensure up to 4 hours from a single charge, depending on how you use it.
And now it's time for the Lenovo Legion Y720 which is truly VR-ready, according to the manufacturer. This big boy also has a 15.6-inch display but this time the resolution is Ultra HD (3850 x 2160 p) and we are dealing with an IPS panel. All this is bound to ensure great 4K gaming experience.
Additionally, the hardware department is ready for the more and more popular VR. You will be presented with a 7th gen Intel Core i7 processor, accompanied by up to 16GB of RAM, NVIDIA GeForce GTX 1060 6GB graphics card and again up to 2TB of internal storage.
You may also wish to know that Legion Y520 will start selling in February at $899.99, whereas the Legion Y720 will come a bit later in April at $1,399.99.
If you want to check other Lenovo laptops, you can use this link: http://amzn.to/2iZEedO
Lenovo Legion Y520
Lenovo Legion Y720
Processor
Up to Intel Core i7-7700HQ Kaby Lake
Memory
Up to 16GB DDR4 (SO-DIMM x2)
Graphics
Up to Nvidia GeForce GTX 1050 Ti 4GB GDDR5
Nvidia GeForce GTX 1060 6GB GDDR5
Display Options
15.6" 1920 x 1080 IPS
– 15.6" 1920 x 1080 IPS
– 15.6" 3840 x 2160 IPS
Storage Options
– Up to 512GB PCIe SSD
– Up to 2TB HDD
Networking
– Gigabit Ethernet
– Dual-Band 802.11ac Wi-Fi
Ports
– USB 3.1 Type-C
– USB 3.0 x2
– USB 2.0
– Headphone-Out
– Mic-In
– 4-in-1 Card Reader
– HDMI
Dimensions
14.96 x 10.43 x 1.01 inches
14.96 x 10.9 x 1.14 inches
Starting Weight
5.3 lbs.
7.05 lbs.
Starting MSRP
$899
$1,399