Lenovo X1 Carbon with Broadwell CPU – hands-on and first impressions
Lenovo's X1 Carbon laptop was praised by a lot of tech sites and they had their reasons. Now we have one more – Lenovo has launched its refreshed models with Broadwell CPUs on board, thus making it not only thin, light and durable, but also more powerful with up to 5th generation i7 processors and various screen resolution and touch capacitive options.
Design
Lenovo kept the same thin and impressively light design, thanks to the main carbon frame construction. The exterior feels a bit cold to touch and quite hard, which strongly resembles the aluminum, yet the rubberized finish on top helps for a better grip. Who would want to accidentally drop their super-expensive business notebook, right?
Despite its amazingly thin profile – 0.7″ (1.78 cm) and lightweight chassis (1.3 kg), the notebook feels really sturdy. It gives you an impression of a premium, high-quality and durable construction. The top lid, however, easily attracts fingerprints. It features the usual Lenovo and ThinkPad logos and on the other side the 14-inch FHD matte screen with the built-in microphone, webcam and relatively thin bezels, but still not as this as the XP 13, which is a record breaker.
The bottom is covered with the same high-quality material with two extra-small grills, probably for heat dispersing, and a big one which is for cooling for sure. No matter how thin is the profile, ThinkPad X1 Carbon houses the usual ports like DC charging slot, HDMI and one USB 3.0 on the left, while the right one contains one USB 3.0 port mini DisplayPort and heat dispersing grill.
The interior is also a great surprise since Lenovo didn't get rid of the extra mouse buttons on top of the touchpad. Some users concerned about Lenovo removing them, but fortunately this was just a rumor. The keyboard is tremendous as always – just what we would expect from a high-end ThinkPad. Despite the compact size, the keys feel big enough, ergonomically designed and provide long, tactile feedback. The trackpad doesn't disappoint too, but the extra mouse buttons feel a bit stiff due to the short travel. The touchpad is also sturdy and responsive with great button feedback along with pleasant matte finish. Nevertheless, those are just first impressions and they might change in the course of testing for the detailed review in the coming weeks.
Hadware
Lenovo is offering its 3rd generation X1 Carbon notebooks with Intel Core i7-5600U, i5-5200U, and i5-5300U CPUs. The available storage options are 128GB, 180GB, 256GB, and 512GB all of which are M.2 SATA SSDs. The operating memory is 8GB or 4GB, but the most important options you could choose from are the screen variants. Configurations are: FHD TN panel, WQHD+ (2560×1440) and WQHD+ (2560×1440) touch screen. You can also add 3G connectivity but, after all, keep in mind that configurations may vary depending on your region.
How it looks on the inside
Unlike most ultrabooks, the X1 Carbon 3rd gen series surprised us with extremely easy disassembly. Well, we can't call it entirely a disassembly, but it does offer really easy way to the internals. Only a few screws keep the bottom panel intact and you can easily replace your SSD, clean your CPU fan, replace the battery and etc. You can see the internals in the image below.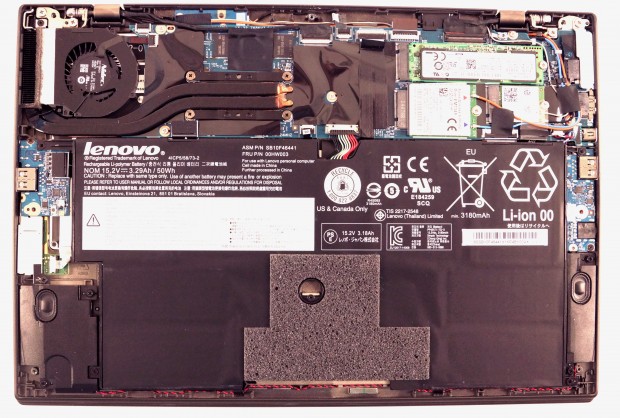 Specs sheet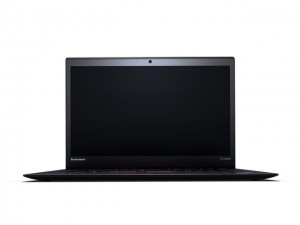 Processor
Intel Core i5-5200U (2-core, 2.20 – 2.70 GHz, 3MB cache) / Intel Core i5-5300U (2-core, 2.30 – 2.90 GHz, 3MB cache) / Intel Core i7-5600U (2-core, 2.60 – 3.20 Ghz, 4MB cache)
RAM
4GB (1x 4096MB) – DDR3, 1600Mhz / 8GB (2x 4096MB) – DDR3, 1600Mhz
Graphics card
Intel HD Graphics 5500 (integrated graphics) / AMD Radeon R7 M270 (2GB, DDR3)
HDD/SSD
500GB HDD / 1TB HDD (5400 rpm) / 128GB SSD
Display
14″ FHD TN (1920 x 1080) / 14″ WQHD+ (2560 x 1440) / 14″ WQHD+ (2560 x 1440) Touch Screen
Optical drive
-/td>

Connectivity
Wi-Fi 802.11ac/a/b/g/n, WWAN 4G, Bluetooth 4.0
Other features

2х USB 3.0
built-in webcam
built-in microphone
3.5 mm jack for headset
HDMI
mini DisplayPort
4-in-1 card reader
OneLink Dock port
fingerprint reader
keyboard backlight

Battery
8-cell Li-Ion Battery 50Wh
Thickness
1.78 cm (0.7″)
Weight
1.3 kg (2.87 lbs)